typed for your pleasure on 26 November 2013, at 7.07 pm
---
Sdtrk: 'Negative volumes' by Black to comm
I suppose this would be the equivalent of !!BREAKING NEWS!! round here, but the GAGADOLL site that I'd mentioned in the previous post has been updated. Undoubtedly I should've waited until more photos become available, but hey. We do have this to stare longingly at, though!
Japan's latest and finest technologies were put into the creation of the "GAGADOLL". It's the world's first life-size human-shaped listening station that closely resembles Lady Gaga. The bone conduction system enables one to listen to her songs and message.

The "GAGADOLL" was inspired by the concept of "ARTPOP" and this masterpiece made by Japan's master craftsmen has been highly-praised by Lady Gaga herself.
taken from the site
The Doll making company in question is apparently Orient industry — as they've been doing the dutch wife-making lark since the late Seventies, they know their onions — and what they and Lady Ga² have created would be a cross between a personal sound system, and a dakimakura, which would be one of those ridiculous 'love-love pillows' you've doubtless seen various places. Thankfully, Gagadoll makes it a much sexier combination. As I'd stated before, I'm not keen on her music, but as far as I'm concerned, she just gained like 200 Cool Points with me.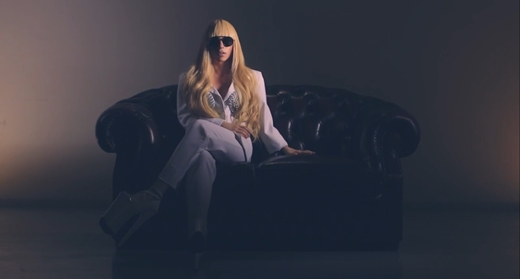 Those awful shoes have to go, as they comprise a third of Gagadoll's body weight. Another third? Her hair
Depending on the availability/affordability of Gagadoll — no, I've not seen anything on either of those fronts yet, but I'm keeping an eye out — perhaps this could herald a trend of celebrities having Synthetik likenesses made of themselves to sell to fans? I mean, actors are commodities as it is; having silicone replicas made would simply take it a step further. Which would obviously be a fantastic thing on multiple levels, but it's yet another example of there being nothing new under the sun. There's a section in one of my oft-mentioned favourite books, David Levy's 'Love and Sex with Robots', wherein the author recounts another author, René Schwaeblé, who describes artists creating affictitious duplicates of popular invididuals of the time, in an article entitled 'Les Détraqués de Paris'. I'd like to point out here that René had written this during 19th-century France:
From René Schwaeblé's description of these fornicatory dolls, sold by a "Dr. P" for around three thousand francs, it would appear that they were extremely convincing replicas of the female form. The doctor explained to Schwaeblé:

Every one of them takes at least three months of my work! There's the inner framework which is carefully articulated, there's the hair on the head, the body hair, the teeth, the nails! There's the skin, which has to be given a certain tint, certain expression, there's the tongue, and I don't know what else. You won't find a waxwork or a statue, not even the ones created by the greatest masters, that can be compared to my products. The only thing these haven't got is the power of speech!…
Unfortunately I can't advertise openly. The police keep interfering in my business, and I have to keep some weird rubber animals around the place, so that I can say I'm a maker of inflatable figures for funfairs!

Doctor P occasionally had customers who wanted a doll made in the likeness of someone they desired.
It quite often happens that one of those "mad women" falls for a man in the public eye—a politician, a jockey, some hammy actor, or whatever. As she doesn't dare to become his mistress, or can't, she applies to me and asks me to create a doll modelled on her idol.

Levy, David. Love and Sex with Robots, pages 179-180.
Lady Ga², I'm starting to get the impression that you've done a bit of homework on this sort of thing. There you go; you get another five Cool Points