typed for your pleasure on 17 January 2014, at 6.54 pm
---
Sdtrk: 'With brass songs they'll descend' by To kill a petty bourgeoisie
If you're keen on Synthetiks, January's been a reasonably good start to 2014…
+ As I'm not actually a proper newsreader, I've known about this for a while, but I simply neglected to tell anyone: there's a new season underway of the Swedish drama series about Synthetiks, Äkta människor. Below, you'll find a teaser promo. As I haven't watched the first series yet, I've no idea how much of the story it gives away, but if you've not seen the previous series either, you'd be well advised not to play it. Durr hey.
Recently, I was half-joking on Twitter that pretty much all the programmes I'm into (namely various anime and tokusatsu series, various shows from the UK, and Äkta människor) were forcing me to turn to [INTERNET PIRATES], and curiously enough, the series' writer, Lars Lundström, retweeted me. I asked him if there would ever be DVDs available with English subtitles, and he informed me that there's subs on the Australian releases, which I was unaware of. So that's a definite purchase for me later this year!
Incidentally, there's a similar show that's about as close as we'll have in the States for a while called Almost Human. It's couched more in the style of a near-future police procedural; as I'm not keen on cop shows, I've not looked into it. But I'm told it does handle the topic of artificial humans in a sympathetic manner. Plus, apparently the plot of the second episode centres round Gynoids, so that's always a plus…
+ Looks like there's another comic dealing with Synthetiks available for purchase! Well, it's a one-shot trade paperback, which is cool. I'm buying the individual issues of the 'Alex + Ada' series I'd mentioned a while ago, but that's slated to be twelve issues long, released monthly. More than likely, they'll be compiled into a trade paperback after it's complete, but I can't wait that long!… While that series continues, there's 'A Boy and a Girl', written by Jamie S. Rich, and illustrated by Natalie Nourigat.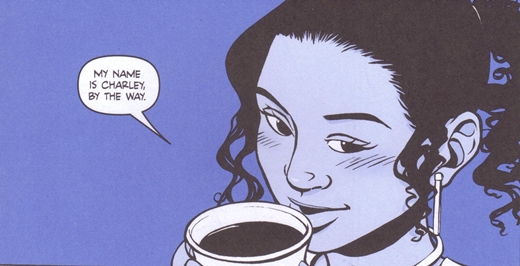 Travis and Charley have just met. It's Charley's last night in town, and Travis can't let her leave without getting her to go on a date. In a future where real people are rapidly being supplanted by lifelike androids, sometimes one shot is all you get. Intelligence may be artificial, but the emotion is real in a futuristic romance from the writer of 12 Reasons Why I Love Her and the cartoonist behind Between Gears.
Oni Press released it back in December, so you can go pick it up now. Go pick it up now!
+ Speaking of the Twitters, one of my Twitter pals would be Doug Tilley; his long-suffering wife Jill sent me the care package of English & Japanese snacks that inspired the infamous 'Do you remember Food?' post series. Doug spends a lot of time reviewing fillums, most of them unusual ones, and he'd mentioned a movie called 'Eve's Necklace', which came out in 2010. Three guesses as to why my attention zeroed in on that film with a laser focus:
A deadly threat in the present and a dark secret from the past imperil a young couple in this first-ever motion picture with an all-mannequin cast.
from the IMDb entry
Okay, that was one guess, all things considered.
In an Email conversation with the director, Daniel Erickson, he'd told me that 'The movie was truly experimental, in that it was a screenplay originally conceived to be produced with live actors, and we decided to film with mannequins without altering any details to the storyline or the dialogue,' unquote. He's agreed to send me a screener DVD, so when that materialises here, Sidore, Elena, and I will eagerly whip up some bacon-flavoured popcorn and watch it, which means that you can expect a review of it on this very blog. Why hasn't this sort of film been attempted before??
+ As you'll recall, the precursors to today's contemporary Gynoids would be the Golden Age of Automata, specifically the 18th century, which saw the creation of the Writer, the Draughtsman, and the Musician by Swiss father and son team Pierre and Henri-Louis Jaquet-Droz. Arguably, their automata were marketing shills, as they showed off the pair's ability to create intricate intricate and graceful machinery; automata was their sideline hobby, as they specialised in watchmaking. It should've been the other way round, but I would say that. The company they founded still exists, and continues to produce ostentatious, horrifyingly-priced timepieces to this day. However, just last year, Jaquet-Droz produced Charlie, the firm's first new automaton in nearly 300 years.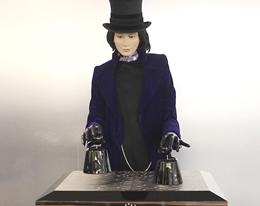 'Everything on this table is eatable, even I'm eatable! But that is called "cannibalism", my dear children, and is in fact frowned upon in most societies'
An authentic sculptural work, this 1.65-meter-tall dandy with his meticulous proportions is perfect in his role of brand ambassador. A truly charming diplomat, Charlie is particularly careful about his attire: the blue of the ribbon girdling the top of his body represents the top of his frock coat, in turn inspired by the blue of the Grand Feu enamel of historical watch creations. His hair is carefully bobbed, and frames his mischievous face, animated by several movements, complete with nods and winks. Elegant and charming, Charlie will make a four-minute performance presenting the brand's new watches, combining the charmed imagination of this one-of-a-kind family with the mechanical and aesthetic virtuosity of this year's new models.
taken from this site
So, ah… obviously someone dug Johnny Depp as Tim Burton's Willy Wonka, eh? Sure. I do like that frock coat, though. I dunno, though; Jaquet-Droz haven't made a new female automata since the Musician, so they really could've built a new version! But I would say that.
As sometimes photographs don't always convey a sense of motion, why not watch Mr Depp Charlie in action here?
+ We end this month's entry with a modern-day Scopitone: a fellow iDollator goes under the name of Dick Cephalo for his musical excursions, and he's created a video for a song he's written entitled 'Celebutard'. In addition, his lovely Boy Toy Doll Reyna Dayana stars in it as well! There's bits where she gets her top off, so be advised, it's not exactly safe for work. So watch it on your smartphone!
Reyna proves that we need more Synthetiks in the music industry. I mean, there literally are no downsides to something like that.
Okay, I'll leave you with one more link, from everyone's favourite satirical news site, the Onion: Japan Grants Suffrage To Female Robots. The Onion never disappoints!