typed for your pleasure on 17 February 2010, at 1.04 am
---
Sdtrk: 'A longing to be absorbed for a while into a different and beautiful world' by Leyland Kirby
If you'll indulge me for a bit, I've a confession to make: lately I'm finding that Heidi Montag lass to be really quite attractive. I'm sure if you have any amount of pop culture leaking into your lives, you already know where this is leading, but if you don't: basically Ms Montag is an obscenely overpaid professional idiot. She's apparently what can be loosely termed as an 'actress', having appeared on a reality show, as well as laughingly referred to as a 'singer', thanks to her full-length album of so-called music. Worse still, she's a god-botherer as well as a republican — those two categories are usually found joined at the hip. I'd first heard of her sometime a year or so ago, and as she was a reality TV star, any cursory interest I had in her immediately disappeared. That is, until earlier this month.
@davecat doesnt Heidi Montag from MTV's "The Hills look like a real doll after her recent plastic surgery?

MafiAMillertime | 1:17 AM Feb 2nd from web
As I had no idea who the living hell she was on about, I had to look it up on das Goögle, and ooohh my goodness why hello there.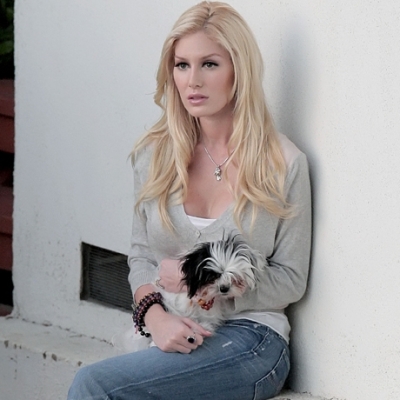 Fully articulated and posable, with a neck hook for display
According to an article on online gossip rag Access Hollywood:
On November 20, Heidi underwent 10 procedures that included a mini brow lift, Botox in the forehead, nose job revision, fat injections in cheeks and lips, chin reduction, neck liposuction, ears pinned back, breast augmentation revision, liposuction on her waist and thighs and a buttocks augmentation. But, she told Billy she's not addicted to plastic surgery.
But of course. She then goes on to say:
I'm starting to move my face more and more, [But,] I feel very plastic… especially when I first came out, it was so hard for me even to smile and it's still hard for me to chew sometimes. But it's feeling more and more natural everyday because the swelling is going down.
I should point out here that I'm completely for the idea of plastic surgery. As long as it makes the person happy, and if it's not done to a dangerous and unaesthetic degree, that is. I mean, if you're gonna get ten procedures done, it may seem practical to have them all done in one go, but you'll more than likely be living like a Cenobite for a number of weeks. Not too clever, but I guess that's kinda par for the course with our Heidi.
Furthermore, there's something to be said about the state of pop culture where people, particularly women, are pressured into valuing appearance over intelligence. Unfortunately, it seems that she's unaware that pursuing both qualities combines the best of both worlds.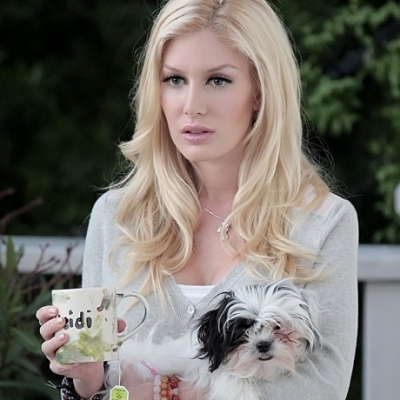 Only $6000, minus shipping and handling
HEIDI MONTAG: Bringing Bold New Meaning to the Term 'Churl'. But thanks to her new silicone rubber body, she's much nicer to look at! rrrRowr.
Ergh. That's enough Hollywood-related talk for a couple of months