typed for your pleasure on 11 October 2010, at 8.32 pm
---
Sdtrk: 'Now or never' by Polish Radio Orchestra
Been quite a while since I've dumped a mess of links upon you! A big sloppy bucket of links all over you, all in your hair and down your shirt. You should probably go wash that off before it dries. Don't forget to burn those clothes as well!
+ In a way, I'm glad that Deafening silence Plus is just large enough, as if it were larger, I'd probably be indulging in my love of technological white elephants. And if I had more money, that is. 'Technological white elephants' is a term coined by sexy Eighties Goth siren Danielle Dax that describes obsolete technology or devices that, for whatever reason, didn't catch on and last in the minds of the general public. Things like the RCA VideoDisc, or the ondes Martenot, or the Nintendo VirtualBoy (I own two — don't ask, it's a long story). I'm fairly sure the TwitterPeek will be joining you lot shortly.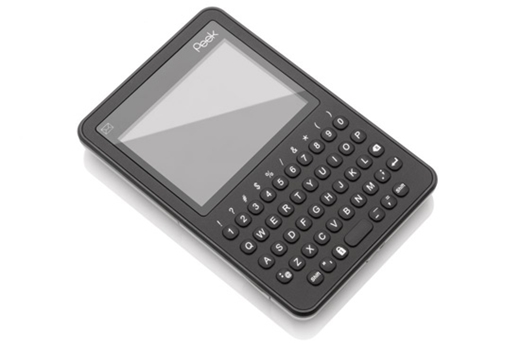 Hear that? That's the sound of Planned Obsolescence
Puts Smart Phones and Twitter Apps to Shame!

No more waiting for tweets to download or clicking the "more" button to see old tweets.

TwitterPeek's "always on" tweet delivery makes it a snap to follow 100's of people throughout the course of your day. Best of all, you don't have to spend $100/month on an expensive smartphone data plan to get Twitter on-the-go.
It must be an interesting and fanciful world the creators of TwitterPeek live in. Honestly, it's not a bad product, but 1) it's very very specific, and 2) the masses would've bought these feckers by the carton back in 2006, when Twitter first started. Or maybe a year after that; some people are undoubtedly still smarting over the whole 'Friendster' thing.
I just tried to search for a used TwitterPeek on the Bay of e, but came up empty-handed. There is no such thing as a consumer item that is created and isn't resold at some point, which kinda says to me that… no-one's buying TwitterPeeks?? *cue minor chord*
+ Speaking of social vortexes, Wil 'sorry, can't save the Enterprise, too busy Tweeting' Wheaton has some very lucid things to say about that other social networking timewaster:
Now, as long as I have your attention and I'm talking about Facebook: I think that Facebook is evil, guys. I believe that Facebook is making gazillions of dollars by exploiting its users, and Facebook doesn't give a shit about how its users feel about that. The only reason Facebook has made any changes to their laughable privacy policies recently is because the company was looking at legal action, and was in danger of losing money.

Personally, I think you should delete your Facebook account and wait for Disapora to get going. I know that's unlikely, though, because Facebook has become a useful and convenient way to stay in touch with people you care about. But please, please consider the consequences of trading privacy for convenience, and think about this, from Newsweek:

If you really expect this company to suddenly become trustworthy, you've lost your mind. Over the past five years Facebook has repeatedly changed its privacy policy, always in one direction, and every time this happens, the same movie plays out. People complain. Facebook stonewalls, then spins, then pretends to be contrite, then finally walks things back—but only a little.

the entire article is here
As for me, I've already said my piece on Facebook and how I think it's rubbish, so I'll not go on about it. But what Will's saying and what others have been saying, not using Facebook is something to consider.
And will I go see 'The Social Network'? If it were a scenario where the proceeds from every ticket for that film went to stopping Facebook, I'd see it once a day. Apart from that, should I suddenly decide there's absolutely nothing else more important that I need to be doing with my life, then perhaps. And more than likely, I won't pay to do it.
+ This domicile would more than likely fit nicely into the 'This IS the Future' category if I had one. *checks sidebar* Just making sure. I give you: Ring House, located in Karuizawa, Nagano prefecture, Japan, and built by architects Makoto Takei and Chie Nabeshima.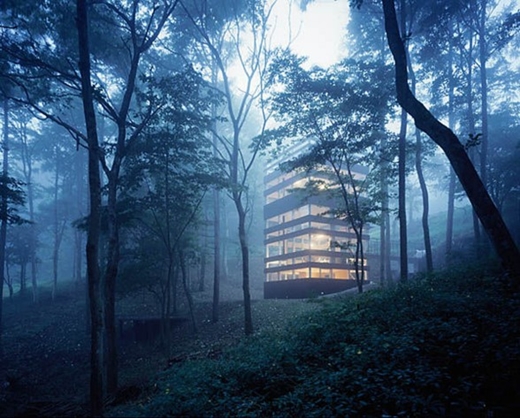 Sadly, the fog is not included
The Ring House is wrapped in rings of glass and wood and has an uninterrupted 360-degree view of the forest. […] TNA designed rings around the facade so that areas of private space and utilities could be met. The height of each ring was decided by the function concealed behind it. The glass between the rings allow you to look straight into the forest, so the whole house appears to dissolve into the forest.
taken from this site
+ As I'm sure every one of you have done, I've lain awake at night, wondering aloud 'when will someone write a yakuza-based Choose Your Own Adventure story??' Well, despite the fact that it's online only, as opposed to a printed work, this page on the site Infinite Story proves that Dreams Can Come True.
You pour the last of your now semi-warm sake from the carafe into your ceramic choko. It fills the shallow glass only halfway and you sip from it slowly, trying to draw out the time. Down the bar from you is a group of sararimen who are getting steadily drunker and louder. From their slurred speech, you gather they are celebrating the fact that their division has made its quarterly projections for the second time, or something bullshit like that. "Fucking peasants…" you grumble not too quietly between sips of sake, but the sararimen do not hear it because they are busy toasting themselves again.

Your name is Shinji Takagawa, a member of the notorious Yamashita Syndicate in Tokyo, and you've been sitting at this sushi bar for the last four hours silently eating, getting drunk, and watching game shows with the sound turned off on the plasma screen TV behind the bar. Usually this sushi bar is pretty quiet place to kill an evening, but these drunken sararimen are making it intolerable. When the waitress comes to see if you need another drink, you just grunt that you want your bill.
the rest of the story is here
Unfortunately midway through the story, your ability to actually make choices is halted, and it turns into a straightforward fictional narrative. But it still gets major Cool Points for the concept overall.
+ If the Missus and I had a cat — Shironeko doesn't count, in this instance, unfortunately — if it were a male, we would totally get him one of these: a kitty necktie.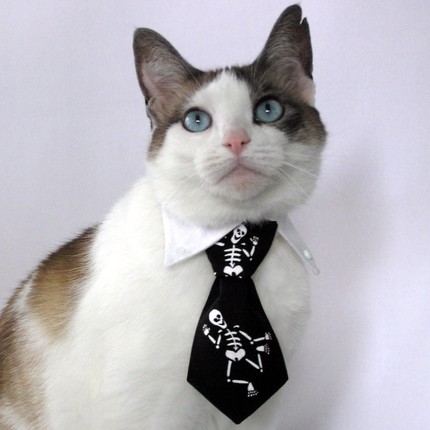 That's something I'd wear. Good choice, little guy! That had better
not be a clip-on, though; that's just lazy
And yes, they offer feather boas for the lady kitties as well. Pair some dapper cats up with ones wearing Kitty Wigs, have a bartender pouring Bradfords into water dishes for everyone, and you'd have a stylish little party!
So there you are! All these links are yours, except Europa. Attempt no landing there. Use them together. Use them in peace