typed for your pleasure on 31 October 2010, at 8.51 pm
---
Sdtrk: 'The station' by Blank dogs
Funny how things work out sometimes: I was cursing photographer Tamar Levine out loud for seemingly dropping the ball on what was to be a promising photo series, 'Broken Robot Girl', as I'd run across the first in the set whilst checking a link. In hitting Mr Levine's site to find a functioning link, I'd seen that he and his partner-in-Photoshop Rob Sheridan completed 'Broken Robot Girl #4' back in August!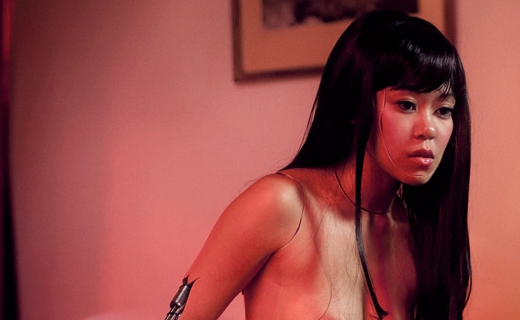 Better get that arm seen to, babe
You'll definitely want to visit Tamar's site, as the complete photograph is worth viewing in its entirety; plus Gynoid jubbleys involved. He says that numbers 2 and 3 in the series are forthcoming, so we'll just have to keep an eye on that site now, won't we?
And another online magazine interrogated me on my Doll husband status recently: upon the suggestion of Abyss creations' Matt McMullen, writer Natalie O'Neill sent an enquiry to me a few weeks ago, wanting to write an article about Shi-chan and I for Asylum magazine. As I'd never heard of Asylum, I'd checked it out, and it struck me as being a 'lads mag' much like Stuff, FHM, and Maxim. Now I don't mind Stuff or Maxim — FHM strikes me as their poorer cousin — but doubts crossed my mind as to how serious they'd approach the subject. Maxim UK actually did an article centred round a RealDoll back in December of 2004, and although it was amusing, it took the piss a bit, which is what you'd expect from Maxim. Natalie reassured me that what she would be writing wouldn't be derisive, and sent me a link to another story she'd written for a newspaper. It was about 'unusual' lifestyles, but she approached it with intelligence, so I decided 'why the hell not?'
The end result? 'Man Has $6,500 Love Doll "Reincarnated"'. It was a pretty even-handed article, all told, although personally Sidore-chan nor I would ever say she was reincarnated; we prefer the term 'renewed', as it's less wanna-be Wiccan and more 'Logan's run'…
And I'm in the midst of yet another online interview with a writer from the Netherworld. Err, I mean, the Netherlands. More info as it arrives!
So there you are! Happy Samhain! Tomorrow I get to raid my local Hallowe'en outlets for BIG TIME BARGAIN SAVINGS!! As the Missus and I like to say, it's the Most Wonderful Time of the Year