typed for your pleasure on 23 May 2013, at 10.56 am
---
Sdtrk: 'Frostbite' by Three to forgotten
Told you there was more to come, didn't I?
+ I've known about this for quite a while, and fired off several frantic Emails to the uploaders, with no responses to speak of as of yet. But it seems someone in Japan has made a full-length video combining two of my favourite things: Dolls, stop-motion footage, and Lewis Carroll's 'Alice's Adventures in Wonderland'. Err, that's three things. Here's the trailer for 'Alicematonika', starring a CandyGirl from Orient industry as Alicematonika:
Directed by Ryosuke Handa back in 2010, it seems the film was screened at a gallery in Japan, along with some of the film's props and Alicematonika herself. And since that's all I've been able to glean from the Interwubs about the film, I leave you with a photo of the wee missy in question having her eyes adjusted.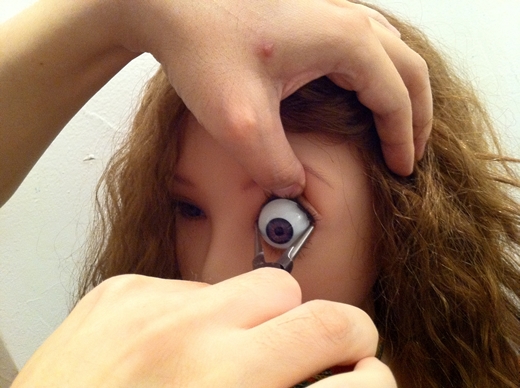 'Still cheaper than a new pair of glasses,' she sighed
+ Although they're still working on updating their website galleries, you'll be pleased to know that Abyss creations have just recently released both a new face and a new body for their RealDoll 2 line. This slinky rubber lass would be Renee, sporting a Body C. As Doll photographer Stacy Leigh herself amusingly remarked, 'Bitch is TALL'.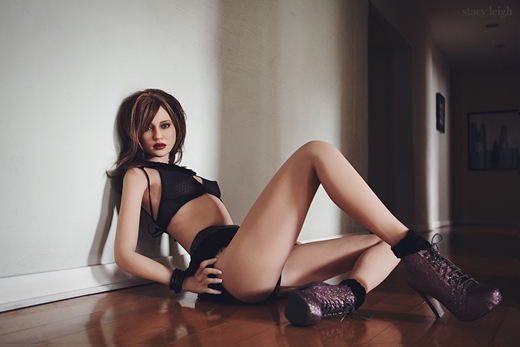 photo © by Stacy Leigh
With stats of B:34 / W:24 / H:34, a shoe size of 8 – 9 US, and coming in at 90 lbs and a towering height of 5'10", which would explain her large but sexy feet. It's advised that should prospective buyers want a Renee-type RealDoll in their homes, they should also have cathedral ceilings. Mind the ceiling fan, sexpot!
+ Speaking of RealDolls, this one from the 'this does not compute' department: alert reader cw sent me a link a while ago to an article on Huffington Post, which links to a Gawker article that tells of… look, here you are:
Brazilians Bidding Thousands of Dollars to Deflower the Country's First 'Real Doll'
by Neetzan Zimmerman | Published 07 March 2013

Ahead of an international convention of Real Doll fans set to take place in Brazil, the country's leading sex toy retailer Sexônico is offering inanimate women enthusiasts the chance to be the first to sleep with the country's first Real Doll, Valentina (NSFW).

The bidding for "Valentina's virginity" currently stands at over $100,000, which sounds like a lot for a one night stand with a sex doll, and it is.

But Sexônico insists Valentina is no ordinary doll: Her state-of-the-art skin has the same texture as human skin, and can be soaked in water without being damaged, if that's your concern.

The winner of the auction will also receive all-expenses-paid travel to and from São Paulo, a free night's stay in the Presidential Suite of a fancy hotel, and a complimentary candlelight dinner with French Champagne to share with Valentina.

They'll even throw in some sexy lingerie as Valentina's gift to you, and a digital camera "to shoot and then show your friends."
the entire article is here
I have no idea where to begin with that information. Does Brazil not have Internet access? Do they not know of Abyss creations? Or any of the roughly twenty other Doll manufacturers worldwide? Cos y'know, people of Brazil, all-expense travel, accomodations, and bottle of overpriced plonk aside, $100,000 could buy you around thirteen or fourteen Dolls. In fact, from a cursory glance at her photos, Valentina looks to be a Body A RealDoll 2, with either a Michelle or a Victoria face, so should Sexônico want to give that sort of Barnum-esque stunt a second go, save that $100k and buy your own army of personal Valentinas with those exact stats direct from the source. A wee bit of homework goes a long way.
As the deadline of 31 March has passed, the bidding is closed, but they haven't divulged what the winning bid was. Which is a shame, as Shi-chan wanted to put a bid in herself. I reminded her that Monopoly money isn't legal tender, not even in Brazil, and she went off in a sulk.
+ Stateside Doll-making juggernauts Sinthetics and Private Island Beauties have both recently released a new head each, if the rubber women in your life don't think they have enough head options. From Sinthetics comes Eliza, which fits all their available bodies, and PIB offer the Luna (with open mouth) head, which would go nicely with their Girl Next Door body type.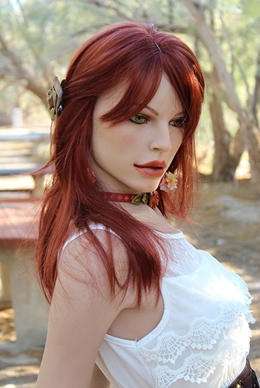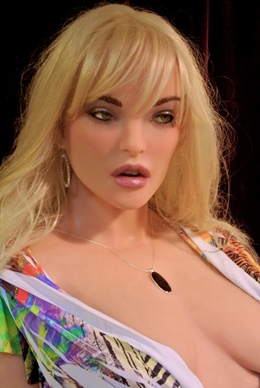 Left: Eliza by Sinthetics; right: Luna by Private Island Beauties
As I'm sure you'll agree, both heads are pretty damned appealing! It's a shame you can't just purchase a head without first having bought a body, though, as I'm sure that would lead to interesting home decor.
+ Of course you recall how winsome Gynoid Actroid-F (aka Geminoid-F) put in an appearance at a branch of the Japanese department store chain Takashimaya last February? 'Who wouldn't?' I hear you respond, and rightfully so. She's now known as Minami, and she proved popular enough to be asked back a second time this month, and not only does she have a cute new bobbed hairstyle to show off, but lucky patrons can actually speak directly with her in a sound-cancelling booth, and have their photos taken with her.
No, I'm not vibrating with jealousy right now; why do you ask?
Asked "Do you have a boyfriend?" Minami answers, "No, I don't because I'm a pop icon and am not allowed to have any."
taken from this article
Hiroshi Ishiguro, creator of the Repliee/Actroid/Geminoid series of artificial humans, says that he hopes Minami can put in regular showings at Takashimaya, as he'd like to develop future displays for her there. I posit that he's thinking small: instead of bringing her round to the store's location every couple of months, why not just make more Actroids? Also, why just remain in Japan? Come to the States! Come to Michigan. The more the merrier, I say!
+ Finally, were you aware that I'd done another online interview? Well, you're certainly more aware than you were five seconds ago. Journalist Britta Bowles had spotted the Missus and I on our first appearance on 'My Strange Addiction', and, like many people, had some hard-hitting questions she wanted to ask me. A two-hour chat over Skype last month had me divulging many untold secrets, the most shocking one being that Shi-chan writes all my lines; she's created a personality for me, as I'm actually just a Doll. O, wait.
The one relationship he did attempt (if it can even be described as such) ended disastrously. Davecat befriended a woman just out of a bad relationship, and they eventually bought a house together. It seems like a story of unrequited love, with Davecat hoping the relationship would progress into something more than friendship over time. According to Davecat, he eventually discovered that this woman was a compulsive liar, a thief and a coke addict with a history of rehab stints. After the purchase of the house, arguments arose.

"We were getting into…debates, let's say, once a week. I think this is partially because of the coke that she had coursing through her system," Davecat tells me rather sardonically.

"I can't imagine that arguments with cokeheads are very fun," I reply.

"If you have the means, avoid them at all costs," he tells me. I make a mental note never to interview a cokehead.
You can read the article in its entirety at Britta's blog, 'Selected writings', here. Hopefully you'll have as much fun reading it as we had conducting it…
And that's it for May! Happy 23rd, and let's see what we can discover next month, shall we?
'Shouting to hear the echoes': More Information About Synthetiks Than You Ever Though Possible. Believe it