typed for your pleasure on 22 March 2006, at 11.02 pm
---
Sdtrk: 'Il doit faire beau La-bas' by Noëlle Cordier
Wasting time, err, I mean, doing research on the InfoBahn yet again, I revisited the site for maniacs for the first time in quite a while. No no, it's not an admission of my insanity — heh — maniacs is a Japanese model-making company whose biggest claim to fame is the 'Fever Doll' series of Mannequins. I'd had it bookmarked for a while, then deleted it cos I'm not as passionate about Mannequins as I used to be. But noting the maniacs site again recently, I see that they have a new limited edition item that's relevant to my interests: Eternal Angel. A Doll masquerading as a Gynoid? How is that even possible??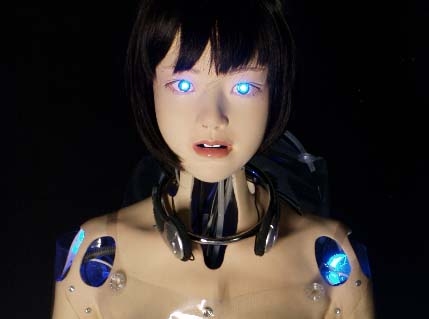 She has a rather 'centrefold from OMNI' look about her
She doesn't appear to be poseable at all, but no doubt she'd be one hell of a conversation piece. Plus, dig that transparent PVC wrap round her — it took me a couple of minutes to realise that's a dress! Very nice..
One would suppose she's the upgraded sister of Android Angel, also made by maniacs *snicker*, which made her debut in back in 2004. Whereas Android Angel is a heart-stopping ¥1,200,000 ($10,136 USD), the site doesn't even list a price for Eternal Angel. And you know what they say about prices — if you have to ask, you'd best get a firm grip on something sturdy, and be prepared to bend over.
Both lasses remind me of P.A.S.S.-chan, from the never-seen-Stateside XBOX game, 'N.U.D.E@', what with all the transparent bits and the blue highlights and etc. Although I'm sure the maniacs sculptors didn't have her in mind in the slightest. They're completely different, you see! Good Job maniacs, and Well Done