typed for your pleasure on 25 January 2015, at 2.26 pm
---
Sdtrk: 'Roosting time' by Matt Berry
Happy 20145! I've already done that gag with a lot of my friends, but you've not heard it, so it's new to you.
The idea of this actually, legitimately being 2015, a year in the twenty-first century, is a bit weird if you think about it for too long. Consider how futuristic that date sounded in, say, 1965. It still sounds a bit futuristic today, and we've already begun living in it! One thing's for certain, though: there needs to be a rapid increase in the development of flying cars, megastructures, off world colonies, and most importantly, Replicants. We've got four years to get society to the way it's depicted in 'Blade runner', and we really don't have time to stop and gawp at the calendar!…
+ To that end, Toshiba is doing their part, with their own electric maiden, Chihiro Aiko. Remember her? She made her US debut at this year's Consumer Electronics Show in Las Vegas, and has I known she was going to be there, I would've bought one plane ticket to fly out, and two for the return flight, as she'd be coming home with me. You think I'm joking?
She took the opportunity to show off her aptitude in American Sign Language, as well as her singing ability. Unfortunately, the song she had a go at was 'Take me home, country roads'. I would've had her belt out an earnest rendition of France Gall's 'Cet air-là', but that's just me.
As fellow robosexual Vokabre, aka Our Man In Russia, reports on his blog:
What's quite cute is that in the presentation they not only included some data like the number of pneumatic drives (it's 43 overall, 15 in the face, 4 in the body and 24 in shoulders and arms), but also the virtual "age" of the lady, it's 32. Reminds me of how Actroid DER2 liked to call herself 18 years old.
They also managed to break down not only the "family name" Chihira that was done before during the first public appearance of Aiko, but the name Aiko itself, according to the presentation it means "Idea and Communication", "I CO". That Orient symbolism in everything, so awesomely strange.

Of course, I'd be glad to see a presentation with interactivity, face-tracking and hand-shaking, but this might be too much for an early project.

It is indeed an early project, many people in the internets continue to call Chi Aiko creepy, that's a good old uncanny valley. What's also interesting, there's more Uncanny Valley screams in western languages than in orient ones which lays perfectly with my observations that Japanese, Korean and Chinese people seems to have more tolerance towards androids.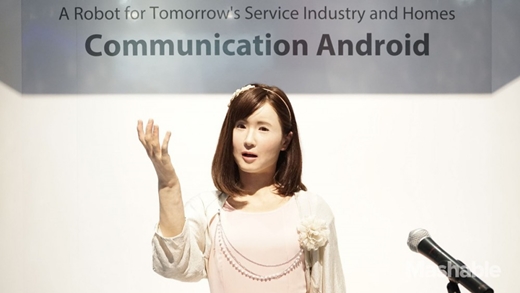 'Il restera cet air-là / à jamais au fond de moi / car pour toujours cet air-là / parlera de toi et moi'
It's my hope that Chihiro-san can help open the eyes of Westerners who still believe in the myth of the uncanny valley. Over time, exposure to anything makes it less alien of a thing, so to that end, Toshiba should consider employing Chihiro-san — really, multiple Chihiro-sans — with either assisting the deaf with her knowledge of sign language, or start grooming her as a singer.
+ Now here's a stirring way to celebrate the beginning of a new year: Polymerisian starlet and entrepreneur Tasha James has put the finishing touches on another one of her amazing photobooks, this one entitled 'Soul to Sole'.
By request, my new book #SoulToSole is now available. Thanks to @Davecat and my 3 favorite ladies for the inspiration pic.twitter.com/OyfBXetycF

— Tasha James (@ItsATashaThing) January 22, 2015
It's true, we'd inspired her! As my Missus and I are quite keen on the female foot, we'd suggested to Tasha that she have her photographer Paul do a shoot featuring her own delectable soles, toes, and heels, and she followed suit. So I suppose that's another photobook that we're ordering from her. Damnit Tash, how do you know the right buttons to push??
If you'd like a copy of 'Soul to Sole' or any of her other photobooks for your very own, and why wouldn't you, you'd be mad not to, you can check out the details on her site here. As she says in her announcement post, she's open to suggestions, so if you've got an idea that she and Paul think would be worth pursuing, give her a shout!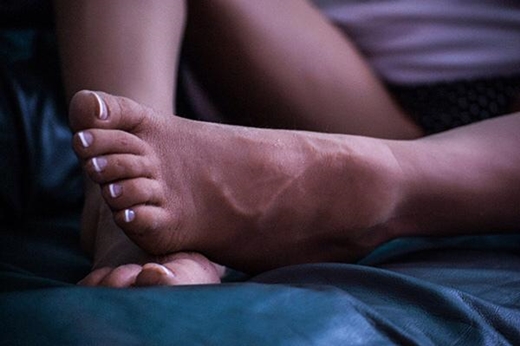 We here at Deafening silence Plus fully endorse more of this sort of thing
+ It looks like AL-M 008X-01 has been moving up in the world of late! You may know AL-M 008X-01 as Android ASUNA, and towards the end of last December, she worked with self-styled DJ, model, photographer, and music producer Julie Watai to participate in a photo series entitled 'Love Valley'. Over eighteen days, the two of them modelled various clothes and poses that reflected a blurring of the lines between Organik and Synthetik, and the results are worth seeing.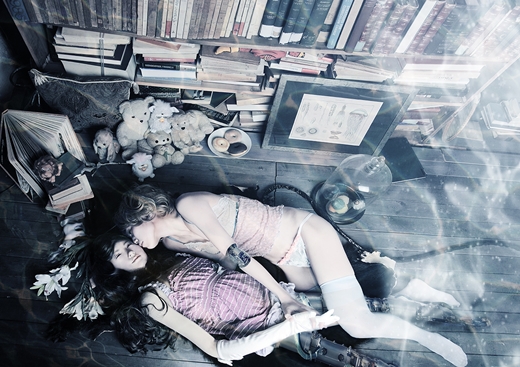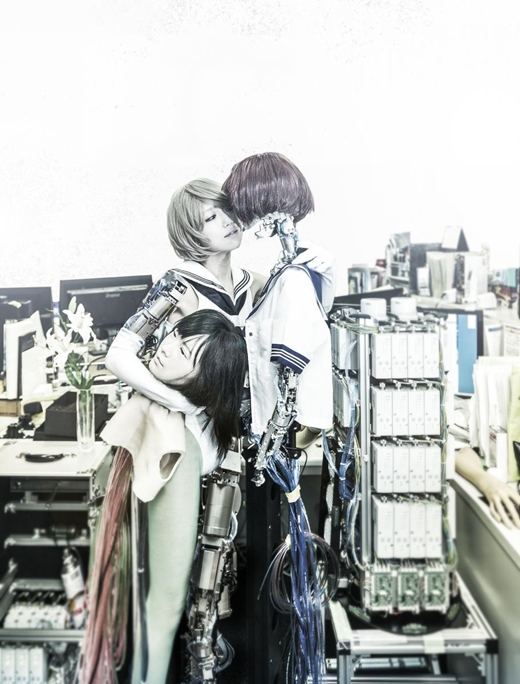 There's not a lot of information about the shoot, apart from an entry on Asuna-chan's blog, so I'm tempted to see if writing Ms Watai would provide any further insight. Still, the pics are well-executed and definitely lovely to look at. A short video was made as well, so one can see how lifelike and blinky Asuna-chan is:
All eighteen days worth of the 'Love Valley' shoot can be found on Julie Watai's website here: http://juliewatai.jp/love-valley.
+ Domestic Doll studio Ruby13 is on the verge of releasing some new faces, starting this year, so that's pretty awesome, I'd say! In an Email conversation, head sculptor Jim told me this:
after a year of looking for a sculptor to make some new faces for Ruby I've given up and decided to give it a try myself. I've never sculpted so this was a bit of a daunting task to both learn to sculpt and then try to come up with a "pretty" female face.

So far I have 3 new faces that are going in to be made into molds. these faces are an answer to the many emails we've received asking for a more realistic face option. I hope this will open up our market a bit.
This would be the first of the new faces, and I believe we can all agree, Jim is off to an excellent start…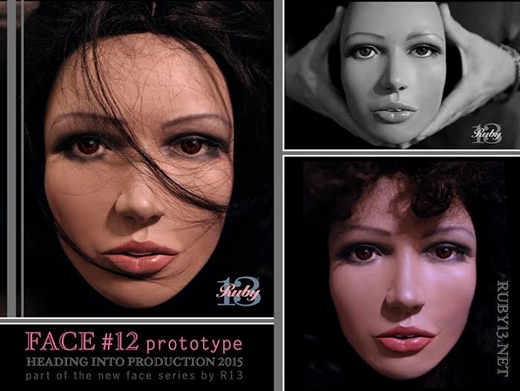 Part of me, though, thinks he's stretching the truth a wee bit. He claims that he's never sculpted before, and yet, he's come up with that captivating face?? 'Oh, I've never painted anything before', said Hieronymus Bosch as he effortlessly proceeds to realise in full oils his triptych of 'The Garden of Earthly Delights'. Come on, man.
Nevertheless, she has an appealing European look to her, and I told Jim that I think it's one of the best faces available so far. I'd said, 'I think it's one of the best faces available so far'. Now Ruby13 will have more to offer potential iDollators! As soon as I find out when that as-yet-unnamed face is for sale, I'll be sure to mention it here…
+ Would you believe that I've done another interview? Impossible as it may seem, I have! This past December, a lass by the name of Miss Metaverse contacted me through Twitter, and asked if I'd be keen on answering some questions pertaining to Dolls, Gynoids, and the future of artificial humans. As Miss Metaverse runs a blog which centres round future technology and lifestyles, and as her questions enquired about Gynoids as much as they did about Dolls, I readily agreed.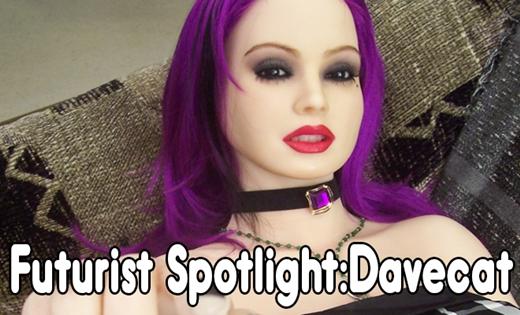 N.B: that's my Missus in the above pic, not me
Both Miss Metaverse and I dug the end result, which can be read on her blog here: Futurist Spotlight: Davecat. If you like, you can also read the preceding post which led up to it, which is also Recommended Reading, 'Sex Robots and the Future of Gynoids', and if you enjoyed that, you can read her whole dang blog. I mean, what's stopping you?
Since Futurist Miss Metaverse has quite a bit of experience in discussing impending technological developments through her writing and video talks, it seemed only natural to add her to the 'Shouting etc etc' sidebar as well. See?
+ And finally, this would be a… thing… that Sidore, Elena, Muriel, and I slapped together at the end of 2014. I honestly don't know what to call it. The Missus said we should do something rather like the alternative Christmas message that they sometimes have in the UK that's a counterpoint to the facile and condescending annual message that Elizabeth II bestows upon her subjects. Morrissey was asked if he would do one last year, and that's probably what inspired Shi-chan. (He turned the request down.)
Shortly before that time, I got it into my head that I needed a Vine account, and I created two superb videos for it, until I discovered that Vine only allows you to upload vertically-shot clips. Sorry; if you're only shooting your videos vertically, you need to be shot. Luckily, I recalled that Mobypicture lets you upload videos whether they're vertically-shot or in proper horizontal, and you're not limited to six seconds as you are with Vine. So I shot this video/clip/missive/whatever with the lasses. Observe: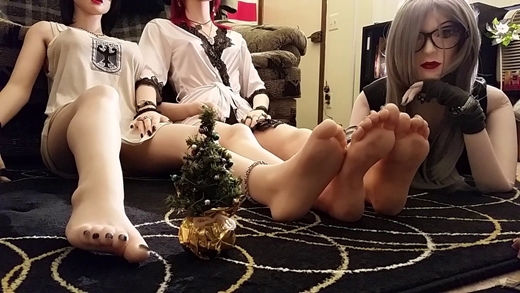 click the image to open the video
As Elena loves Cocteau twins, she selected the song you hear, which would be 'Oomingmak'. Incidentally, that's also the first public appearance of our karakuri ningyou. Much to our disappointment, he doesn't seem to move well on carpet, but as his plastic gears are noisy as hell when in motion, I suppose it's for the best.
Maybe we'll film one of these videos annually! Cos frankly, having 360-odd days between conceiving each one and actually doing it fits our pace to a T!
I think those new bits & bobs should keep you reasonably informed. Start the new year off with Synthetik humans! Well, start each day off with Synthetik humans; that's what I say.
Originally this would've been another two-part post, but then I realised by the time I finished assembling the second part, it'd be February. So, err, come back in a week or so!