typed for your pleasure on 16 October 2009, at 12.27 pm
---
Sdtrk: 'A beginning word' by Roj
Whilst at work one day last week, I was thinking about all the films I wanted to see on the big screen this year that I unfortunately missed. It was a lengthy list — Moon, District 9, Let the right one in, Tony Manero, 9, Flame and Citron, Inglourious basterds, and Harry Potter and the Half-Blood Prince. I think I've forgotten one or two — which is odd, as it's well-documented that I loathe Hollywood. However, the one film that I really wanted to catch, which I thankfully did last Friday, was 'Surrogates', directed by Jonathan Mostow. Furthermore, I was able to bring Mari along with me, partially as revenge for her making me stare at that sloshing bucket of vomitus known as 'Transformers 2' some months ago. You counteract Bad with Good, as far as I'm concerned.
So what'd we think? It was a brisk 88 minutes in length: Mari enjoyed it, as did I, but for differing reasons. She liked the special effects and the explosions, whereas I dug the whole idea of the Surrogates' technology. Insert 'DURR HEY' here. I'll definitely buy the DVD when it's available, but I do have to say two words that I regrettably end up using whenever reviewing any big-budget film that covers the topic of Synthetiks: Hollywood ending. Although, as the film is based on a graphic novel that I've never read, I've no idea how close the film's ending, or the story overall, hews to the original comic. Funnily enough, Mari and I stopped round to a Borders after the film, so I could pick up the first volume of Karakuri Odette (as mentioned here), and at one point, I was idly glancing through a copy of the Surrogates trade paperback, and it didn't occur to me to flip to the end. Tch!
Overall, 'Surrogates' was inoffensive to my technosexual sensibilities, Hollywood ending notwithstanding. The opening credits, which consist of a montage sequence which serves to fill the audience in about the world in which the film takes place, had a few nods and winks to iDollators and technosexuals, such as a couple of seconds of RealDoll faces from 'Guys and Dolls', as well as footage of Hiroshi Ishiguro and his Android twin, Geminoid. Naturally I'm gonna point this out: as it was rated PG-13, sadly there wasn't a single topless Gynoid to be seen, as the film's distributor was Walt Disney Pictures. Thanks for that, Disney, you wankers.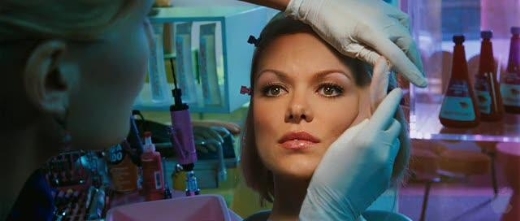 It's okay…
But this isn't a review of 'Surrogates'! What I'd like to do instead is touch upon the sociological aspects of that kind of technology existing. The Suris, as they're often referred to in the story, are incredibly detailed and slightly enhanced human representations that are 100% artificial; however, they have no AI of their own, as they are controlled by Organik operators. To use one, you sit in your special control seat, strap on a neurovisual headband thing, and control your Suri with your mind. Obviously, the whole point of a Surrogate is not just to be able to experience life without leaving the comfort of your chair, but to do so looking your best. Your Surrogate can be made to resemble a flawless version of yourself, of course, or you can purchase generic-looking models, or you can even use one with practically any look or gender that you may desire. (There's actually a plot point with that in the film.) As far as I gathered in the film, whatever sensations that your Suri would feel would be ones that your meat body would also feel, with the exception of pain. They kinda didn't get into that in detail, but from certain scenes, I figured that was the case.
Therefore, as they lack AI, Surrogates are not actually true Androids and Gynoids; instead, this would be an example of what's known as telepresence, with teledildonics being its sexier cousin. I'd mentioned Hiroshi Ishiguro and Geminoid earlier; telepresence is what's involved when Ishiguro-san uses Geminoid to teach his classes or make appearances whilst staying at home — Geminoid is Ishiguro-san's proxy. In fact, if you've ever seen the anime series 'Ghost in the shell', or read the manga it's based on, telepresence is everywhere in it, particularly in the 'Man-machine Interface' manga. And as you'd suspect, teledildonics operates essentially the same way, only centred round sexy time. VERY NICE I LIKE
Now, the thing that struck me about Surrogate use is they are, in essence, simply highly sophisticated telephones. Think about it: when you use a phone, you are speaking to another Organik through the use of a device, as they are with you. Instead on just hearing a voice through a phone, or even a voice and an image through a videophone, there is a physical presence before you that you're interacting with. Well, that your Suri is interacting with, but you get the picture.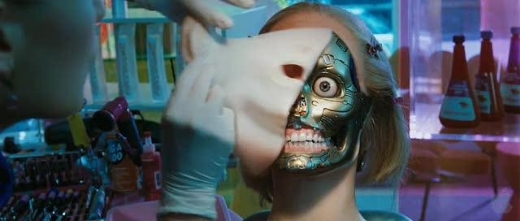 …she's affictitious
One of the plot points of the film is that Surrogates are in incredibly prolific use by most of the globe's population — they're ubiquitous, you can't get away from them. But, much like in real-life, there are some segments of society that are against technological advancements, and have established human-only 'dread zones'. Naturally, there's a plot point dealing with that as well. The people inhabiting the dread zones live wilfully-technology-free lifestyles, like pockets of Amish living in self-imposed cultural isolation in the cities, and have banned Surrogates from even passing through the zones' gates.
The inhabitants there follow the tenets of a man calling himself the Prophet, a cult leader who exhorts his followers to reject Surrogates, based on the premise that continued use of that sort of technology will further dehumanise society. I mean, it's all well and good if that's the lifestyle you wish to lead, but that sort of blinkered anti-technological mindset shouldn't be inflicted upon others. Should a person want to utilise Surrogate technology, they should be free to do so. Considering further, the dread reservations are rather like enclaves of bigotry. If instead of hand-painted signs reading HUMANS ONLY, what if that sign said WHITES ONLY? With the continuing advancement of real-life artificial human development, there's a genuine fear, as JM of the blog Synthetically Yours and I have discussed, of Organik humans losing their precious monopoly on humanity, which is why a person such as The Prophet existed. Naturally, there's a deeper plot point that explains him too, but ZOMG SPOILERS
Would I use a Surrogate? As I spend a great deal of time living in my stately manor located in the so-called Uncanny Valley, the answer should be as obvious as if you'd asked me 'do you like money?' or 'do you like bunnies?', really. To be able to use a better-looking, more physically enhanced Synthetik kagemusha of myself would obviously be ideal. Detractors would say that Suri use, or an artificial human such as an Android or Gynoid isn't 'real', but I've always defined real as 'anything that can be perceived with any of the senses'. Therefore, a Surrogate or a Synthetik is real, they're just not Organik.* Of course, due to the nature of Surrogate usage, i.e, reclining in a seat for hours on end, there'd be a need to exercise my meat body periodically, so muscle atrophy wouldn't take hold, which I'd personally say would be the only disadvantage I could see to the use of a Suri. Couldn't I simply scoop my brain out of my skull and pop it into the Suri's head? That'd be so much easier.
If that particular technology was made available tomorrow, for example, I'd say there'd be three schools of thought concerning them. You'd have people like me grinning from ear to ear — not necessarily technosexuals per se, but people who are enthralled with technology and gadgets, people who could see the aesthetic value in a Surrogate, lazy tossers, etc; there'd be those who would be initially apprehensive, but then grow accustomed to the concept and either eventually adopt it, or realise it's not a threat to their lifestyle; which leaves those who would be gathering up cement blocks and rusty bits of corrugated metal to use as gates for their dread zones.
'Would humans stand in line at the grocery store behind a robot? Would I let my children play outside if I knew there were robots outside walking dogs?' asks writer and robotics expert Daniel Wilson in this article for CNN.com. They're valid points, as they detail the mindset of the second and third schools of thought I'd mentioned. Humans naturally have a fear of the unknown, but when enough people see how beneficial and even fun a development such as Surrogates (in the fictional world) or Synthetiks (in the real world) can be, not only will they cease to be a mystery, but in time, people will wonder how they managed to get on without them.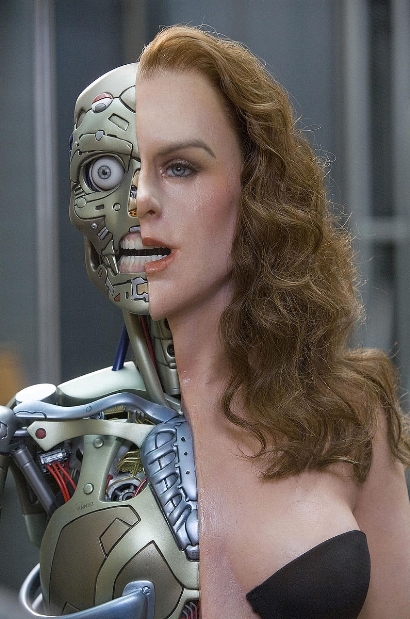 Yum! Time to check online auction houses for 'Surrogates' props
So here's a question to you, the stunned reader of 'Shouting etc etc': would you use a Surrogate if such a thing existed? Or would you prefer to remain with your current fleshy self? How do you think you'd react if you discovered someone you knew was using one? Answers to be turned in before the end of class, please
ta very much to both Wolfgang and Pat!, for sending me links for additional research
*Can you tell I'm trying to reclaim the word 'real'? It's a bit like how the word 'love' is wildly misused. You can say that you love someone, and you can also say that you love bacon sandwiches — the usage can get vague. Though one would hope to "Bob" that it's not the same type of love for those particular examples ('Th… that's not mayonnaise!!' Yes, I went there)
Technorati tags: Surrogates, Jonathan Mostow, Android, Gynoid, robot, Karakuri Odette, technosexual, iDollators, RealDolls, Hiroshi Ishiguro, Geminoid, telepresence, teledildonics, Ghost in the Shell, Daniel Wilson, bacon