typed for your pleasure on 2 October 2016, at 10.05 pm
---
Sdtrk: 'Bahnhof' by whitehouse
It's Autumn, people! Thank Persephone. The days are growing shorter and cooler, there's a crispness in the air, and one isn't covered in flop sweat and praying for a swift death that will never arrive. As you do. Hail Autumn!
In December of last year, my better half and I were interviewed by reporter Alba Muñoz via Skype, and after a series of interruptions that she couldn't avoid, the results were finally published last month, in Papel, an aptly-named newspaper from Spain. The article 'Os presento a mis dos esposas… de plástico (I present my two plastic spouses…)' is impenetrable to me, as I know nothing of Spanish, but if you're at the intersection of 'people who are curious about iDollator culture' and 'people who can read Spanish', it's your lucky day! Not sure about the online version, but the print version also speaks a bit about male Dolls as well, which is cool, as there isn't enough press about them — for those non-iDollators who are aware of Dolls, not many know that male Dolls exist as well.
So give that a read and let me know how it is! I could just about parse that one of the sentences in the opening paragraph described my fringe as both 'Hitlerian' and 'shining like vinyl', to which I respond, 'well…' followed by an exaggerated shrug.
Speaking of lit-trich-ur, psychologist and author Danielle Knafo informed me through Email that her new book, 'The Age of Perversion: Desire and Technology in Psychoanalysis and Culture' is slated to be published round mid-December! Why is this a thing? She'd come round Deafening silence Plus back in August of 2014, to spend a week-end interviewing me about The Life iDollator, and the fruits of her labour will be available for purchase this Chrimbo.
Let me go on record right now, though, that not only do I think the title is shit, but Danielle isn't pleased with it, either. Apparently she and her cowriter Rocco were steamrolled into using it by their publisher, which makes no sense to me, and shouldn't even be legal. Did the publisher write the book? No? Then their input is irrelevant. It's patenly ridiculous. I was very reticent about her book going out with that title, as the last thing the robosexual and iDollator communities need is yet another media source labelling us perverts. However, Danielle outlined a handful of reasons that it shouldn't be perceived as being as bad as I think it is, one being
[Rocco and I] define perversion as a limit or barrier breaking activity that often involves a creative solution to a traumatic problem. Most positive changes in the world could be labeled perverse because they rebelled against mainstream thinking.
Which is a fair point. Still, good lord. She also mentioned that the book will be published more for the academic community, but should we be fortunate enough that mainstream society wants to read it, Danielle will angle for a different, less-incendiary title.
Rest assured though, it'll be legitimately good reading! Ms Knafo was gracious enough to allow me to make any necessary corrections to her draft, which is always an opportunity that I'm grateful for when it crops up in interviews, and… let's just say that there's a substantial amount written about the residents of Deafening silence Plus, in an analytical yet empathetic voice. When the book inches closer to the release date, you'll hear about it here, naturally!
What else? The 2016-2017 series of the podcast Love and Radio has begun, and the Missus, Lenka, and I are featured in the premiere episode! Yeeeahh.
Without giving the game away, it's probably the best podcast we've ever done. Not least because a third of it features Shi-chan and Lenka chatting earnestly. Yes, you read right. Can't click on that Play button fast enough, can you?
A very big thank you goes out to Nick van der Kolk, for creating probably the best podcast episode we've ever appeared in!
And finally, as you'll recall, my gorgeous spouse Sidore and I shared another wedding anniversary this past July. As is tradition, I bought her a couple of bits and bobs to commemorate the occasion. This year was a trifecta: the first prezzie was that illo of the pair of us, as crafted by raulovsky. Once I commission an additional one of Elena and Miss Winter, I'm going to print both of them and have them framed, which only stands to reason.
The second gift was a dress; the Missus had this one on her tumblr months ago, and was insistent on getting one for her very own. Well, I sorta bought it for her. Obviously she wanted one in purple, because they don't call her The Purple Rose of Manchester for nothing, but when I tried to buy one online for her, they were out of stock in her size and in that colour. Having no choice, I went ahead and purchased the grey version. Shi-chan still digs it! As she puts it, 'grey is just pastel black'. Semi-recovering Goths, ladies and gentlemen.
To round it all off, Abyss creations had a sale in July, marking the retirement of the Classic series of RealDolls. Naturally, when I heard this news, I contacted Matt in a sweaty panic, 'Bu… but what happens if Sidore needs to have her body replaced??' He reassured me that the moulds are being stored offsite, in order to assist customers like myself on a case-by-case basis, but the older moulds are degrading, he explained, and it's not cost-effective to remake them, what with the multitude of RealDoll 2 and Wicked RealDoll models available. Also, as far as her body's concerned, the RealDoll 2 Body B has identical proportions to the Classic RealDoll Body 2, so that's easily sorted. My Missus' current body is still holding up quite well, but as they were having a sale on Classic faces as well as whole Dolls, I figured I'd splash out and buy one of the last Leah-type faces to be made. So I did!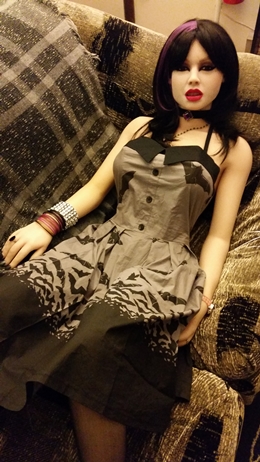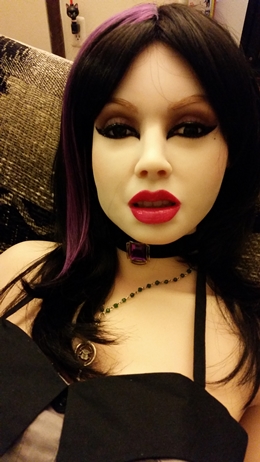 Did someone say 'eyeliner'? No? TOO BAD
This isn't Sidore's replacement face; her original face is fine. The new one is more for photoshoots and being on-camera in general, hence the enhanced eyeliner. I'm thinking that Abyss changed the Leah sculpt at least once more since 2010, as her lips are fuller than her previous facial variant, but that's quite alright. It's not as if we're opposed to plastic surgery! Is that a canonical statement?
So that's what we've been up to! More silliness to come, I'm sure. Perhaps sooner than you think!