typed for your pleasure on 18 December 2009, at 8.09 pm
---
Sdtrk: 'Outta state' by US girls
Hello! Whole lot of topics to cover this month, and that's mainly cos I slacked off for two months! So make yourself a decently-sized sandwich, pour yourself a pint, and let us henceforth begin.
+ First off, for all of you fans of leggy Russian Synthetik babes, Anatomical Doll have created two new heads, now available for purchase. Say Здравствуйте! (hello!) to Elena and Natalia.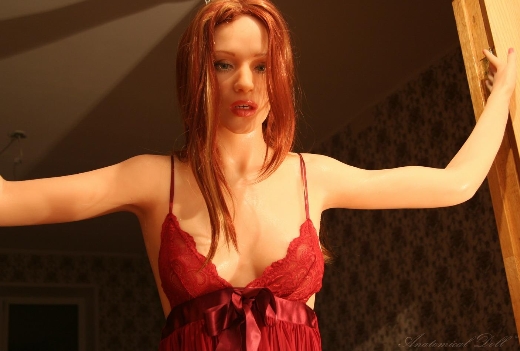 My kind of Red Army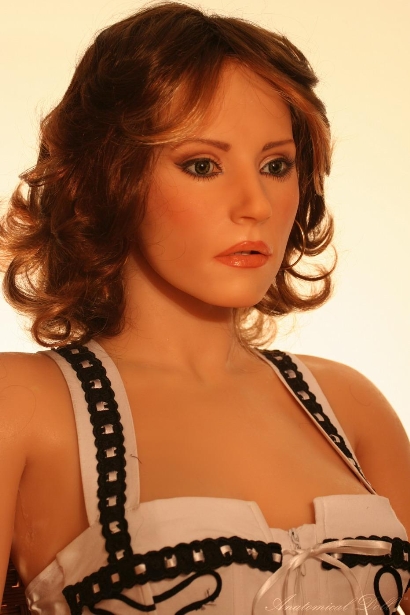 What is Natalia staring at, you ask? What isn't Natalia staring at?
Elena is a modified version of Victoria, their first head sculpt, and Natalia is brand-new. For me, Natalia has the slight edge, as I'm completely in love with her luscious glassy-eyed stare. Either way, they're both delicious lasses, wouldn't you agree?
Coincidentally enough, I dreamt the other night that someone had shipped me a Victoria-type Anatomical Doll, apparently new and still in her box. I wasn't entirely sure what to make of the affair, so I called in Dexter — yes, he of the telly series — to give her a once-over before I got her out of her crate. 'You and I both know we're experts in our particular fields,' I said to him, 'and I wanted to see if you could make sure she doesn't have any contaminants or radioactive material before I keep her.' So we proceeded to open the crate with a power screwdriver outside in my apartment's parking lot, of all places. He'd brought his wife, who I wasn't sure if she knew what I did, and she stood at a close, but safe, distance from the action. As Dexter opened the crate, I turned to her and said 'No screaming! No screaming!' Just as her eyes grew to the size of saucers, the 'show' cut to the opening credits of Dexter, which I thought was rather neat, but didn't exactly tell me of the Victoria-type's fate…
+ Next up, we have Lilica, yet another head out now from steady contenders 4woods, which is compatible with all of the body types that they sell. Damnit, people, how is anyone supposed to keep up with you??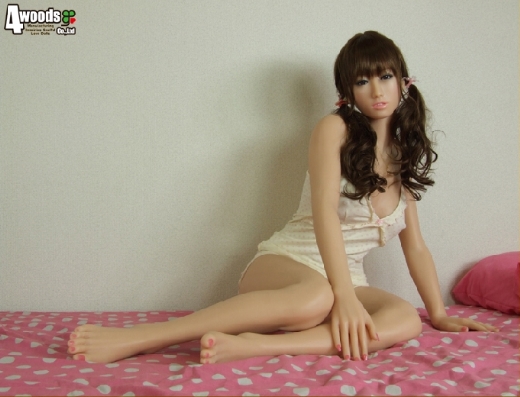 'Just to let you know, I had nothing to do with my ad copy'
'She is a girl that is not beyond your reach but almost like a girl next door. She also makes you feel relaxed but has sexy daring appearance at the same time', reads her ad copy, and I'm strangely compelled to agree with their assessment.
Not only that, 4woods are offering custom nail art for any model of silicone poppet that you wish to order: French nails, which would be a French manicure; Glitter nails, which are… glitter nails; and Colorful nails, which are great, should you wish to saddle your poor unfortunate Doll with a ridiculous candy kid look, thereby guaranteeing that she'll never get a proper job, and she'll probably end her days strung out on meth.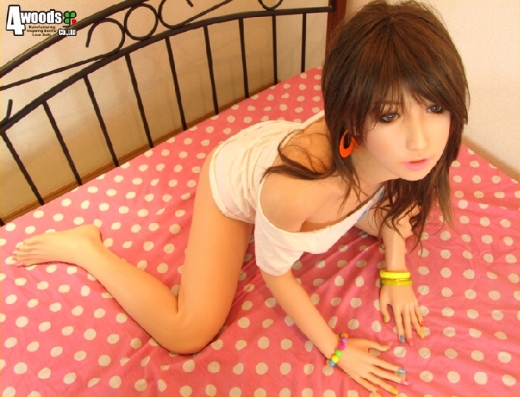 See? She already has a glazed look in her eyes from too many disco biscuits
Furthermore, they've got a new page flogging enticing lingerie, wigs, jewelry, boots, stands for extra heads, and suchlike in their Doll Accessories store, which is, quote, 'Costumes and other accessories you must have to love your doll'. I love that — you must have them, otherwise loving your Doll will be patently impossible! Fact.
+ It seems that another new Doll manufacturer is stepping up to the silicone plate! This is always good news, of course, but this will particularly please iDollators who happen to live in the European Union. Behold: Dreamdoll Creation.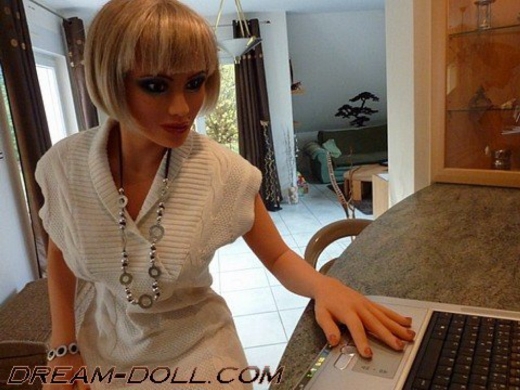 Swan finally levels up to Capo in 'Mafia wars'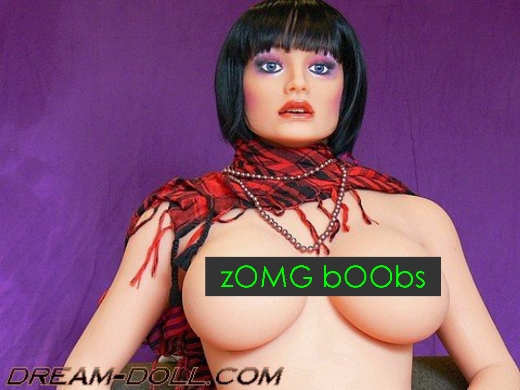 Soria gets her rubbery jubbelys out for the camera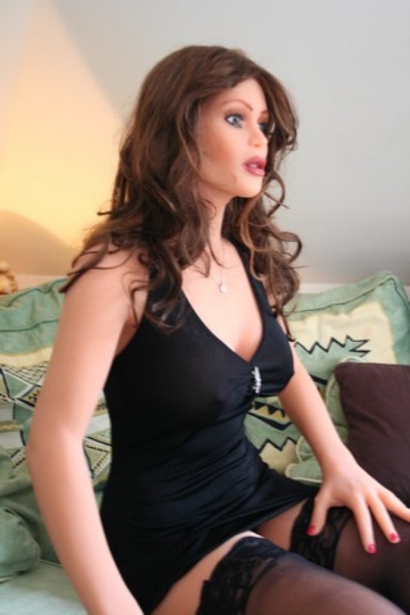 Tania proves that not all the Dreamdoll creation models have short hair
The company will aim for selling four body types, all 5'8″, 101.5 lbs, with busts that range from 35 B to 35 E/F, at the heart-stopping, finance-destroying price of EUR €6,990.00, or roughly $10,200 USD. But can you truly put a price on love?
+ So have you noticed that Miim-chan (the Gynoid formerly known as HRP-4C) has been increasing her presence as of late? She's everywhere these days! Back in September, she put in an appearance at the 2009 Robofes in Toyama, answering questions from the press in her own inimitable fashion.
[AIST] also brought along their famous HRP-2 Promet humanoid and compared them side by side, which really shows off the incredible advances made between late 2002 and 2009. At one point during the demonstration, the presenter asked HRP-4C, "How tall are you?" to which she replies, "158cm." The presenter then asked, "How much do you weigh?" to which HRP-4C covered her mouth and only whispered the answer, garnering laughter from the crowd.
the rest of the article is here
Then in October, she was being automatically sexy at Tokyo's Digital Content Expo 2009, displaying both her motion and acting skills.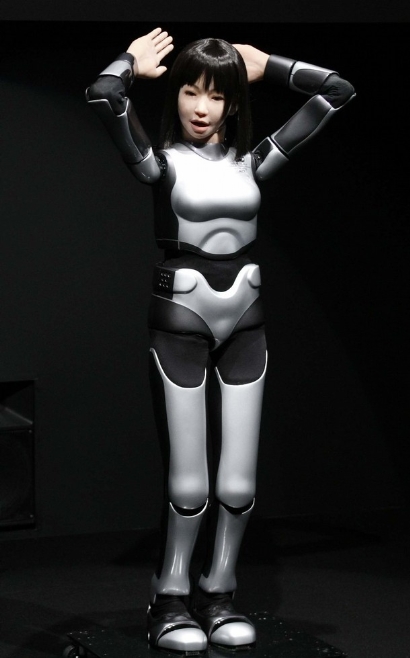 O, mercy
Finally, her appearance at this year's CEATAC JAPAN featured three performances of her singing, using Yamaha's Vocaloid synthesiser software; in two of them, she was either cosplaying as Miku Hatsune or Megpoid, who would be two of the music programme's mascots and virtual idol singers. If that wasn't fab enough, Miim-chan was taking song requests through the use of an iPhone application. I suppose the iPhone has some use after all, then!
Although Miim sings along with the self-playing piano in a highly expressive manner at the demonstration, this humanoid robot can also move her entire body using approximately thirty integrated joints. In strictly technical terms, therefore, she is apparently already in possession of all she needs to move her hands and legs rhythmically in time with the music.
taken from this site
Sure, she's no Sylvie Vartan, but as I always say in these cases, you have to crawl before you walk — just think of how scintillating her singing voice will be in a few short years! Nevertheless, an impressive showing from everyone's favourite Gynoid (until the next favourite Gynoid is built)…
And wow, it turns out that she made the cover of the October issue of ROBOCON Magazine as well! This just proves that it's Miim-chan's world; we just live in it.
+ He's probably gonna kill me for mentioning this in a public venue, but one of my ex-roommates, spotted here and there on 'Shouting etc etc' as zszsz, once tore through 30 +/- different jobs during the course of a single year. I think Kobalab's Android SAYA is coming up on his heels rather quickly. She's been a receptionist in both Japan and Israel, as well as a schoolteacher. This time, her latest temp assignment would be a stint in Japan's Takashimaya department store, which she did from 14 – 18 October. So how was that paycheque, babe?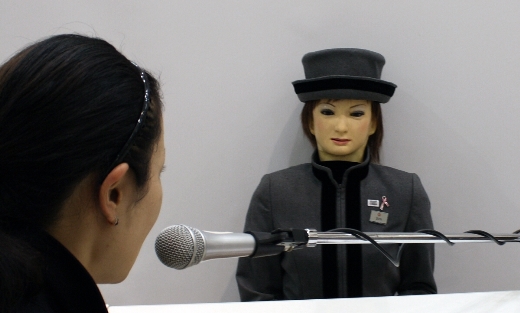 'Excuse me, Saya-san? Do you know Actroid-san? I've always wanted to meet her! I love her work, and… say, what's with that frown?'
Although she responded appropriately most of the time, the cyber-receptionist occasionally seemed to misunderstand what people said. For example, one person complimented Saya by saying, "You are pretty," but the robot flashed a look of disdain and responded with, "Are you crazy?"
the rest of the article is here
Sooo… probably not that good of a paycheque, then.
+ Which, of course, leads to news about Hiroshi Ishiguro's pride and joy, the Actroid series. One of the models, Sara-chan, who was originally at the Aichi World Expo in 2005, was at the Kokoro booth at this year's iREX at Tokyo Big Sight, demonstrating her company's latest development:

Would she provide autographs upon request? Hmm
The Human-Type Head Basic assembly kit, which is dedicated for school education. You will be able to assemble it and your feelings will be the finishing touch. Thanks to this kit, students will be able to learn that a combination of simple mechanisms can produce complicated expressions. Thanks to the Pneumatic equipment, they will have the chance to learn how to use an air cylinder, or to study "link mechanism" (a mechanism to convert the linear movement of cylinders into the rotation movement such as open/close of the jaw) by assembling the real kit.
the rest of the article is here
I can't remember where I'd read it, but the kit is supposed to be reasonably-priced as well.
!!! *suddenly grabbing you by the lapels* Do you realise what this means?? If you were to combine that Human-type Head kit with, say, one of the Dolls pictured above, then…
Sex robots: The rise of the pleasure machines
by Geoff Shearer | couriermail.com.au | September 21, 2009 11:00pm

HOLLYWOOD was right, robots are going to take over the world.

But we might as well lie back and think of the invasion because it's going to be pleasurable, says a leading robot scientist.

Ever since Gort clomped down those alien stairs in The Day The Earth Stood Still in 1951, cinemas have been overrun by robots – sometimes cute, but mostly evil and mostly intent on taking over the world. […] But if you listen to US robotics scientist Professor Rodney Brooks, robots of the future are more likely to be dominatrix than dominating. […] Australian-born Prof Brooks, former head of the Massachusetts Institute of Technology Computer Science and Artificial Intelligence Lab, said it was inevitable, and there was precedent, that such technology would be used for sexual purposes.

"Every technology that we've had, there has been a sexual driver of it," said the professor, a founder and former chief technical officer of lucrative US company iRobot, which produces commercial robots.

"I mean, that's certainly true of photographs in the 19th century; and home video players were really driven by sex; and of course the web has been a major source of sex.

"Yeah, there will be (sexbots) but it is not specific to robots per se."
the rest of the article is here
It's like they say — the military-industrial complex produces technology, which then trickles down into the consumer market, and the sex industry makes it popular. During the course of our careers of being interviewed, filmed, and the like, Shi-chan and I have always been trying to steer common opinion away from the idea that artificial companions are strictly for sexual purposes, but sex is an interest-raising topic, as nearly everyone enjoys it, or is at the very least, curious about it. If people's interest in sex drives them to fund research and development for Synthetiks, then so much the better…
As an aside, according to Pink Tentacle, Android SAYA had a booth at iREX as well! You have to wonder if she was soliciting potential employers, the poor dear.
+ In this, the first decade of the twenty-first century, it's good to see that the concept of artificial human companions is on a lot of people's minds — from scientists who are trying to make the idea into reality, and from insightful filmmakers who depict how a society with such creations in it might be. Milkman Films' 'Android Love' gives us a glimpse of the latter.
Although I do have to point out that I'm sure Rick Deckard will want his necktie back, and the white room at the end of the Stargate in '2001: a space odyssey' is now missing its floor…
+ And finally, HOLY CRAPS QUICK SOMEONE GIVE ME USD $225,000 RIGHT NAO
Sogo & Seibu to sell robots custom-made to look like their buyers
www.japantoday.com | Saturday 12th December, 06:43 AM JST

TOKYO — Department store chain operator Sogo & Seibu Co said Friday it will offer two robots made to look like the people who buy them as a special sales event for the new year. The look-alike robots, which will be produced by robot maker Kokoro Co, will sell for 20.1 million yen each, Sogo & Seibu said.

The robots are made of silicone and can move the upper half of their body as they are in a sitting position. Sogo & Seibu will accept orders at most of its 28 outlets for two days from Jan. 2, and for three days from New Year's Day at the others. If there are three or more orders, buyers will be chosen by lot. Humanoid robots, made by Kokoro, were used at the Aichi Expo in 2005 in Aichi Prefecture to help direct people to specific locations and events.
It should be shockingly obvious, but the robot wouldn't be a replica of me, of course. Isn't that right, Sidore? *sly wink to camera*
So there you have it! That's literally three months' worth of news in one post! And all told, it still doesn't cover everything.
Guess that means you'll be seeking more news about lovely rubber-skinned Synthetik women in January, eh? More than likely!
ta very much to Pat! for the 'Sex robots' link