typed for your pleasure on 23 June 2006, at 3.53 pm
---
Sdtrk: 'La fille d'un garçon' by France Gall
Damn, Korea, you are upping the ante pretty quickly. Well done!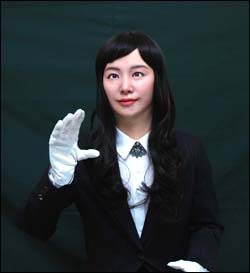 She's about to do that 'I'm crushing your
head' sketch from Kids in the Hall again

Female Android to Chair Info-Tech Fair
By Kim Tae-gyu, Staff Reporter
The Korea Times, 20 July 2006A female android will chair the opening ceremony of the SEK 2006, Korea's biggest info-tech exhibition that begins a four-day run at COEX in southern Seoul Wednesday.

The life-like android, named EveR-1, was developed by a research team at the Korea Institute of Industrial Technology and went public early last month.

"EveR-1 is poised to introduce notable participants at today's SEK ceremony before delivering an oral presentation on the annual fair,'' said Baeg Moon-hong, a senior researcher at the state-sponsored institute.

"We are happy to show off our own android the advanced IT fair. We aim to make efforts to develop the robot to be more like humans,'' Baeg said.
the complete article is here
In effect, she's only really doing what the Robot Station emcee version of Actroid-chan did at last year's Aichi Expo, only seated and not in that delicious race queen outfit. Nevertheless, this is still very fab.
Okay Osaka Labs / Kokoro co. Ltd., what will you do to block? I suggest getting Ando-san a dedicated job as a newscaster, for starters..
Speaking of Kokoro, they've redesigned their website, and if you'll note beneath the logo in the top left corner, it says, 'a company of Sanrio Group'. Robots + Cute = one facet of the Japanese zeitgeist! It all makes sense now! *nods sagely*