typed for your pleasure on 2 January 2011, at 4.21 pm
---
Sdtrk: 'High speed flight' by Daphne Oram
Now were it not for The Great 'Shouting Etc Etc' Blackhole that happened on the 30th of last December — I thought I could upgrade WordPress without the use of a clever plugin, but Fate had other plans in store — this would've been posted earlier. But I'm fairly sure no-one would have noticed, what with all the New Year's Eve revelry taking place. So all according to plan, then! *strokes chin*
A week or so previous to My Personal Blogpocalypse, alert reader Azusa brought another artist to my attention recently: his name is Yoshitaka Hyodo, and he works almost exclusively with CandyGirls. You simply can't go wrong with Dolls as your photo models!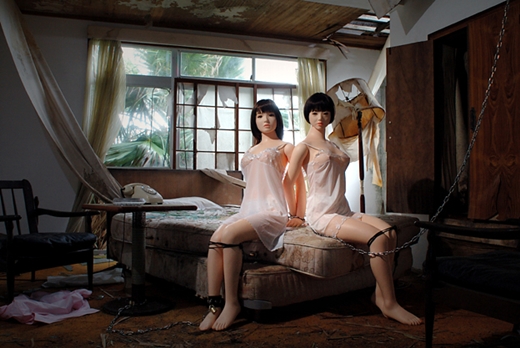 'Well, here's another fine mess you've got us both into'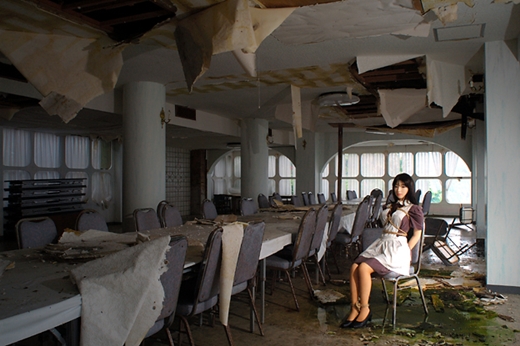 Contrary to all appearances, this place rated five stars in the Michelin guide
The above pics are from his series, 'Haruna's Room'. And that's about the extent of my knowledge of this bloke! There's no English on his site, and it's mostly text, so I wouldn't even know which block of kanji to translate in order to find out more. I should point out that that link might be not safe for work, incidentally, but as I always say, it depends on where you work. Perhaps you work at Orient industry, which would be an eerie/amusing coincidence! If that's the case, then… would you like to help me translate some text??
And continuing the Orient industry-related vibe of this post, you may not recall back during February of 2009, I'd mentioned an artist by the name of Becky Yee, who was exhibiting a photo-essay of hers entitled 'More than a Woman' at a New York gallery, which would be the results of having spent time with esteemed iDollator ta-bo-san, taking photos of his cadre of affictitious girls. I'd managed to locate an interview conducted by the website Bongoût, which is an interesting wee read.
Bongoût: How did you connect with this particular collector?

Yee: I frequented a fan website for Dutch wives. Writing undercover, I played the role of a connoisseur of dolls, and got an intimate glimpse inside the head of these men.
The site first originated as a place to go for advice, including maintenance, such as cleaning and repair for your doll. There are chat groups you can join where men will swap stories of how to fix a doll if you break her arm or leg since there is no shops to repair them.

I met many men through this site, but the most interesting to me was the one I decided to work with. He is educated, successful, and career driven. So why is there a need to have Dutch wives? And not just one, but 70 or 80!?

After speaking with him, I learned that he is a spokesman for his cause. He desired to see the flipping of his sub-culture, to have it become acceptable to the public. This is why he agreed with interviews, and was willing to share his story as long as I did not show his face.

Bongoût: At this point, who is it that he can speak with openly about his lifestyle?

Yee: He only speaks openly with the people he meets online. And of course, it takes time for him to build up trust before he would meet anyone in person. However, he has quite a network of men, and some evenings they all meet out at a restaurant and bring their Dutch wives along.
the entire article is here
Finally, surely you lot must know by now that Abyss creations will be unveiling their newest lass in the Wicked RealDoll line? That's right, now you can have an artificial Kaylani Lei reclining on your furniture at home, small as life (she's 4'11"), and twice as rubbery.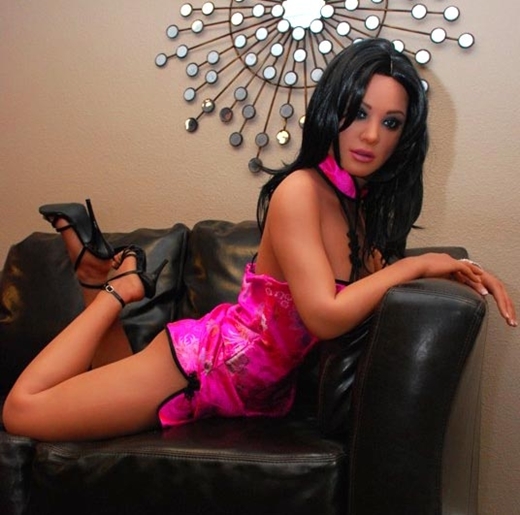 Being 70 lbs and only three apples high makes her easy to take anywhere
If we were to witness a Jell-O wrestling match between a CandyGirl and a Kaylani Lei RealDoll, who do you think would win? Apart from all of us, that is