typed for your pleasure on 9 September 2013, at 7.22 pm
---
Sdtrk: 'I box 20' by To kill a petty bourgeoisie
As I type this up, I can imagine regular readers of this godforsaken blog — all nine of you — seeing the title of this post, indignantly flinging their mug of coffee through the nearest window, and bellowing at their computer screen, 'Oi Davecat! This isn't "Let's meet some of California's Synthetik residents, Part II", this is some other bunch of crap!' Well, you aren't wrong! Also, shame that you shattered your 'World's Greatest Dad' mug; you'll never be able to replace that.
This post has two purposes: one, to say Hello to the sudden influx of new readers. Hello! Please be seated.
The other purpose is to explain why I've got new readers in the first place: remember in the previous post how I'd mentioned that a reporter for a notable online news site wanted to interview me about my iDollator lifestyle? Well, Julie Beck of The Atlantic sent over a passel of questions via Email, and I replied with some thorough answers. Last Friday it was published, and you can read it here: Married to a Doll: Why One Man Advocates Synthetic Love.
Also, if more men do start "choosing the synthetic option," as you say, and begin having relationships with objects that are shaped like women, do you think that will encourage the objectification of real women?

The belief that the existence of synthetics encourages the objectification of organic women is baseless. If anything, those of us who are iDollators or technosexuals find that it's more a case of personifying objects. But then, 98 percent of the iDollators and technosexuals I know treat their Dolls like goddesses. I can't really speak for those who don't, and it would be safe to assume that those who would objectify an organic woman would've been practicing that behavior long before knowing about synthetics.
As I'd told Julie, I think it's one of the top five favourite online interviews I've done, as it lacks any conjecture or bias! Which is the way reporting should be. Although I do wish that she'd have pointed out that Elena was made by Anatomical Doll; she's not a RealDoll, like my Missus is. Not all Doll manufacturers are the same!
So do enjoy the additional reading material, and I'll get back to writing about DolLApalooza 2013. Or getting in a couple more minutes hours with Suda51's KILLER IS DEAD. You know how these things go.
Now I shall show you a photo of the Gynoid actress/personality Actroid-F (aka Geminoid-F), in lieu of ending this post in a responsible manner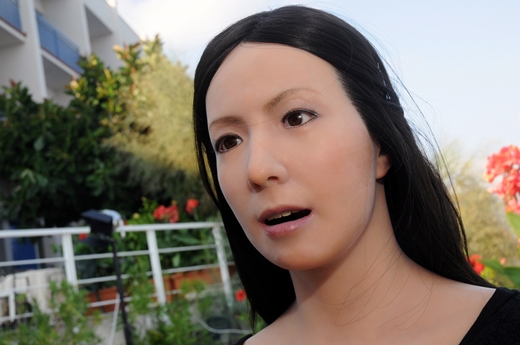 'Why the hell did I do that? I'm really gonna miss that coffee mug'