typed for your pleasure on 15 February 2009, at 1.39 pm
---
Sdtrk: 'Faith (RS home demo)' by the Cure
Did everyone have an enjoyable Valentine's day? Well done! As I'm usually out and about on Saturdays, and the Missus and I usually get together ahem on Sundays, we just looked at Saturday and Sunday as Valentine's day and Valentine's day (Observed)…
So while she's momentarily resting up, here's several exciting Doll news articles of Doll note:
Abyss creations have posted the Winter issue of the Doll Street Journal (it's in the News section), which details quite a few new intriguing bits and bobs from the company, such as the two new MaleDolls, the still-in-development RealDoll 2, and more. Had I been able to attend the recent Adult Entertainment Expo in Las Vegas, I'd be more privy to secret stuff from all the Doll manufacturers that happened to be there, and therefore, you lot would be more privy to stuff, but alas, no money = no Davecat flying out there. Grrr. But do give the latest DSJ a look-in; if nothing else, it'll whet your appetite…
Also, 01 March will mark a dark day for those iDollators who prefer Synthetiks with jubbleys that require their own postal codes: Abyss have announced that they'll no longer be making the Body 9, made initially famous by the Anna Mae-type, after that date. They'll continue to accept orders up until 28 February, but after that, the Body 9 passes into RealDoll history. Tsk.
So not making the 2009 AVN means I missed quite a bit of unveilings! Yes, I'm still bitter. Abyss were there, obviously; 4woods put in their first appearance there, showing off the Mia- and Kurumi-types that were mentioned in my December article; and KnightHorse displayed their Lovable Dolls in an elaborate booth that resembled a storefront. It's probably a good thing that I couldn't make it, all told, as I would've been constantly licking the glass.
Matt K. & Bronwen had their first model, Yvette, there, along with the new Body 2 Head 2 type, Monique, and the Pixie-type Fantasy Lover head. As the highly-esteemed (and steamy) photographer Stacy Leigh was in attendance, she managed to get some photos in of the new girls. Yes, I'm still bitter.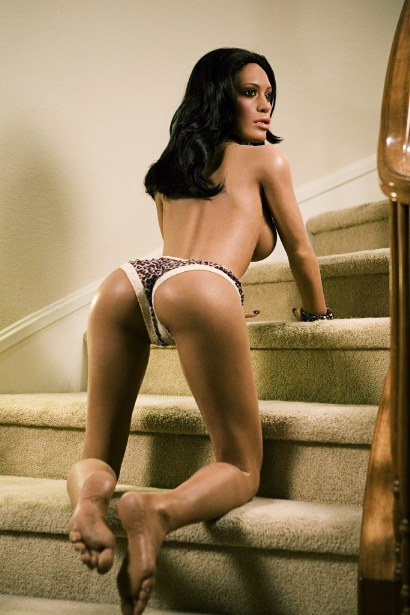 Monique believes that walking up the steps takes less time,
but simply isn't as erotic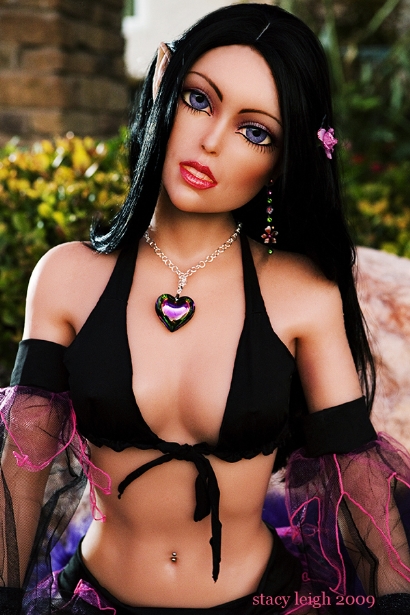 'Welcome to the Renaissance Festival, my good sir! Tra la la la la'
KnightHorse will also be releasing their first male Doll, as well as metal stands for any Doll that has a neck eyebolt, in the next couple of months, so you'd do well to keep an eye on them. But that goes without saying!
Phoenix Studios has just sent Miss Winter, of their Boy Toy Seasons line, out into the world, with photographs also by Stacy Leigh. Yummy results!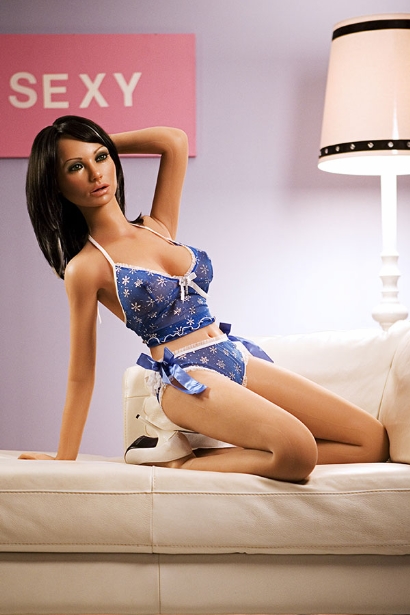 The sign says SEXY. I don't argue with signs, as a rule
Like I've said, I think the closer-to-realistic styling of the Seasons series gives them a slighter edge over the standard-issue Boy Toy Dolls, but that's rather like saying the MINI Cooper S is better than the regular MINI Cooper; it's simply differing shades of desirability. Summation: it is all good.
Should you happen to be in New Yawk sometime between now and 15 March, you'll want to stop round the hprgp gallery, as there's a photo exhibit by Becky Yee entitled 'More than a Woman', that sounds like it's pretty much exclusively ta-bo-san's staggeringly huge Doll collection.
Photographed in a three-bedroom apartment in the outskirts of Tokyo. The single human occupant, a middle-aged computer engineer. He is the self-proclaimed world's largest collector of "Dutch wives" ("Datchu-waifu") also called sex dolls or love dolls. […] "More than a Woman" hopes to explore more than the Dutch wives' obvious function of satisfying sexual and physical needs. Visually discovering the basic cravings for companionship, unconditional love, unwavering loyalty and the importance of trust, acceptance and intimacy. All of which he is unable to find in a human relationship, but is somehow satiated with his cast of Dutch wives.

The multitude of Dutch wives create his perfect world of women.
If anyone gets a chance to see it, let me know how it is. And let me know if there are programmes for sale! And send me one!
A new Doll maker from the US is making their way up the ranks: Private Island Toys. As the name implies, they specialise in erotic toys, but recently, they've branched out into the field of full-bodied Dolls, with their new Private Island Beauties line. O my goodness.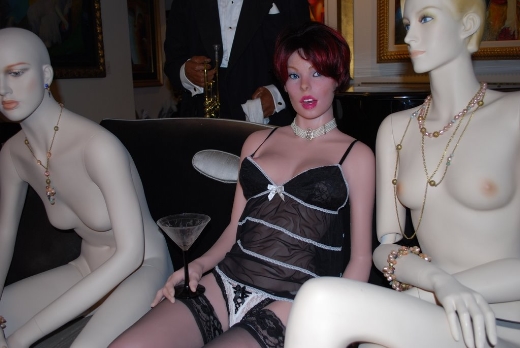 Does mademoiselle require another Zima?
Their lass is 80 lbs, 5'7″, with measurements of 33.21.36, and a size 5 shoe. She also features a 'relaxed' skeletal system, as well as the ability to swap with a number of other heads that the manufacturer offers. Currently, they're now taking orders, and they offer a variety of customisation options, as it's all about the detailing. Speaking of detailing, from the pics alone, their sculpting is Magically Delicious; the pic above hardly does her justice, but it was the only work-safe one I could use… Check out their site!
And finally, we have an amusing distraction: the quiz Pussycat or Real Doll? Amazingly enough, I got 100% correct. I know, I'm as surprised as you are!
So there you have it! With all these options to choose from, you might well have a gorgeous Synthetik companion of your own to spend the next Valentine's day with! Just… don't give her any chocolates, it'll go straight to her hips