typed for your pleasure on 26 December 2010, at 1.48 am
---
Sdtrk: 'I only said' by My bloody valentine
Well, as I took December to pretty much its logical conclusion, it's my sad duty to tell you that there's neither any Synthetiks nor Doll-related news to report on for this month. Which I find surprising! I blame the loss of Japanese website Robot Watch, as it was my go-to site for robotics news straight from the source; that source usually being either Japan or South Korea. Tch. I mean sure, there's Robo Times, but it just isn't the same.
So no new Gynoid news for December! And the majority of Doll manufacturers are either concentrating on fulfilling existing orders or are just plain closed for the holidays. They're not developing new stuff; that's for when the holidays have ground to a halt.
So what have I got for you with this, the last 'Shouting etc etc' post of 2010? If you enjoy Andy Warhol, particularly Sixties-era Warhol (largely considered to be the Best Warhol), you will more than likely get a kick out of this: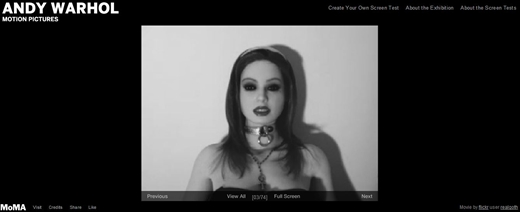 In August 1962, Andy Warhol (American, 1928–1987) began making silkscreen paintings of popular icons, including a series of images of Marilyn Monroe that he began a month after her death. He went on to experiment in portrait making with public photo booth machines, which automatically take four exposures several seconds apart and print them in a strip, like a sequence of film frames.

Combining the seriality of these silkscreen and photo booth portraits with the ephemeral quality of the filmed image, between 1965 and 1966 Warhol shot approximately 500 rolls of film: several-minute silent portraits of acquaintances, friends, and celebrities, including many of the artists musicians, poets, actors, models, playwrights, curators, collectors, critics, and gallerists who composed New York City's avant-garde scene. Some subjects were invited to the artist's East 47th Street studio, known as The Factory or The Silver Factory, to sit for their portraits; others were captured spontaneously. At times Warhol left his subjects alone with the camera, creating a heightened sense of vulnerability that is perceptible in the films. His first subjects, seated before a sterile backdrop, were asked not to move or speak (later portraits were shot under more flexible conditions). These films, known as "stillies" around the Factory, were also referred to by Warhol as Living Portrait Boxes, and, later, as Screen Tests.
the entire article is here
Through 19 December 2010 up to 21 March 2011, the Museum of Modern Art will be screening several screen tests, as well as a handful of the early Silver Dream Factory silent films, and MoMA invite participants to make their own screen tests, to be displayed on the exhibition website. The Missus jumped at the chance, needless to say, so we made one, and submitted it, and a few days later, it made the cut! You can click here to see the screen tests. If you want to view Sidore's straight away, you'll want to click on the 'View All' link at the bottom of the screen, but watching the other participants' entries is also The Nice Thing To Do. In any event, you can marvel at how well she manages to sit absolutely still for ninety seconds! It's pretty remarkable.
And more than likely, quite a few of you have already seen adverts for this, but come late January/early February, if you're in the Untied states, Shi-chan and I are going to be atop your overpriced flat-screen telly once again!
TLC TO PREMIERE NEW SERIES MY STRANGE ADDICTION

12-part series to debut December 29th at 9PM (ET/PT)

Los Angeles, CA – TLC is set to premiere new docu-series MY STRANGE ADDICTION on December 29th at 9PM (ET/PT). The 12-part series will document people who are struggling with unconventional addictions. Each half hour episode will feature two individuals who turn to atypical compulsions in order to deal with their emotional demons. The series will premiere the first two episodes back-to-back only on TLC.

Some people turn to chocolate when stressed, others will indulge with a little retail therapy and maybe schedule a massage, but the individuals featured on MY STRANGE ADDICTION resort to extreme and unusual things in an effort to emotionally regulate themselves. Some of the strange addictions explored in each episode are everything from an obsession with a blow dryer, to another eating toilet paper, to spending time with a silicone person, to eating detergent, to extreme body building, and to thumb sucking.
That's from an actual promotional release, incidentally; I would be the individual that spends time with a silicone person, in case that wasn't clear. How did this slip under my radar, you ask? Wouldn't there have been a lengthy and protracted series of posts about your filming experience on 'Shouting etc etc', Davecat? Under normal circumstances, yes, but I got lazy. I know; it's unbelievable, right? But thank Odhinn my longtime close friend and cohort Monti comes to the rescue, as usual, with a brilliant post she'd typed up concerning her perspective of the bits that she was involved in.
'My Strange Addiction' should be an interesting programme, I'm certain. I'm hoping it's more than the circus tent of freaks that modern television traffics in these days, but you never can tell… And I've really got to stop reading the title in my mind as 'My Strange Addition'.
So there you are! Sidore and I hope the lot of you had an enjoyable Chrimbo, and want to wish you Happy Boxing Day! Here's hoping we all have a fantastic and safe 2011!
What do you mean you don't celebrate Boxing Day? Get off my site.
Technorati tags: Synthetiks, iDollators, Android, Gynoid, robot, Robot Watch, Robo Times, Andy Warhol, Silver Dream Factory, MoMA, Museum of Modern Art, TLC, The Learning Channel, My Strange Addiction, MontiLee, Boxing Day