typed for your pleasure on 12 January 2010, at 3.27 am
---
Sdtrk: 'Notre Prof d'Anglais' by Chantal Kelly
Ah-hem. Some news in brief!
Last Tuesday, I was unceremoniously fired from my mentally and morally offensive job, after three years of sterling service. 'Consistently rude and terse to customers', was their cowardly excuse for letting me go. Frankly, I'm surprised that it took as long as it did. I'm in the midst of rejoining the dole queue, but I'm trying not to let it get me down. As much as I hated that job — and believe me, I fucking loathed that job — I enjoyed receiving money from it. I'm viewing this event as the much-needed arse-kicking I… err, needed… in order to get something that isn't as hideous and/or pays more. Since the past year and a half, I'd been looking into changing employment, but this should really get me motivated. I'm just not entirely keen on jumping without a parachute, but I'm hoping it turns out for the better real soon…
Just after that, iDollators Euchre, CJD, Mahtek and I attended the AVN expo in Las Vegas, from the 07th to the 11th of this month. It's safe to say that we had a hell of a time! I managed to compile notes, in between walking up and down Vegas' main drag and fondling Doll jubbleys, so expect a couple of posts describing the meetup, in protracted detail, relatively soon! Technically, I've really no excuse for dragging my heels! It's not like I have a job to report to or anything!
Sneak preview: one of the many, many highlights of those four and a half days was meeting sexpot photographer of sexpot Dolls, Stacy Leigh! Her sassy firecracker attitude makes me think that meeting her is about as close as I'm gonna get to meeting one of Warhol's Silver Dream Factory superstars.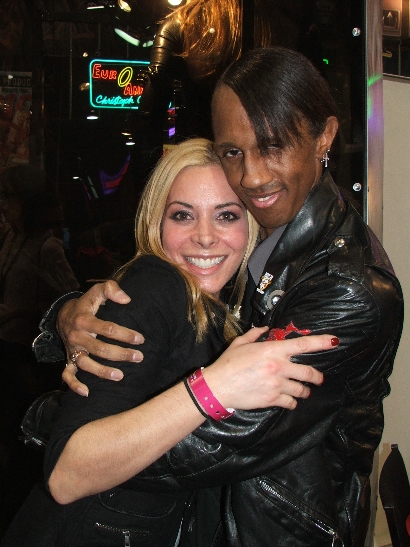 photo by Mrs ARDO, who is a star in her own right as well
And would you believe I was interviewed for an article for the Las Vegas Weekly whilst out there? It's true.
So as I have a bollockload of notes and photos, I'll attempt to sort the lot out this week and get it all finished!…
Now, let's see about this godforsaken 'jetlag' that I keep hearing so much about. Personally, I don't believe it really exisZZZZZZZZzzzzzzzz
EDIT (13 Jan): Just got a date confirmation: the episode of National Geographic's 'Taboo' series that we're in, 'Strange love', will be aired on Wednesday, 10 February, at 10pm. Which will undoubtedly be spread all over the Intersnet about a week later, but there you have it