typed for your pleasure on 23 July 2009, at 1.05 am
---
Sdtrk: 'All saints' by David Bowie
As hinted at in the Prelude, this month's edition can honestly be referred to as JUMBO-SIZED!!
+ This just occurred yesterday, so unfortunately, there isn't a surfeit of details as of yet, but remember our lovely Gynoid HRP-4C? She apparently lined up another modeling gig, this time making her way down the catwalk at the 2009 Yumi Katsura Paris Grand Collection in Osaka.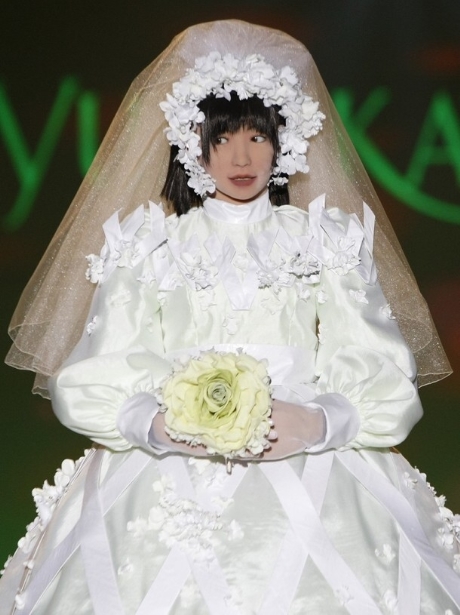 She's just proving that a Gynoid would make someone a fine bride
Naturally, I'd want to see her in less — technically, we've all seen her in less, that's her natural state of being — but after viewing the video, I thought the bridal gown was actually quite impressive, and you will, too.
More details as I hear of them! One detail that I have to confirm is that several news sources are reporting her name as being 'Miim' now. Err, that's something that needs to be looked into. After all, when Holon-chan first hit the scene, a few sites were saying that her name was Phorene…
+ Orient industry has changed their layout (again)! And they've retconned their model types! Again! O gods, this shit's ridiculously confusing, and it's doing my head in.
Right, they've gotten rid of the separate model lines for the CandyGirl Jewel Diva and the CandyGirl Jewel Rosa; both of those types are now listed under either CandyGirl Love Doll Rosa, or CandyGirl Real Love Doll Ange. As a result, they've stopped production on the Jewel Diva models known as Lisa, Mao, Miki, and Ran. Which is a real shame, as Mao-chan was a gorgeous lass. In addition, they've added a new line, known as Love Doll Separate, which means that you can now have a custom-made CandyGirl with detachable head and limbs, for easy storage and transport. Which is double-confusing, as that's pretty much what all CandyGirls were up until a few years ago, when they began making certain model lines out of silicone, instead of the sofubi (short for soft vinyl, aka PVC) that they were made out of previously. And now it's a distinct model line? For no discernible reason??
They've also added two new heads — the sexed-up Jun and the mature Yoko — which can be used with used with the Rosa or Separate lines. Consolation prizes for your patience?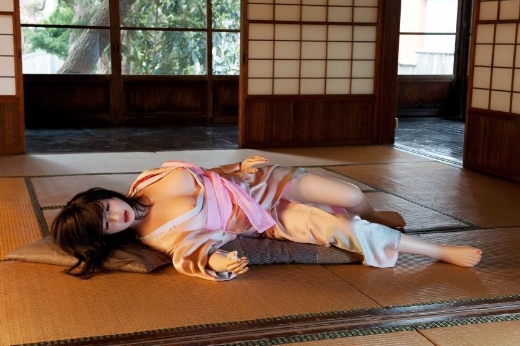 OI! Stop writhing around and close those doors, you're letting the heat out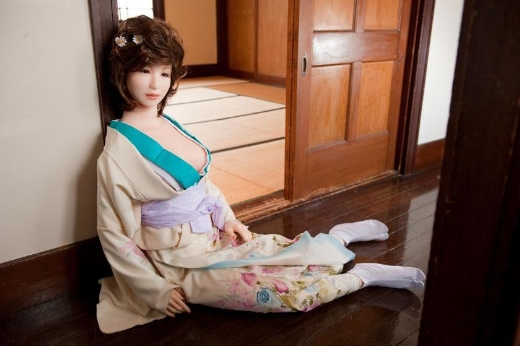 'Sounds like Jun-chan's in the other room, letting the heat out'
Quality products aside, Orient industry retcons their product lines so much, I'm sure working there is hallucinatory. Imagine being employed at an auto company — say, Subaru, for example — and you've been working there for around two years, helping assemble the popular 360 and 1000 models; which, I should add, are two totally different looking vehicles. One day, the company heads announce that not only will you be making 1000s under the new name 360, but the original 360s will no longer be made. In addition, you'll be building these cars out of silicone. It makes no sense, frankly.
At any rate, the previous links for those model lines found on 'Shouting etc etc' are all redundant, but they'll at least take you to the main site proper. I can't be arsed with swapping them out for the new ones, cos who's to say they won't change again in a couple of months?
+ Phoenix Studios has finally released Miss Spring, of the Boy Toy Seasons line! For a while, I was starting to think they forgot about her, what with it now being summertime and all.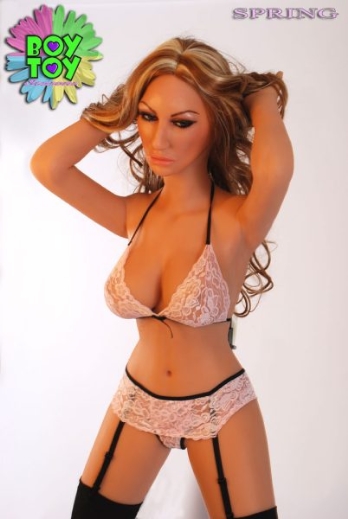 It stands to reason that spring is the wettest season
She has a MILFy quality about her that's definitely enticing, wouldn't you agree? When you couple that with her stunning rubbery qualities, that's a deadly combination…
+ Here's the definition of 'slipped past the keeper': apparently in April, South Korea's KiTECH finally debuted EveR-3 at the Hannover Messe industrial exposition. Of course, 90% of the info that I can locate about her is in Korean — oddly enough, Robot Watch, my go-to source for additional news about Japanese and Asian robotics, didn't make a single mention of her — but I was able to find some pics, as well as this video:
Despite the fact that they had her singing awful K-pop like her older sister, her movements seem more fluid and natural than… well, her older sisters. Plus, this version's face seems softer, and more appealing.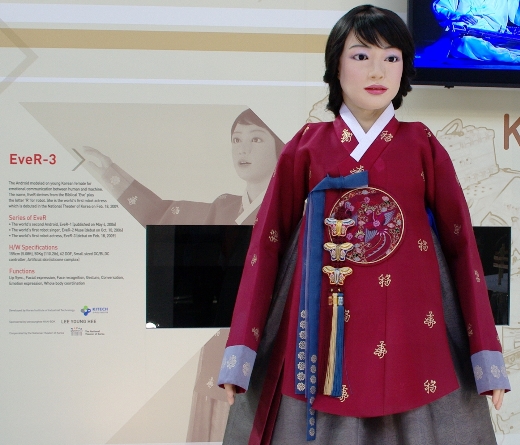 'Man, I feel like I'm in a cone when I'm wearing this thing'
As she's representing Korea, she's wearing a hanbok, which is one of those incredibly high-waisted traditional dresses. Not exactly flattering, but tradition trumps style in this case. It looks as if she's incapable of walking, or even moving a single leg, much like Actroid DER3 can, so perhaps that's why KiTECH hasn't exactly gone global with the news of her existence.
Further 'investigation' shows that she was acting and singing in a play back in February! Don't ask me what it's about, as my hangul kung-fu is pig dung.
+ A couple of Saturdays ago, Zip Gun tipped me off to a pair of upcoming Gynoid-related series due out later this year: Karakuri Odette, which is a six-volume manga series by Julietta Suzuki, and Fallout Toyworks, which will be a five-issue comic series by Brett Lewis and Sam Basri. According to Tokyopop, who happen to be the American distributors of Karakuri Odette, it'll debut on 01 Oct, which will obviously be something to mark on your calendars. Its synopsis?
What does it mean to be truly human?…Odette is a lovely android built by Professor Yoshizawa. Curious to find out what it's like to be human, she convinces the Professor to enroll her in high school. And thus, with a new group of friends in tow, Odette sets out to discover the true meaning of life as a human, where even the simple stuff is an adventure! A touching slice-of-life comedy, Karakuri Odette does nothing If not uncover the incredible possibilities of the "human" spirit!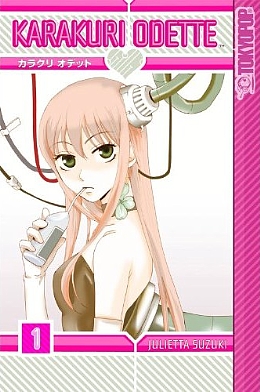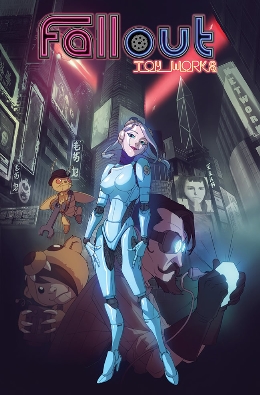 And anyone who knows me knows that I loathe the so-called musical style knowns as 'emo', and it appears that Fallout Toyworks is inspired by the ideas and music of Fall out boy, specifically a song entitled 'Tiffany Blews', but as it's about a Gynoid, I suppose I can overlook that fact. According to the press release, the serial
tells the story of a brilliant young robot maker who risks his entire company for his factory's newly produced android named Tiffany as she becomes his greatest passion and potentially his own destruction.
taken from this site
As long as I don't have to listen to any whiny emo caterwaulings, it sounds like something entirely worthwhile! Image Comics will be releasing Fallout Toyworks's first issue on 02 September, and you can check the website-in-progress here.
+ The folks o'er at Private Island Beauties are coming out with three alluring new faces for their Bathing Beauty body type: Desirae, Fujiko (a Japanese lass), and Gaia (an African-American lass). They'll be joining the yummy ranks of Angelique, Bella, Calli, and Eden. Gotta love how all the faces they're developing have names in alphabetical order. Nineteen to go, lads! Get sculpting!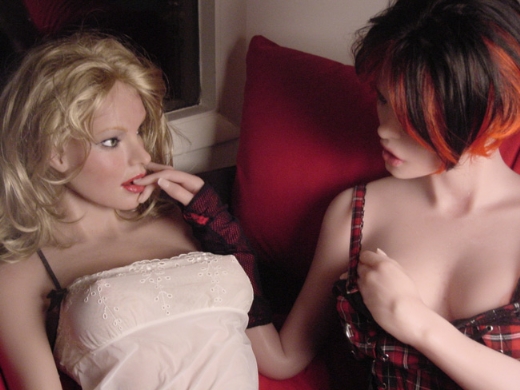 Eden (left), tasting Desirae
I'd show more pictures of the other new girls, but the one above is one of the few on the site where the Dolls don't have one or both of their loverly jubbleys out. Under normal circumstances, I obviously wouldn't be complaining, but this is a family blog. Feel free to check their site for more information, though. And pics, if you're into that sort of thing.
+ Whilst there was a lull in the filming of our segment for the National Geographic documentary, director J.Siberry asked me if I'd seen the monograph of RealDolls wearing Dolce & Gabbana fashion accoutrements. No, was my frantic reply, followed by OMGWHAT'SITCALLEDWHERECANIBUYITHOWMUCHISIT. After the other members of the film crew forcibly pried me off of him, I learned more about it, through the Series of Tubes.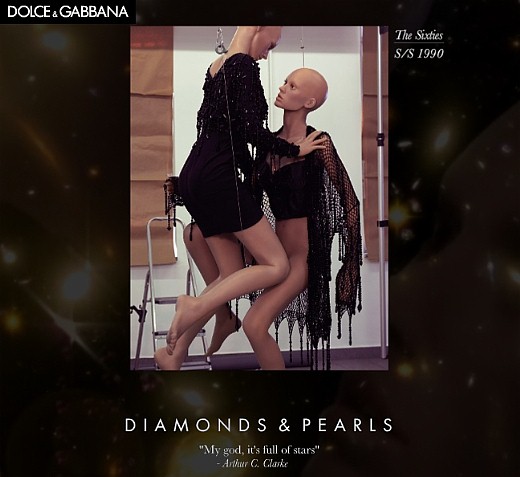 Sexiest marionette show EVAR
Dolce & Gabbana have released a book of photographs that highlight the art of embroidery called Diamonds and Pearls. […] One of the really interesting facets of the book is that the pieces are modeled by "real dolls," rather than human models to create a "timeless" beauty. […] The photographs were taken by Guenter Parth and features shots in nature, as well as the studio.
taken from this site

Now I can recall back maybe about three or so years ago, 'Still Lovers' photographer Elena Dorfman had mentioned that Abyss creations was tentatively working on a high-fashion haute couture shoot, but I'd heard nothing about it since then, and simply thought the project fell by the wayside. I guess it didn't!
I don't know what's sadder though: the fact that the book's suggested retail price is $270 USD, or despite that fact, I'm still saving up for a copy. Hrrm. And hey, Amazon.com? You are not helping.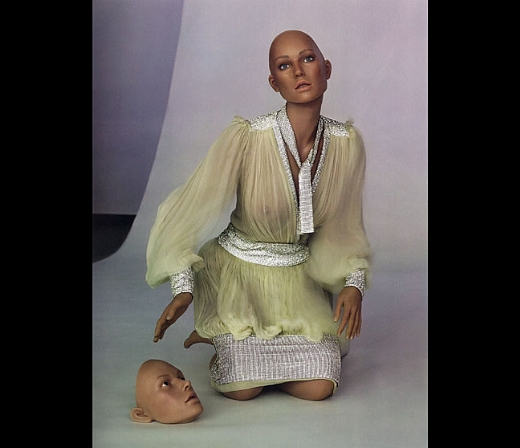 Sometimes it's hard to choose the right face to go with your ensemble
+ Personally, I've never been a huge fan of online comic xkcd, as it's too mathy, but it's easy to see why I included this one strip:

+ Finally, thanks to a tip from good friend and Gynoid-in-training Alice Keenan, we now have a bit more of a peek at the film that I'd mentioned in last month's 'Doll-related news' post, 'Kuuki Ningyo'. Here's the trailer:
If she wasn't inflatable, I'd swear that she was an Erie Doll…
Looks winsome! And to satisfy your curiosity, Kat, you can peek at five additional clips from the fillum right here. I only watched one, as I didn't want to spoil myself, but you lot can knock yourselves out!
Happy 23rd! 'Shouting to hear the echoes': where affictitious is synonomous with delicious