typed for your pleasure on 23 November 2010, at 5.10 am
---
Sdtrk: 'Sun demon' by Stereolab
+ First, some music. I'll let my mate Wolfgang, of 'Far Away and Close to Home', explain this:
In 1986, Neil Young (yes, THAT Neil Young) got himself a load of synths, sequencers, effects racks and a vocoder and started going nuts. (If I was a lame Rolling Stone writer I'd say something like "Neil Young traded in his heart of gold for a heart of silicon", but of course I don't suck like them). The album Trans was the result, and includes this song about loving a gynoid.
I'm not gonna lie and say that I'm a fan of Neil Young, but I do respect him. The man likes feedback, and any guitarist that can appreciate a good squealing amp is all right in my book. And now that I've learned that he'd made an electronic-based album with a song about a Synthetik, he's gone up a couple of notches, there!
+ Thanks to [INTERNET PIRATES], my friends and I regularly enjoy many films and television programmes from far-off, distant lands; usually the United Kingdom and Japan, mostly. Maybe Korea sometimes, it depends on what they've got to offer. At any rate, fellow iDollator bloke Euchre brought a new telly show, currently airing on NTV, to my attention, by the name of 'Q10'.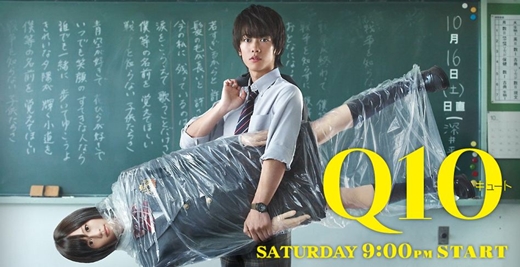 She's apparently using some pretty hardcore hairgel
One day, while under the influence of alcohol, Kishimoto Jiro, the principal of Shikahamabashi High School picks up a "girl" from the garbage. The next morning, that girl is sleeping in the school premises when she is found by Fukai Heita. The robot girl suddenly comes alive and Heita names her 'Q10′. 'Q10′ starts to adore Heita, its godparent, and Heita, who has not been popular with girls all the while, is bewildered. The robot 'Q10′ is taught by Heita about humans and begins to learn …
taken from this site
'While under the influence of alcohol', geez. Is the writer an Amish?
The show sounds like an amusing lark, but it's so niche that it's guaranteed not to have an official release outside of Japan. Hell, even trying to find fansubbing groups that carry it is rather like searching for a needle on Planet Haystack. It's properly classified as dorama (that's drama to all y'all gaijins), and as such, it's essentially a soap aimed at teens. Obviously the only factor capturing my interest is the Synthetik angle, and even then, it's kinda tenuous, thanks to the series' PG nature…
Interestingly enough, referring to the shows my mates and I watch, we're quite keen on the Kamen rider series/franchise; we've been watching them consistently since Kamen rider Kiva debuted back in 2008. The series prior to that was the insanely popular Kamen rider Den-O, starring Takeru Satō as the protagonist Ryotaro. He also happens to be the bloke in the photo above, portraying Heita. The plot thickens! Actually, no it doesn't; that's a lie.
Would you like a compilation of scenes of Q10, acting like a stereotypical Gynoid? Sure, why not?
+ Interesting reading here, by philosophy student Ryan Rafferty, entitled 'Monozukuri, Kaizen, Karakuri Ningyo. Why Roboethics is Really Psychoanalysis…'
Feeling sentiment for objects is hardly a Japanese phenomenon, it's a common trait of human culture to anthropomorphize things. Our natural tendency to anthropomorphize allows us to intuitively and naturally connect with objects on an emotional (and comprehensible) level through the projection of one's personality into the thing. This tendency seems to be closely connected to, or perhaps a byproduct of our abilities to empathize. Human beings are capable of empathizing with one another, and even with nonhuman animals— in evolutionary theory, the ability to empathize has served an advantage that has been reinforced through group selection over time, through perhaps an increase in hunting ability, or increased chances in group survival.

Our feelings towards robots and other anthropomorphized machines, such as the mechanical doll [i.e. karakuri ningyo], are more a question of psychoanalysis– the question should not be centred around how we should treat robots, but rather why we create emotional attachments to them– making this an ethically prudential question, rather than something requiring a morally-universal insight.
the entire article is here
As I'd said, it's interesting reading. There's a bit of an anti-roboethics skewer at the end of it, but it's food for thought nonetheless…
+ Further proof that 4woods are toiling 28 hours a day to produce endless variations of rubbery ladies: they've not only released yet another stunning new head in the form of Hatsuki, but they've also upgraded their already-popular A.I.NEO line to what's now known as A.I.NEO im. That's pronounced 'im', as in 'I'm going to need a second job just so I can purchase more of these Dolls, cos frankly, this is getting out of hand'.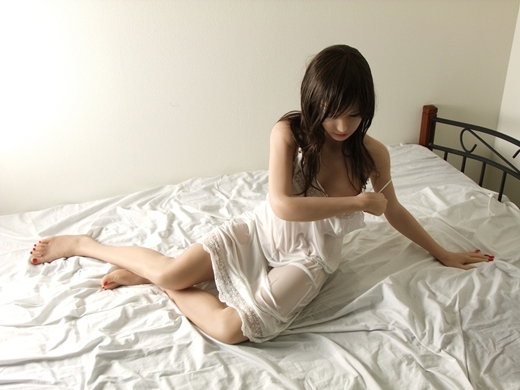 'And when I woke up, my pillow really was gone'
What makes this sexy silicone sexpot sexier than their last sexy silicone sexpot? Err, in a nutshell: more detailed body design, better hip joints, expanded range of motion, finger articulation, seven different nipple colours, and three different areola sizes. Not only that, the new body can use pretty much all the heads they sell, and the Hatsuki head can use all four bodies. Now, more than ever, you are spoilt for choice.
O, and what's that whole 'im' bit about, you axe? According to their site, "im" means "impact", "imagination" "impression" and "impulse". Sure, why not?
+ And finally, remember how last month it was my sad duty to report that Lovable Dolls are no more? Well, it appears that they're back — in pog form!! No wait, that's not right. A fledgling company is now utilising Matt Krivicke's sculpting talents, bearing a name that Sidore and I definitely approve of — Sinthetics.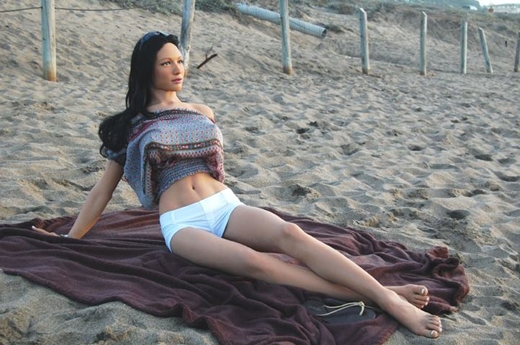 Nice day for being affictitious
As this news is roughly a day old, it technically qualifies as a 'scoop', but they knew I'd get the word out. 'Extry extry', etc. As a consquence, that's really all the details on the company I can provide, but as I'm prone to say, when I know more, you lot will as well, so try to restrain yourselves until further notice. I mean, I'm doing what I can. *grinds teeth* I should mention that one of their Dolls made her debut on the 'Josie is a Doll' episode of the latest cable reality (in quotes) show, 'Married to Rock' this past Sunday, and she looked very appealing…
In the meantime, why not keep an eye on their site, which is now linked in the usual place in 'Shouting etc etc's sidebar?
Now you are informed! And I managed to post this before the end of November! And on the 23rd, yet! Everyone's a winner
Technorati tags: Synthetiks, iDollators, Neil Young, Trans, Q10, Kamen Rider, Roboethics, Android, Gynoid, robot, 4woods, A.I.NEO im, Lovable Dolls, Sinthetics, Married to Rock