typed for your pleasure on 18 September 2011, at 1.57 am
---
Sdtrk: 'The restitution of decayed intelligence II' by Coil
Remember, it's not just News… it's Newses.
Sorry, I'll get my coat.
+ Personally, I've always believed that the best part of Summertime is when it ends, as we return to safe and sane Autumn, gear up for the Pagan New Year, and stop sweating like someone in middle management due for their quarterly review. 4woods remind us, however, that there are positive aspects to that hideous 3+ month period of solar heatdeath, and that's a gallery of Elina, Hatsuki, and Lilica in bikinis!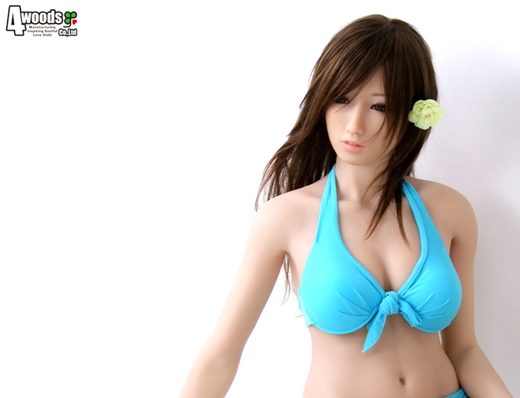 Lilica-chan, enjoying the studio breeze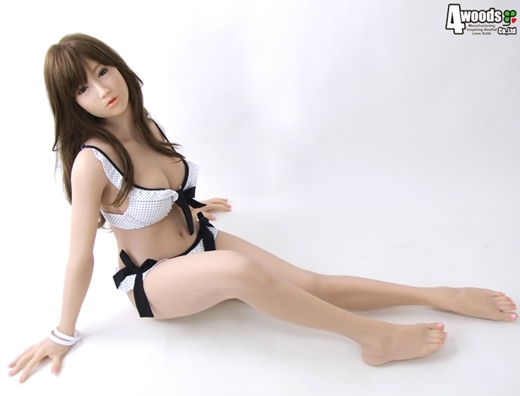 'Luckily for me, I don't have sweat glands!' Hatsuki giggled. Show-off
'This is our summer gift for you, their sexy bathing suit photos. Please enjoy their photos by imagining "they are right next to you."' Okay! Ahhhh.
Well, that was lovely!
+ I'd snuck the link in for this group into the 'Synthetik companion types' sidebar category a few weeks ago, so it's only right that I give them a proper mention. The FACE Team Project consists of a handful of Europeans attempting to create and perfect a humanoid robot who can replicate Organik facial expressions and emotional states. Sure, Kobayashi Labs has been doing the same with their Android SAYA, but the more groups that focus on this topic, the sooner someone's going to hit upon a solution.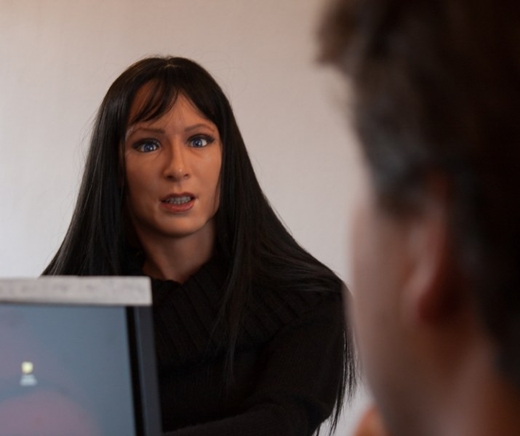 'Why am I nervous? Why do you think?? My goddamned quarterly review's coming up in a week!'
FACE stands for Facial Automation for Conveying Emotions. She's capable of executing the six basic facial emotions — anger, disgust, fear, happiness, sadness, surprise — and she and her programmers are doing their bit to shrink down the so-called Uncanny valley. Well done!
+ For every largish company making affictitious partners, there are also modest studios composed of one or two people, working out of their basement/garage/Schloss/space station/etc, and looking to make Dolls of their own. One such individual by the name of Titman — don't laugh, it's the name he was born with — is just now finalising his product after eight months of work; a poseable Synthetik lass by the name of Maid-Ling.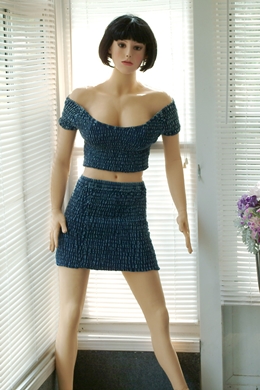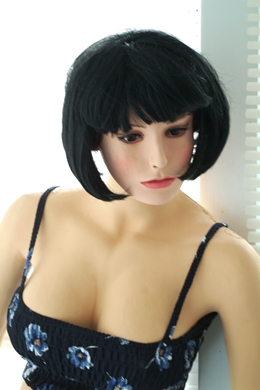 Maid-Ling is 5'9″, has 36D.25.40 as her measurements, a 5.5 shoe size, and weighs a near-impossible 26 lbs. The standard model has a latex skin over a foam core interior, over an articulated skeleton. She can bend her arms and legs much how you would expect them to bend, although she can't hold them in place. She also sports silicone breasts, a removable silicone vagina, and an interchangeable head. But then, who doesn't?
$1500 USD will allow you to bring a Maid-Ling home, to fill a Doll-shaped void you may have in your lives. The titular Titman is in the process of working on a sales site/blog/thang/etc, so once that's online, I'm sure you'll hear about it. Probably here!
+ And now, here's a brief video of my (current) favourite Gynoid, Miim (aka HRP-4C), showing off her ability to turn ninety degrees in one second. Dig it:
Those of you can turn ninety-one degrees in a single second may not be impressed, but it's a pretty revolutionary capability for an artificial human. As I always say, onwards and upwards!
+ In attending DolLApalooza 2011 this past July (post pending), our crowd saw a great many impressive things! Such as the Yoshinoya at the corner of Colorado and South Brand Blvd, in beautiful downtown Glendale, California, for example. Also, we stopped round to the three SoCal Doll manufacturers — Abyss creations, Ruby 13, and Sinthetics — and emerged from each one, slack-jawed and completely tumescent. Round at the Sinthetics studios, we were witness to the birth of their brand new Body 2D, for example, and if you've been following my blatherings on Twitter, you've already seen parts of her. Sinthetics, however, have recently released official photos of her with the Alicia, Monique, Celeste, and Tawny heads. Witness the Magic: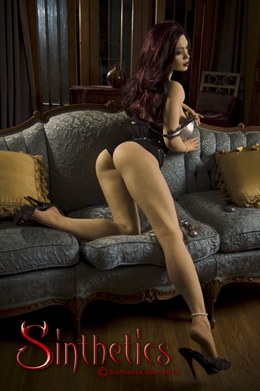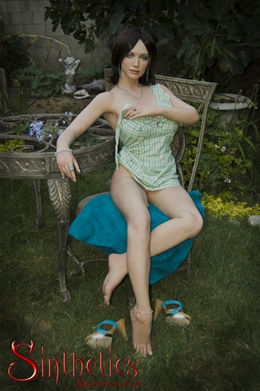 Above: leggy Monique and Alicia; below, Celeste getting the kinks out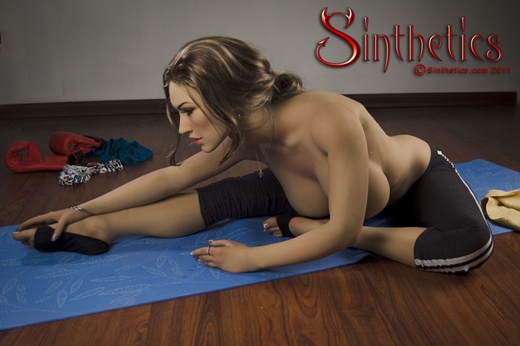 According to the site, the Body 2D stats are
Weight = approx. 85lb or 38.6kg
Height = approx. 5'5″ or 165cm
Over bust = 36.5" or 92.7cm
Over nipples = 37.5" or 95.3cm
Under bust = 28.5" or 72.4cm
US Bra size = 34D
Waist = 24.5" or 62.2cm
Hips = 36.5" or 92.7cm
Buttocks = 38" or 96.5cm
Inseam = 28" or 71.7cm
Shoe size = US 6.5; UK 4.5; Euro 37 (one size larger for closed toes)
which should satisfy very nearly everyone. Like I'd said, we'd seen some amazing things from all three companies that day. DolLApalooza post pending. Tumescent. Err, what was I saying?
+ Lastly, get ready for a weapons-grade cute illo of Sidore and myself, in chibi form, courtesy of the wonderful Nana Smite: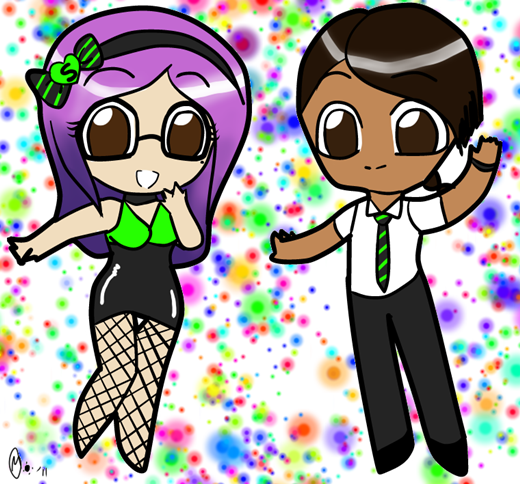 Holy crap, is that not endearing?? I can just picture our two-dimensional counterparts hanging out with Hello Kitty, propagating obscure memes and whinging about the climate