typed for your pleasure on 16 October 2010, at 10.26 am
---
Sdtrk: 'Noskl in Ana "Turntable mix"' by Masonna
Hello there! Would you like some long-delayed news about Dolls, Gynoids, and robotics in general? Yes, you would.
+ Initially, I didn't get a chance to report on this — or rather, I had the chance, but I kinda put off doing so due to a bare-knuckle brawl between myself and my lazier nature — but you of course recall the stunning new affictitious beauty from Kokoro co. Ltd, by the name of Geminoid-F? Well, she's been renamed Actroid-F, which makes more sense, consistency-wise. But that's not the real important thing! Starting 11 November, she'll be in a stageplay!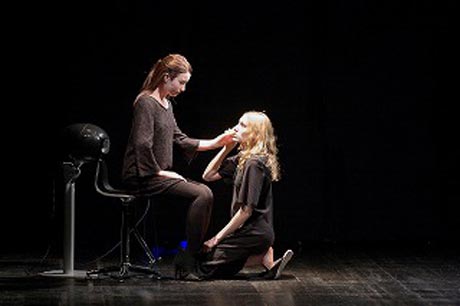 That Actroid-F's got some nice legs on her
Following in the footsteps of Wakamaru and EveR-3, ATR and Kokoro Co. Ltd.'s Actroid-F (aka Geminoid-F) is starring alongside a human actress in a stage play called "Farewell". The human-like android will get its voice from another (human) actress. The performance takes place November 10th ~ 11th in Ikebukuru [sic], Tokyo. The experimental play is part of Prof. Hiroshi Ishiguro and Hirata Ojira's ongoing "Robot Theater Project", which began in 2008. The plays incorporate robots used at Osaka University and ATR Intelligent Robotics & Communication Lab to reveal the boundaries between humans and robots, while bringing together the arts and sciences.
taken from this site
Bryerly Long would be the other actress in the performance; she portrays a young woman with a terminal illness whose only company is a Gynoid that her parents have purchased her. A bit bleak, but there you are. Personally, I think the real test of both actresses' skills were if the Organik were to play the part of the Gynoid, and Actroid-F was the dying woman…
If you happen to catch it in Tokyo next month, let me know how it goes! That is, if you can't sneak a videocamera into the venue.
+ In the interest of presenting the opposing side of the pro-Synthetiks stance I champion all the time, this would be an article that addresses the topic that society may not yet be ready for humanoid robots. Unthinkable, yes, but like I'd said, I'm trying to do the equal time thing, here.
Poll Results: Humanoid Robots Unpopular…?

A 2008 survey suggests that people aren't interested in robots that look like humans. The survey asked people at a home and living show about robots in daily life. Botjunkie took one look at the graphs and concluded that it isn't a good idea to design robots that look like people. What the graphs and paper do not show is that there is a range of humanoid robots, from ones that look realistic to ones that have abstract human features.

[…] Naturally people don't want robots to do the jobs they feel require a human touch, such as taking care of the kids, or that are considered above mechanical work, such as cooking and driving, though paradoxically they do want robots to take care of them when they get old.
the entire article is here
See, I'll grant that a lot of people aren't exactly comfortable with the possible so-called 'uncanny valley' effect that humanoid robots may have, but the thing that gets me is that there are quite a few factors at play that the poll fails to address.
One, the 'resistance to technological progress' factor. These are people who, if it were 1875, would grow beet red violently insisting that man would never set foot on the Moon. These are people who state that everything society needs has already been invented, and we can draw a line under it now that it's 2010. If the group that were polled are mostly composed of people with that mentality, you're going to get some skewed answers. If you were to ask me, as an example, questions about, say, rap music, my answers would be mostly in the negative, as I don't like rap. Obviously you can't run polls that cater to the audience, as it's counterproductive, but the Botjunkie post stated that it was held at a home and living exhibition. Chances are, you're not going to find a tremendous amount of futurists at an event like that.
Two, there are those that are initially resistant to technological progress, but when they see whatever it is in action, they eventually grow to think of it in a reasonable manner, and might well reach a point where they can't live without whatever initially offended their sensibilities. It's like people who have fight tooth and nail against moving someplace they initially don't want to, and you ask them about it a year later, and they insist they love it at their new place and would never leave.
Three, there's always the factor that most Western societies are founded on the christian 'man cannot play god' philosophy, whereas other cultures don't necessarily follow suit. I've mentioned previously about why Japan is more enthusiastic about robots, due in part to their animist leanings — they don't have the stigma of 'robots will rise up against their masters and kill all humans' as they see it as amusing fiction. I've also mentioned previously that I should probably move to Japan.
Four — and this is the one answer I always end up repeating — detractors always expect whatever technology to be absolutely bug-free and perfect right out of the gate, which the Windows operating system alone should have taught us all that that's a pretty ridiculous expectation. If a humanoid robot — whose appearance might still be under development — doesn't look exactly like an Organik human, they consider it an aesthetic failure. If you watch a video of Osaka University Labs' Repliee Q1 from 2004, and compare her to her sister Actroid F, previously mentioned in this post, there's a noticable difference. With that in mind, something like an artificial humanoid should be given a free pass until the artistry behind the appearance gets progressively better.
Hah. Now I'm getting beet red.
+ Back to sensibility: admittedly, the only thing by Ray Bradbury I've ever read would be 'Dandelion wine' back in high school, which I thought was godawful. On the other hand, the man is a futurist who apparently spins a good yarn about robits, or so I'm told. In this response letter he'd written in 1975 to an author by the name of Brian Sibley, Bradbury attends to Brian's, and by extension, many people's, groundless fear of robots:
P.S. Can't resist commenting on you fears of the Disney robots. Why aren't you afraid of books, then? The fact is, of course, that people have been afraid of books, down through history. They are extensions of people, not people themselves. Any machine, any robot, is the sum total of the ways we use it. Why not kknock down all robot camera devices and the means for reproducing the stuff that goes into such devices, things called projectors in theatres? A motion picture projector is a non-humanoid robot which repeats truths which we inject into it. Is it inhuman? Yes. Does it project human truths to humanize us more often than not? Yes.

The excuse could be made that we should burn all books because some books are dreadful.

We should mash all cars because some cars get in accidents because of the people driving them.

We should burn down all the theatres in the world because some films are trash, drivel.

So it is finally with the robots you say you fear. Why fear something? Why not create with it? Why not build robot teachers to help out in schools where teaching certain subjects is a bore for EVERYONE? Why not have Plato sitting in your Greek Class answering jolly questions about his Republic? I would love to experiment with that. I am not afraid of robots. I am afraid of people, people, people. I want them to remain human. I can help keep them human with the wise and lovely use of books, films, robots, and my own mind, hands, and heart.
the entire article is here
Profound is a shockingly inadequate way to describe what he's said, but it'll have to do.
+ This bit of relevance was submitted by alert readers Wolfgang and Via Kalí at near-simultaneous speeds from their respective countries of Japan and Austria: science is bringing us closer to artificial skin that can feel.
Robotics breakthrough: Scientists make artificial skin
by Richard Ingham | Sun Sep 12, 3:35 pm ET

PARIS (AFP) – Biotech wizards have engineered electronic skin that can sense touch, in a major step towards next-generation robotics and prosthetic limbs.

The lab-tested material responds to almost the same pressures as human skin and with the same speed, they reported in the British journal Nature Materials.

Important hurdles remain but the exploit is an advance towards replacing today's clumsy robots and artificial arms with smarter, touch-sensitive upgrades, they believe.

"Humans generally know how to hold a fragile egg without breaking it," said Ali Javey, an associate professor of computer sciences at the University of California at Berkeley, who led one of the research teams.

"If we ever wanted a robot that could unload the dishes, for instance, we'd want to make sure it doesn't break the wine glasses in the process. But we'd also want the robot to grip the stock pot without dropping it."
the rest of the article is here
Obviously, it'll be a couple of decades before we have robots that have as responsive skin as we Organiks do, but it's encouraging to know that progress is being made.
I have to say, though: I snickered at the use of the term 'biotech wizards' in the opening sentence, as it reminded me of the famous Arthur C. Clarke quote, 'Any sufficiently advanced technology is indistinguishable from magic'. Also, it made me think of blokes wearing lab coats and pointed hats with stars and moons embroidered on them.
+ Now, taking the same forward-thinking attitude of Mr Bradbury, combined with the artificial skin advancements mentioned above, we have to ask ourselves, what if the humanoid robots in question resembled someone appealing? Someone like, say, that delightful Christina Hendricks? Would small-minded Organiks still fear them?
I for one would welcome our busty ginger Gynoid overlords. But that's a given.
+ And as I've started this post speaking about Actroid-F's stunning acting debut, it turns out that South Korea's EveR-3 actually beat her to the punch, way back in February!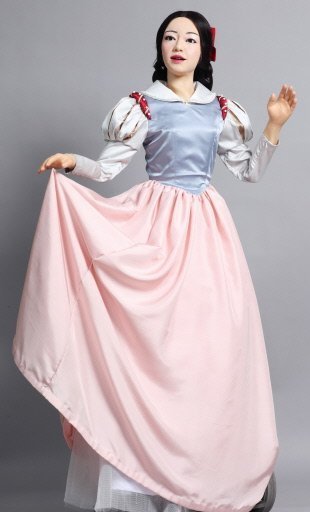 Korean Gynoid Snow White, on a Segway
Robot to take starring roles in S.Korea plays
(AFP) – Feb 9, 2010

SEOUL — A South Korean-developed robot that played to acclaim in "Robot Princess and the Seven Dwarfs" is set for more leading theatre roles this year, a scientist said Wednesday.

EveR-3 (Eve Robot 3) starred in various dramas last year including the government-funded "Dwarfs" which attracted a full house, said Lee Ho-Gil, of the state-run Korea Institute of Industrial Technology.

The lifelike EveR-3 is 157 centimetres (five feet, two inches) tall, can communicate in Korean and English, and can express a total of 16 facial expressions — without ever forgetting her lines.

Lee acknowledged that robot actresses find it hard to express the full gamut of emotions and also tend to bump into props and fellow (human) actors.

But he said a thespian android was useful in promoting the cutting-edge industry.

"South Korea is an active frontier in developing robots and we thought that making it would be a good way to promote our technology," Lee told AFP.
the rest of the article is here
This would be the second time EveR-3's trod the boards — perhaps she can teach Actroid-F a thing or two. That is, if Actroid-F can suppress her giggling at the fact that EveR-3 rolls about on wheels, instead of actually walking from place to place. Don't judge.
Right; that's it for this half! As I seem to have gone a couple of months between posting these — why didn't you lot tell me?? — I had to break it up, otherwise people would be even less likely to read it. As you've seen, this installment dealt with robotics-related topics, so the other post will focus more on Dolls. And fret not; it's already written. Yay!
Watch this space! Whatever you do, don't take your eyes off this space
Technorati tags: Android, Gynoid, robot, Synthetiks, iDollators,
Kokoro Co. Ltd., Geminoid F, Actroid F, Hiroshi Ishiguro, Osaka University Intelligent Robotics Laboratory, uncanny valley, Animism, Repliee Q1, Ray Bradbury, Dandelion Wine, Brian Sibley, Arthur C. Clarke, Christina Hendricks, Broken Bells, KiTECH, EveR-3