typed for your pleasure on 23 July 2014, at 12.03 am
---
Sdtrk: 'The outside' by Martial Canterel
Happy 23rd! See, this is what happens when you procrastinate. I blame Twitter. I blame myself! I blame BLAME!, the dystopian cyberpunk manga by Tsutomu Nihei. Apparently the title is pronounced 'blam', so I blame that, too. Or perhaps I blam it. Nevertheless, there's a metric ton of things to cover, so let's proceed!…
+ We're starting off this half with a Synthetik lass from Japan, with the name of Android Asuna. I'm going to gloss over the fact that she really should be named 'Gynoid Asuna', as perhaps her creator was going for an alliterative thing, but I digress.
At any rate, I know virtually nothing about her, apart from the fact that the company that made her is named A-lab, and Google is loath to give up any further secrets. So until we hunt down some more substantial information, let's watch her in action over and over:
+ Curiously enough, had things not gone all pear-shaped last September, I would've attended this year's DolLApalooza. I blame being on the dole for nearly half a year. But Abyss creations, makers of the RealDoll, debuted a new face for the RealDoll 2 line by the name of Natalie. Is her appearance up to the same standards as all the other faces that Abyss creations make? I think so, and I think you'll agree with me.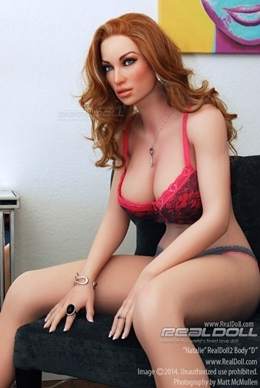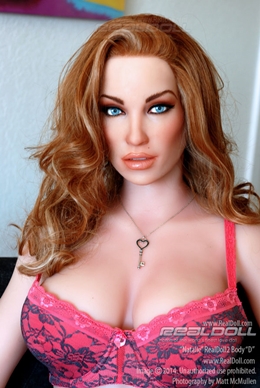 Yes, Natalie's eyes can see into your soul. Which is no excuse for you to stare at her chest
That face will fit a Body D, which is the one with the impressive bustline and the superior posterior commonly associated with the Brooklyn-type, so that might be a combination you want to look into.
+ While Orient industry's Ya su ra gi line of CandyGirls brings bold new meaning to the term heart-stoppingly attractive, remember that their Real Love Doll Ange line is still nothing to sneeze at, either. At it happens, there are two new heads available for the Ange series, in the form of Riri and Tomomi.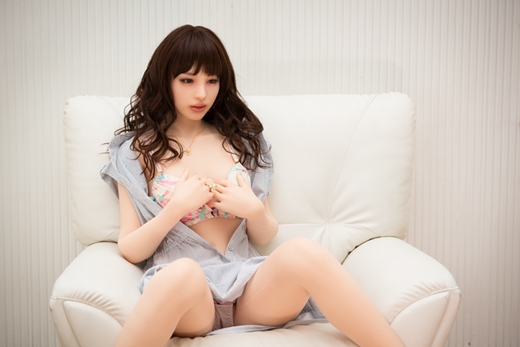 Above, Riri, regretting once again that her air conditioning is still out; below, Tomomi, showing off her minimalist room decor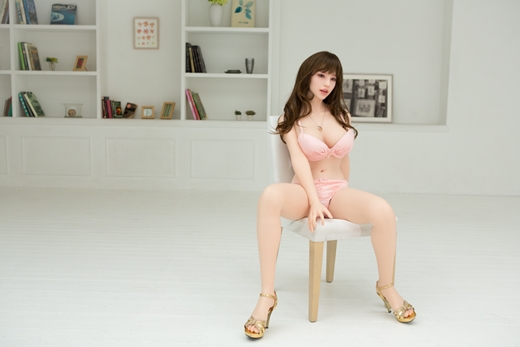 ORIENT INDUSTRY: they've been making Synthetik women since the late Seventies, so they totally know the score.
+ What have Anatomical Doll been up to recently? Well, quite a lot. So much, in fact, that as of May, they've placed a freeze on receiving any new orders until further notice (more than likely Autumn 2014). Here's Oleg, explaining why via an Email he'd sent me:
We have taken many orders from all world and now temporarily have stopped till the autumn reception of new orders.

We need time to execute the accepted orders. Also time is necessary for full reconstruction of our dolls.

How we begin, you see. A new head " the girl without a name ", " older face ", Sleeping Oksana " – three new heads for one and a half month.

Still, plus to these to three, in work now eight new heads. Natalia will be the ninth head. Total – twelve nevest [sic] face.

Also all bodies will be replaced with more realistic.
So basically, not only is the company playing catch-up with existing orders, Oleg is also planning to replace Anatomical Doll's four body types with more realistic ones, as well as refining the new heads that he's recently created. What do those heads look like, you ask? Funny you should ask!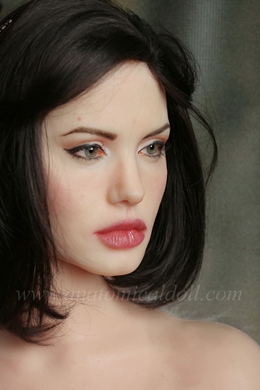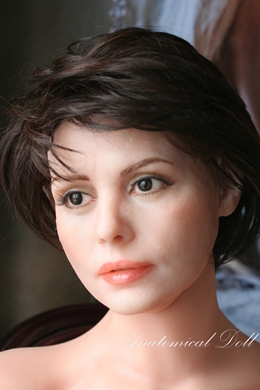 On the left would be 'The Girl Without A Name', and on the right is 'Older Face'. As you can tell, Oleg's not come up with official names for them yet. I'm fairly certain most of us can think of one for the first one, and it'd probably be the same name. At least one Older Face head has been sold to date, though, and it's with Everhard; his version's named Varvara, and is quite a pleasant lass to be around, it seems.
Sleeping Oksana would of course be the closed-eyes version of the Oksana head: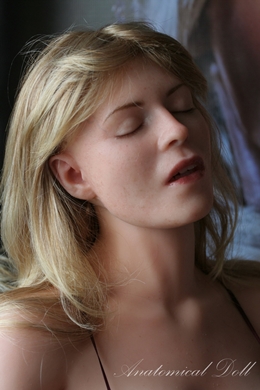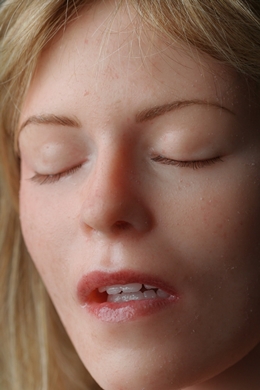 Another selling point is that her throat has a nearly 8in (20cm) depth, and Oleg says that the head has a way of creating artificial saliva to prevent damage to her teeth when she's busy… providing service. I'm not sure how that'll be accomplished exactly, but that's just one more attribute to look forward to!
So if you're keen on purchasing an Anatomical Doll, you'll have a bit of a wait, but I'm certain it'll be worth it. As soon as they open their doors for orders again, you'll be able to read about it here, of course…
+ Internet webcomic cartoonist Mr R Stevens, the man behind Diesel Sweeties, has gotten a couple of mentions round here previously. Mainly as his jib is laser-cut! (Sounds pervy.) Click the image for the full comic: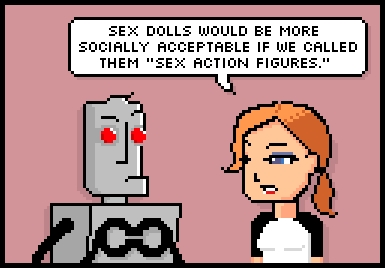 + And to close this segment, there's this amusing and relevant DirecTV advert. I like how she's like a sexy Muffin the Mule.
The only question I have would be: how did she manage to get that robe off, without it interfering with her wires? For that matter, how did she get it on? So unrealistic. She's still cute, though, so we'll give it a pass… Still not buying DirecTV, though.
Right; that's half of all the new bits and bobs you need to know about. Fortunately, next part comes next week, as I've already written it! Mainly so I can get back to Bioshock: Burial at sea. Those Splicers aren't going to shoot themselves, y'know! Unless I use Possession on them, that is