typed for your pleasure on 8 November 2013, at 11.54 pm
---
Sdtrk: 'Seconds too late' by Cabaret Voltaire
What have we here? News and information on imitation people, as that's mostly what 'Shouting etc etc' traffics in. Note I'd said 'mostly'; that subject's not the only thing I write about here. But Synthetiks news does seem to dominate the topic selections, curiously enough…
On the first of the month, Japanese dutch wife manufacturing juggernaut Orient industry debuted a new line of devastatingly sexy CandyGirls, under the name 'Yasuragi'.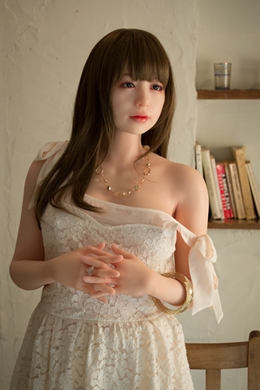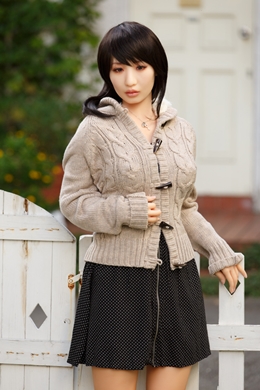 Left: Kurihara Madoka; right: Fujisawa Yayoi
What does SYSTRAN seem to think Orient industry is saying about the new line, you ask?
The super real love doll "Ya, Su, Ra, Gi" created!!
From 11/1 (Friday) start of sale

* The serenity head is Ange body and compatibility, but color of the skin differs from the Ange beauty white body.
In addition, also color of the skin of the Ange beauty white head and the serenity body differs in the same way.
The case of order this point beforehand in regard to comprehension, purchase, the fish we ask.
*protracted sigh* Thanks, SYSTRAN.
At any rate, these seem to be the most realistically-sculpted heads since their late-lamented CandyGirl Jewel Diva line. From the production photos on the site, I'm led to believe that the company laser-scanned actual Organiks to help develop the new heads. Also interesting to note, each model has a surname as well as a first name, which is something new. I tried popping the names into Google to see if the Dolls are based off of Organik lasses with those names, but nothing came up that would prove that. But that doesn't mean you can't enjoy what they have to offer!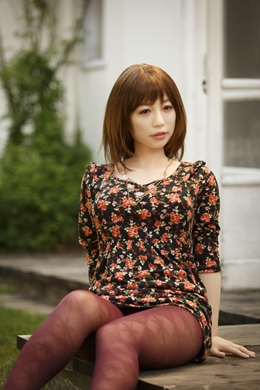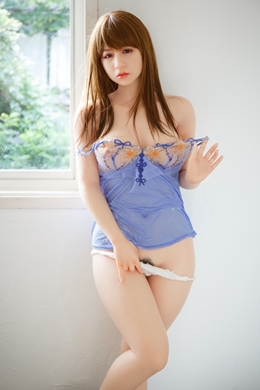 Left: Iikura Minami; right: Konishi Asami
'Yasuragi' means 'peace of mind' in Japanese, and gazing upon the beauties above, the reason behind Orient industry giving that model line that name makes perfect sense. As it's stylised into four hiragana syllables — や す ら ぎ — I was hoping that you'd find one hiragana in each of the four lasses' names, combining them to come up with yasuragi, but no. Orient industry missed a trick, as far as I'm concerned…
This is something that, to me, is simply a common-sense assessment, but it's always good to have additional scientific proof:
Humans tend to trust robots that look human
Nidhi Subbaraman, NBC News | Published 28 Aug 2013

Most robots are so much more than a pretty face, but most humans don't see them that way. We make snap decisions about a robot's personality, friendliness and abilities — all from the way it looks, even if it's just a projection on a display screen, new research shows.

A new study, published in the Aug. 28 issue of PLOS ONE, adds to growing evidence that as robots become assistants and collaborators in all aspects of our lives, their appearance can deeply influence how well machines and humans interact.

The authors of the study recruited 30 volunteers, ages 18 and 38, to interact with three different robot avatars for the PeopleBot robot, which helped them take their blood pressure.

Each volunteer got a turn with each of three robot displays. The first two displays featured faces — one with human features, eyebrows and fleshy skin tone — much like the European student on which it was modeled — and another with a silver android-like finish and blank eyes. In the third session, the volunteers checked their blood pressure checked with the help of the same PeopleBot, but this time with no display face at all, merely a voice.

Afterwards, the humans rated their experience. By far the most popular version of the assistant was the one with the most human face. But here's the surprise — the test subjects trusted the faceless robot over the one with a silver mechanical face. The silver face, they reported, though more human, was also more "eerie."

"When you can't put it in a box of being either human or a robot, that's when you're a bit uncomfortable," Elizabeth Broadbent, senior lecturer at the University of Auckland and the lead author of the study told NBC News.
the rest of the article is here
Our friend 'Hans' was round our flat a few days ago, and we watched several videos of Synthetiks, both Gynoids and Dolls, as his home lacks Internet access, so he and 'Bee' miss out on a load of these sorts of developments. He was very impressed and a wee bit smitten with Actroid-F, as anyone would be, but he was on the fence regarding Gynoids that looked less realistic, such as Holon. I reminded him that even though a lass like Holon skews towards a more 'anime-styled' appearance, it's good that she exists. When humanoid robots are more prevalent in society, some people will prefer that they resemble a shiny metal humanoid, much like a Sorayama illustration. There'll be those who, like me, want a Synthetik to look like an animated silicone Doll, like the Actroid series. But there will be people whose aesthetic preference and comfort level fall in between, and would perhaps want a humanoid robot with a more stylised appearance, which is where someone like Holon comes into play. The way I see it, if we can utilise Synthetiks going from either end of the visual spectrum, there's bound to be one to fit all requirements…
As an aside, when Roc Morin was interviewing me recently, I'd told him my ideal version of Sidore would be a Gynoid that would resemble an Organik human on first glance, but would still retain subtle 'tells' such as silicone skin and somewhat stilted movement. Roc mentioned that her less-than-fluid motion would be a pleasant and appealing characteristic, like a partner having an accent. Clearly, he knew what I was talking about there!
Another comic book miniseries that deals with Synthetiks in what seems to be a positive light will begin its run this month: Image comics' 'Alex + Ada', written and illustrated by Jonathan Luna, and co-written by Sarah Vaughn.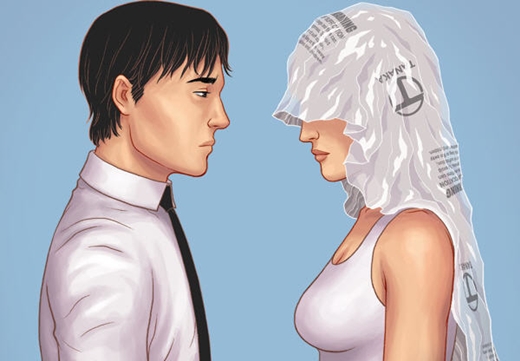 'I hope that at some point, you take that silly thing off.' 'What do you mean? It's just a necktie.'
In this near-future tale, Alex is attempting to recover from a setback in his life and return to normal. Ada, a Tanaka X5 and the latest and greatest model of companion android, comes into his life. She lives to serve, as long as her programming allows it, but does he want to be served?

The world of ALEX + ADA gives us a glimpse of what our own future may be like. It features a thriving robotics industry, alarm clocks that are floating holographic displays, breakfast served by floating robots, and normal human beings who are able to control their home electronics with a thought. Vaughn says that readers can expect "drama, humor, love, loss, and more robots than you can shake a stick at" in the series.
taken from this site
For one, it helps that the art style is crisp and clean — it always puts me off when I want to read a comic, but the art is so distracting that it completely takes me out of the story. (Early issues of 'Sandman', I'm looking in your direction.) But from what I've read in an interview with Luna and Vaughn, they're not just addressing a possible romance between the main characters, but they also intend on spotlighting the implications behind the usage of robots as well, so that's two points in their favour. Well, three, counting the good artwork thing.
The series will run for twelve issues, which puts people like me in a bit of a quandary: do I buy all the individual issues as they're released, or do I bide my time and hope they'll be compiled in a fancy trade paperback?
Tying into the idea of future interactions between robots and Organiks, on the science and robotics site IEEE Spectrum, you'll find an excellent article by Kate Darling, entitled 'Extending Legal Protection to Social Robots', which is a cause I'm constantly upholding a banner for! In case you somehow weren't aware.
Most discussions of "robot rights" play out in a seemingly distant, science-fictional future. While skeptics roll their eyes, advocates argue that technology will advance to the point where robots deserve moral consideration because they are "just like us," sometimes referencing the movie Blade Runner. Blade Runner depicts a world where androids have human-like emotions and develop human-like relationships to the point of being indistinguishable from people. But Do Androids Dream of Electric Sheep, the novel on which the film is based, contains a small, significant difference in storyline. In the book, the main character falls in love with an android that only pretends to requite his feelings. Even though he is fully aware of this fact, he maintains the one-directional emotional bond. The novel touches on a notably different, yet plausible, reality: humans' moral consideration of robots may depend more on our own feelings than on any inherent qualities built into robots.

This distinction hints at an approach to robot rights that is not restricted to science fictional scenarios. Looking at state of the art technology, our robots are nowhere close to the intelligence and complexity of humans or animals, nor will they reach this stage in the near future. And yet, while it seems far-fetched for a robot's legal status to differ from that of a toaster, there is already a notable difference in how we interact with certain types of robotic objects. While toasters are designed to make toast, social robots are designed to engage us socially. At some point, this difference may warrant an adjustment in legal treatment.
the entire article is here
The sooner ethics, morals, and legalities are addressed concerning robots, the better. It would help, of course, if society stopped regarding them as tools, but as beings in their own right…
You may vaguely recall Japanese sculptor/Dollmaker Erimo — he first appeared on my radar due to his 1/1 scale replica of Organik model Marie Honda, created for an Absolut vodka ad campaign back in 2005. His website has long-since become virtual dust, unfortunately, but back in March of 2009, he'd created an installation at a Japanese art gallery entitled 'Sisters are in the room'. Over the course of several days, the two life-sized ball-jointed Dolls who the installation focused on told a story through various poses. This will be the closest we'll get to having viewed it in person, but it's better than nothin':
And that's the lot for now! Although I think I was supposed to add something else. But I can let you know that I'm in the midst of rustling up some information about a new Doll studio out of Europe, so that'll be something to come back to 'Shouting etc etc' for! Well, something else to come back to 'Shouting etc etc' for.
*snaps fingers* Now I remember! I've added a link in Ye Olde Sidebar to 'Bienvenue chez Elle', which is a site maintained by the winsome French RealDoll, Elle, and her lover man. She's gorgeous, he's an excellent photographer, so you've no excuse not to pay them a visit, really…
Also as it's November, both Elena and I celebrate our birthdays this month (the 17th and the 14th, respectively)! The best present you could get us would be a two-bedroom flat in Toronto, preferably in a high-rise overlooking Highway 401. Don't worry, we'll supply our own furnishings