typed for your pleasure on 4 November 2014, at 10.39 pm
---
Sdtrk: 'Providence' by Black to comm
This time, I offer no apologies for the lack of news about Dolls and Gynoids for last month, as there wasn't a lot on offer. But just within the past fortnight and a half, quite a bit of news has materialised! Which is good! *rubs hands together*
+ The first Gynoid in media that I can distinctly recall falling in love with would be Cherry 2000, expertly portrayed by Pamela Gidley. Cherry made first place in my top ten sexiest Gynoids list, as you'll recall. Maybe I should make an updated version of that post one of these days… But moreso than any other actress, Pamela's role as a pleasant and accomodating affictitious lover opened my eyes to the possibilities of 'the Synthetik option'. So that was me, back then. Perhaps if I'd have been old enough to have watched 'My living Doll' upon its initial airing back in 1964, it would've been Julie Newmar as AF-709 Rhoda that would've sparked (pun somewhat intended) my desire. But I'd like to think that back in Germany in 1927, at least a handful of individuals were considering their own artificial lover thanks to Maria, the sinister-but-curvaceous Gynoid from Fritz Lang's masterpiece, 'Metropolis'.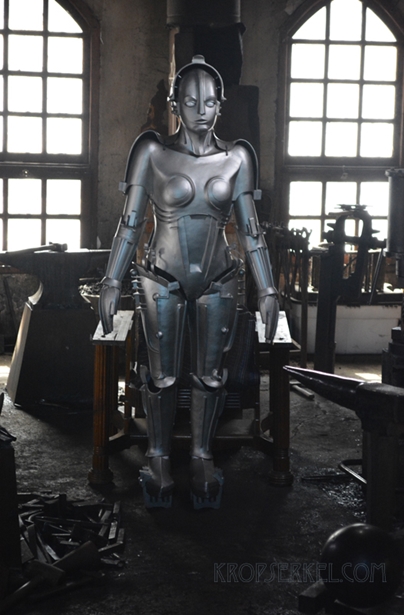 What we have here is the end result of the Canadian art group Kropserkel Inc. and WSM Art Management of Germany, who have created a life-sized restoration of Maria, as the original prop/armour is understood to have been destroyed during a fire on the film's set in 1926. What's really fascinating is that Kropserkel Inc weren't just winging it with attempting to reproduce the design; the 'WSM' in WSM Art Management stands for Walter Schulze-Mittendorff, the original designer and sculptor of Maria under the auspices of Fritz Lang. So essentially, Kropserkel Inc made their replica by using the plans and notes of the original from 1925.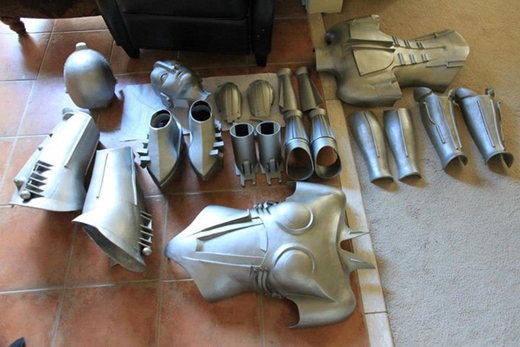 Brigitte Helm not included
Their goal is to exhibit the finished piece at various events and film festivals, as well as produce additional replicas. If your pockets are overflowing with cash, you can purchase a 1:1 scale display figure for only $8500 USD. Now pause so you can wipe off the beverage you just spritzed onto your monitor.
Still, Kropserkel Inc are bringing an iconic character back into the present with their efforts! Only really, Maria never went away. In fact, with the current rate of robotic progress, she's probably closer now than ever… Learn more about the Maria project here: http://www.kropserkel.com/robot.html
+ Abyss creations have released another new face for their RealDoll 2 line. This comely lass is known as Olivia, but once she's yours, you can name her whatever you like. Like Olivier, I dunno. Maybe you'll wanna run your choices by her.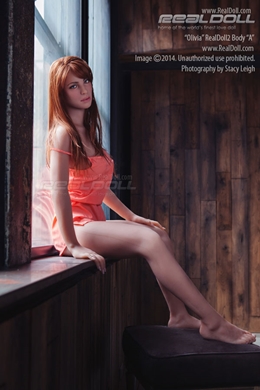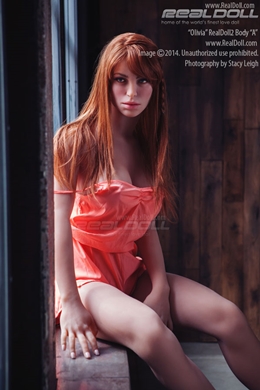 'Yeah, sorry; "Bolivia" isn't an option, either'
The first configuration listed on Abyss' website has the face combined with the RealDoll 2 Body A, but you'll be able to combine her with other body types as well. Very nice!
+ Only three days before my birthday this month, the First International Congress on Love and Sex with Robots will be taking place! Will I be in attendance for it, to perhaps speak with and shake the hand of David Levy himself, amongst other committee members? Well, it's in Madeira, Portugal. I mean, Jesus, people; you might as well hold it on the Moon.
Within the fields of Human-Computer Interaction and Human-Robot Interaction, the past few years have witnessed a strong upsurge of interest in the more personal aspects of human relationships with these artificial partners. This upsurge has not only been apparent amongst the general public, as evidenced by an increase in coverage in the print media, TV documentaries and feature films, but also within the academic community.

Congress sessions are planned on the following topics, inter alia:

• Robot Emotions
• Humanoid Robots
• Clone Robots
• Entertainment Robots
• Robot Personalities
• Teledildonics
• Intelligent electronic sex hardware
• Gender Approaches
• Affective Approaches
• Psychological Approaches
• Sociological Approaches
• Roboethics
• Philosophical Approaches
No, there'd be absolutely no reason for me to be there at all. None whatsoever. Now I wonder what could be causing my eye to be twitching all of a sudden?
+ Patrick Wise made a delightful announcement regarding his beautiful Private Island Beauties, which will follow after this related picture of an improved Doll bum that he's made: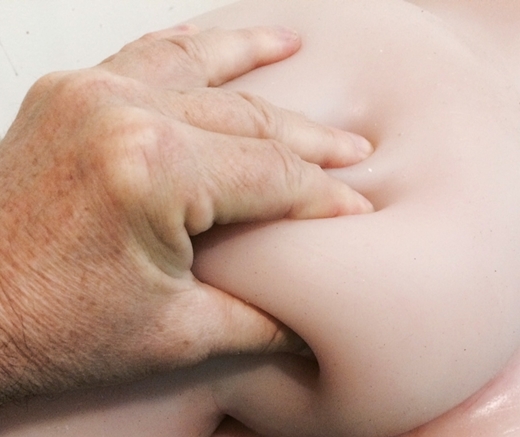 Like grabbing a sexy… loaf of… bread. I got nothin'. Which should be obvious
We have a wonderful new softness to our dolls! The tush is now nearly as soft as the tata's!! Actually, the whole body has a fantastic new softness. Squeezable and extra fun for play. We are not charging any extra for this upgrade. We are sure that it will add considerably to your enjoyment of your doll. This way, you have the lasting quality of platinum silicone… with the softness you have been hoping for!!
The photo above should be proof enough, but you can also find video evidence on the Private Island Beauties website that shows how the new silicone formula being used makes for a Doll you can really sink your hands into. I suppose this is what the Germans mean with the term Gummipuppen?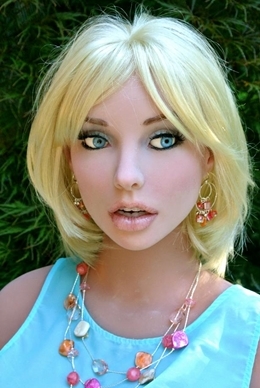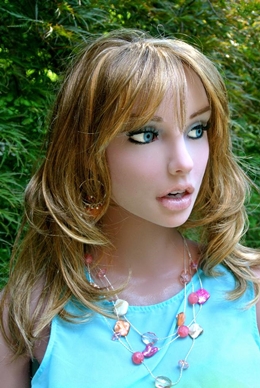 As shown above, the studio have also released the all-new Mina head, suitable for use with all three PIB bodies. This head is classifed as 'Oral', which is a capability that will allow you to store a couple of spare AA batteries in her mouth, for emergencies. Or perhaps marbles, if you have some really valuable aggies you want to hide away. Whatever you may decide to slide into her mouth — USB sticks, LEGO minifigs, &c. — I'm sure you'll agree Mina is a fine addition to the Private Island Beauty head collection!
+ Do you recall back round 2005, when we had an endless stream of Gynoids making their debuts? The first version of Actroid, Repliee Q1, Repliee Q1Expo, all the affictitious lasses that appeared at the Aichi Robot Expo, the first Actroid DER… good times. Revolutionary times! Now it seems that nine years later, we're getting another wave of new Gynoids coming down the pike. Otonaroid and Kodomoroid, Tuma Urman and Alisa Zelenogradova from Russia, Geminoid-F, Android Asuna, and joining them, Chihiro Aiko, manufactured by the world-famous company, Toshiba.
This comely young artificial lady, who made her own stunning debut at CEATEC 2014 — Japan's version of the Consumer Electronics Show — is powered by an air servo system and an air compressor, and like her artificial sisters, has realistic silicone skin. She sports 43 actuators, including 15 in her head for facial expression and head movement. Combining those, she's able to use (Japanese) sign language in a reasonably fluid manner, and will be programmed with English Sign Language relatively soon. Like most current-day artificial humans, she's being groomed for developmental use as either a greeter or a staffer for businesses, or to interact with the hard of hearing or the elderly. Their goal is for both the physical technology and her software to be up to par enough so that she can be employed at the 2020 Tokyo Olympics.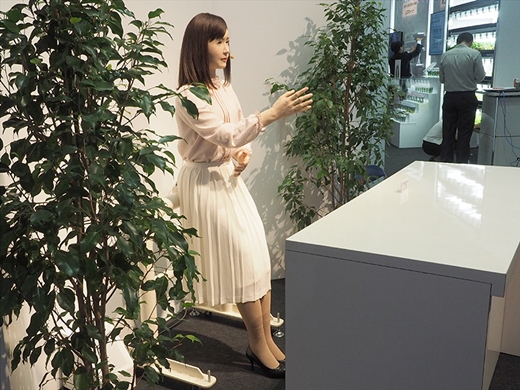 They couldn't have put, say, a prop computer on her desk or something?
Regarding that white barrier/bumrest thing behind our Chihiro, fellow robosexual Vokabre says on his blog, 'This stand is not only serves as an actual stand, but also as as a way to hide piping to the compressor and cables to the internal hardware. To compare, standing Actroids rely on the special "stage" that has hardware and a compressor hidden inside. Compressor and the main computer for Chi Aiko are either stand somewhere on the side of the robot, or are hidden behind a banner.' Well, we all need support sometimes in our lives.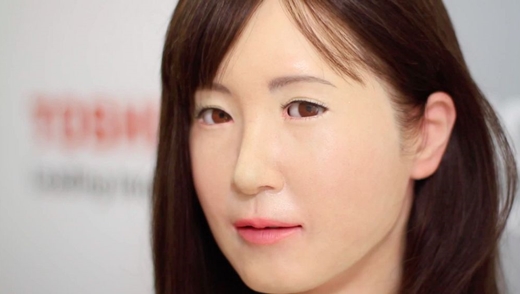 Personally, I think it's fantastic that a major electronics firm such as Toshiba is producing a Gynoid like Chihiro; my hope is that other major companies will see the success that Toshiba will have with her, and get into the robotics industry themselves as competitors. And everybody wins!
Hitoshi Tokuda, manager of the company's marketing group in the new business development division, has been quoted as saying, 'We wanted to develop a sign-language robot because it's challenging technologically, requiring speed and precision movements… [A robot like Chihiro] needs a humanlike appearance and expression because a C-3PO appearance wouldn't work.' Which is what I've been saying for years.
Curiously enough, despite that video being Toshiba's official release, it doesn't show her speaking, so have a look at this one:
Of course, if you didn't have all that ambient CEATEC noise going on in the background, one might've been able to hear her better, but you get the idea. Looking forward to discovering more about Ms Chihiro Aiko in the near future!
That's it for this half; before the second part is published, there will be a brief intermission while I drink several draughts of Gatorade and furiously finish typing that post up