typed for your pleasure on 23 August 2013, at 7.22 pm
---
Sdtrk: 'Спесь' by Утро
Towards the end of last month, I'd gone on a holiday; as I told my unknowing coworkers, it was a trip comprising both Business and Pleasure, which was actually an honest assessment. It was time once again to participate in this year's DolLApalooza, taking place in southern California, where I'd be hanging out with fellow iDollators, doing a wee bit of local sightseeing, and paying visits to a handful of my favourite domestic Doll manufacturer's studios to see what they had on offer (and to squeeze some Synthetik boobs). Was it a fantastic time out? O yes!
WEDNESDAY, 24 JULY
Having diligently crawled into bed the previous night at 9pm, I'd arisen at a jaw-dropping quarter to 4am, in order to get showered, dressed, ready, and semi-lucid to board my flight. My mate Dave Z dropped me off at DTW on his way to work, and after meeting up with fellow iDollator Mahtek at the terminal, we were Off For Adventure, much as we did for DolLApalooza 2011. Unfortunately, Euchre, another member of our tri-state Doll Congress, couldn't make it this year, as work was effectively screwing him out of hours/wages, but we'd do our damnedest to have fun anyway.
Our LAX-bound Delta Airlines Boeing 767 wide body took off without a hitch at 8.55am EST, and there were a few good omens we'd noted:
+ our complimentary July 2013 issues of Delta Sky magazine had an eight-page article about robots entitled 'Androids in our Anterooms'
+ one of the stewardesses that doled out our packets of micro-pretzels was a Russian named Elena. Although she wasn't as comely as my silicone mistress, she was nice enough to give both of us pilot's wings upon leaving the plane
+ and I don't know if this is a recent development on the larger planes, but they no longer have the stewardesses demonstrating the safety procedures in the traditional fashion. Instead, the monitors on the back of each seat played an amusing video, which you can view here; Mahtek and I got a kick out of the bit at the 0.25 second mark
Apart from some rough air (we call it 'turbulence', but then, I call headstones gravestones) while over Colorado, the flight went as well as expected, and we'd made landfall at 10 after 10am PST. Mahtek and I disembarked and made our way to the car rental office, where he picked up the van that would be ferrying most of us to and fro during the extended week-end. There, we met up with littluvr, another one of our crowd, who is so named as he is leprechaunian in stature. From there, we drove to the Queen Mary to retrieve another member, Jesse1965. Now, when Mahtek told me we'd be getting round to the Queen Mary, I laughed in response, as I thought he was making a joke, or maybe using some sort of euphemism. So it came as a complete surprise to me that the Queen Mary is actually an ocean liner from 1936 that had, post-retirement, been docked off Long Beach and converted into a hotel. Shame they couldn't have done that with the Titanic, but I believe I'd said something earlier about gravestones?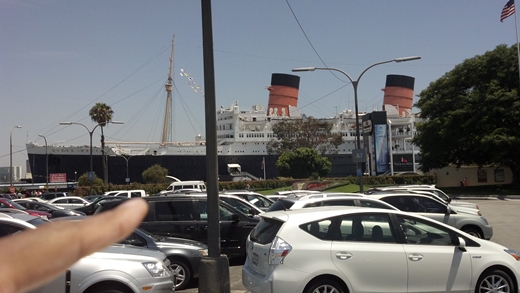 Seasick, yet still docked
Jesse took us on a tour of the ship — as he was a guest, it cost us nothing — and we were duly impressed. His own room was named the Eisenhower Suite, which contained two bathrooms, three closets, two bedrooms, and a living room, all (mostly) preserving the original fixtures and fittings from the time it was still sailing. There was even a vintage flat-screen telly mounted on the wall! Back then, guests not in first-class cabins had to make do with tube tellys with just basic VHF and UHF channels, from what I understand.
After that, we toured the adjacent museum that held some of the Queen Mary's old machinery and ephemera from the era, I picked up a copy of the Union Jack ('North America's Only National British Newspaper'), and to finish, we popped round the tourist trap shop right in front of the Podvodnaya Lodka B-427 Scorpion submarine docked alongside to the Queen Mary. Had Elena been there, she would've exploded, as the shop had an authentic Russian GSh-6A pilot helmet for sale; a snip at $500 USD. Even if she were my wife, that wouldn't have been in the budget. Besides, what would she even wear it with?
Our next stop was to check in at our respective hotels. Mahtek, littluvr, and I were at the Vagabond Inn, and Jesse would be joining Incrediwagon round at the Rodeway Inn; both establishments being situated on either side of a restauarant named Foxy's. Whenever we attend DolLApalooza, we make a point of dining there, which not only has great food at reasonable prices, but a fairly cosy ambience, even when it's busy. The building's got a peaked roof, much like a Swiss chalet, and I recall the first time I'd set foot in the place, the wood panel motif instantly reminded me of The Duke of New York, the restaurant Alex and his droogs stop in in 'A Clockwork Orange', so it naturally got extra Cool Points from me. We weren't getting anything at Foxy's just yet, however; that would wait until Incrediwagon, Z-Dr, and CrazyJose joined us the next day. Instead, we made a trip to a nearby Target, to load up on food (i.e: snacks) for our rooms. As we paid for our purchases there, imagine our surprise when the cashier informed us that, as we didn't have any Target recyclable bags on us, we each could buy a paper bag for our items for only ten cents. What… kind of… hippie… bullshit… is that?? Southern California, man. One thing's for sure: I've changed my plans. Now I'm definitely having kids, so I can pass that bag onto them as a treasured fucking heirloom. And my kids will do the same with their kids, cos that bag's more valuable than the Holy Grail. Ten cents to buy a paper shopping bag. Honestly.
After dropping off our purchases (and bags) at our rooms, Mahtek had us do a bit more walking round the area, in order to hit a place called BevMo. I can't recall where he'd heard about it, but they're a West coast wine and beverage chain, with all manner of alcoholic bevvies, sodas, and the like. I don't drink, so I wandered towards the soda section, and nearly lost my shit when I saw that they stocked the Skeleteens soda line. Skeleteens are marketed towards those who like unusual-tasting colas, and contain ingredients like cane sugar, various herbs and spices such as guarana and clove, and more caffeine than should be legal. As you can tell from the name, they were aimed at the alternative/goth/counterculture crowd. Their marketing worked! For me, anyway, as during their prime in the late Nineties, I only encountered one place in the tri-county area that sold them, and once that place shut down, I hadn't seen them since. But BevMo stocked all my favourites — Rat Bastard root beer, Fukola (pronounced 'fook-ola') Cola, and the number one on my list, Black Lemonade. The only problem with this discovery was I had just bought four bevvies during our Target trip, one for each day in SoCal. And it's not as if I could take any of them back home on the plane! Fortunately, Mahtek said he'd drink one of the previous drinks I'd bought, in order to stop my loud and messy sobbing, so I bought a bottle of Black Lemonade. As the phrase under the cap says, 'Looks like shoe polish, tastes like Lemon Drops'. Mmm!
Curiously enough, when we paid for our goods, we'd learned that our cashier was originally from Michigan's tri-county area! What are the odds?
Just before returning to our rooms, where our Target bags were, I received a text from artist and fellow iDollator Amber Hawk Swanson! Back in Spring, when our crowd was making plans to attend DolLApalooza, Amber informed me that she'd be finishing up an internship at the MacDowell Colony round mid-July, and she'd love to attend. As she wanted to meet up with us again, and visit some Doll studios, and collaborate more with me concerning her next major project (HINT: it's Doll-related), it only seemed logical for her to join us. So she did! Well, she would for part of Friday, and all of Saturday, as she had to catch up with local friends on Thursday. Still!
Winding down the eve, Jesse and littluvr joined Mahtek and I in our room. Shortly after, Incred showed up there as well, having driven up and down the Pacific Coast Highway in a rented Camaro. He'd actually been in San Diego the previous week-end, as he'd met up with CrazyJose for the San Diego Comic-Con. We'd discussed the various states of affairs in the iDollator community, as well as other nonsense, well into the eve, until jetlag demanded we draw a line under it.
THURSDAY, 25 JULY
As Sidore and I have been blissfully sharing a bed together for thirteen years, the rare occasions where I'm in bed alone always feels… off. That's why I was extremely glad I'd spent that dime on that Target bag; sleeping with it in my arms brought me such deep and restful slumber. I daresay that bag is worth nearly ten dimes!
Mahtek, littluvr, Jesse, and I met with Incred and Z-Dr (who apparently drove in from Sacramento just after midnight) up at Foxy's for brekky round 8.30am. Amber couldn't join us that day, but confirmed she'd be seeing us when we popped round the Mechadoll studios Friday afternoon. As we hadn't heard from anyone at Abyss creations as to whether or not we could visit, what else was on the agenda for the day? A hard day's shopping for our affictitious women over in Santee Alley, that's what!
Shortly before 11 that morning, Bronwen of Sinthetics met with us at the Vagabond Inn; Jesse and I hopped in her car, and with everyone else following along in the rental van, we drove to Santee Alley. During DolLApalooza 2011, a few of our crowd went there, but I wasn't one of them, so I was eager to go this time. Turns out Santee Alley is an open-air market in the LA Fashion district that contains over 100 shops, with merchants selling all manner of clothing, jackets, shades, accessories, knockoff toys, bras and knickers, shoes… seriously, every eighth shop sold shoes, and every ninth one sold underwear. But let me tell you this: over the course of six hours (!!) of reeling in and out of shops, not one of us left empty-handed, as we all found something for our Synthetik partners. I'd spent about $150 on assorted things for both Shi-chan and Lenka, which worked out rather well, as since I didn't get a chance to get my Missus anything decent for our anniversary/her birthday cos the date was so close to DolLApalooza, I'd more than made up for it.
I'll share this with you, too: I never would've guessed it, but apparently Forever 21 has some relatively cool stuff! Quite a few of the shops had closeout merchandise from that particular chain, which I assume was 'last season', but I'd found things that fitted Shi-chan's aesthetic nicely, and at decent prices! Amongst our additional purchases, Mahtek and Jesse bought shoes for their lasses, Bronwen helped littluvr hunt down a specific type of dress for his Michiko, and Incred scored yet another ginger wig for Ceilidh. Apart from everyone getting a bit knackered and hungry towards the end due to all that walkin', we were really glad we went!
Round 5pm, Bronwen headed back to the Sinthetics studios to finalise things for the Syns@Sins event on Saturday, and the rest of us returned to the room Mahtek and I were staying in, designated 'home base', and were in a bit of a quandary. We were all hungry as fuck, but we didn't want to eat a lot, as we were slated to join Matt K & Bronwen for dinner later that eve. I suggested that we get appetisers at Katsuya, a place I kept seeing a billboard for across from Foxy's. Why didn't we just eat at Foxy's, you ask? Because reasons. Besides, both littluvr and I were jonesing for Japanese food. I should mention that during DolLApalooza 2011, there was a Yoshinoya within walking distance from our hotel. I'd always wanted to give Yoshinoya a go, as even though it's not exactly authentic Japanese cuisine, the franchise doesn't exist in Michigan. We'd gone, and my enthusiasm flagged after eating one of their mediocre beef bowls. I should've asked for extra onion, but still. Yoshinoya is a fast food restaurant, but Katsuya appeared to be more than that. Besides, we just needed to kill a few hours and put something into our stomachs…
Katsuya is an upscale restaurant chain — the interior design of their locations was handled by Philippe Starck — so in my mind, I was thinking 'this probably isn't authenic Japanese cuisine'. It is and it isn't. I'd ordered onigiri, cos it's hands down one of my favourite food items, and the chef had put his own chi-chi spin on it. Normally, onigiri are triangular rice balls wrapped in a sheet of nori, but at Katsuya, they'd forgone the sheet and instead mixed nori flakes into a rice ball that was lightly braised. Don't get me wrong, it was extremely tasty, but not what I was expecting. Another sign Katsuya's menu caters to a contemporary crowd: they offer sliders. True, sliders have been around for a while, but I somehow can't picture, say, Nobunaga Oda ordering his retainers to fetch him a plate of them after a lengthy day during the battle at Nagashino. I guess I was expecting something more traditional like Kushi Tsuru, which is where PBShelley and I ate in San Fran Japantown last year, but all in all, Katsuya's cuisine did what it should've, and that was make us unhungry, as everyone enjoyed what they'd ordered.
After killing more time wandering round Glendale's Americana at Brand shopping district, our crowd joined Matt K & Bronwen at our other fave SoCal dining establishment, BJ's, at 10pm. Two hours of catching up, as well as hilarious/informative Doll-related conversation, and we all decided to call it an evening and return to our Target bags. Tomorrow, DolLApalooza 2013 would begin in earnest!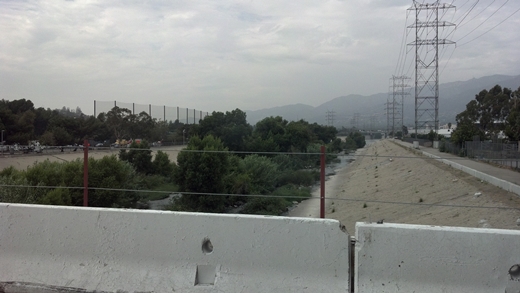 Lookin' awfully forest-like there, LA River
NEXT UP: Another famous ship, iDollator celebrities, alluring Synthetik women, and beverage-related linguistic misunderstandings