typed for your pleasure on 16 March 2009, at 4.36 pm
---
Sdtrk: 'Love everlasting' by Jeremy Jay
Fellow Technosexuals, our goal of walking, talking Synthetik partners is looming nearer. I give you: the first walking Gynoid of the twenty-first century. Yes.
Walking, talking female robot to hit Japan catwalk
The Associated Press | Published: March 16, 2009

TSUKUBA, Japan: A new walking, talking robot from Japan has a female face that can smile and has trimmed down to 43 kilograms (95 pounds) to make a debut at a fashion show. But it still hasn't cleared safety standards required to share the catwalk with human models.

Developers at the National Institute of Advanced Industrial Science and Technology, a government-backed organization, said their "cybernetic human," shown Monday, wasn't ready to help with daily chores or work side by side with people — as many hope robots will be able to do in the future.

"Technologically, it hasn't reached that level," said Hirohisa Hirukawa, one of the robot's developers. "Even as a fashion model, people in the industry told us she was short and had a rather ordinary figure."

For now, the 158 centimeter (62.2 inch) tall black-haired robot code-named HRP-4C — whose predecessor had weighed 58 kilograms (128 pounds) — will mainly serve to draw and entertain crowds.

Developers said the robot may be used in amusement parks or to perform simulations of human movement, as an exercise instructor, for instance.

HRP-4C was designed to look like an average Japanese woman, although its silver-and-black body recalls a space suit. It will appear in a Tokyo fashion show — without any clothes — in a special section just for the robot next week.

The robotic framework for the HRP-4C, without the face and other coverings, will go on sale for about 20 million yen ($200,000) each, and its programming technology will be made public so other people can come up with fun moves for the robot, the scientists said.
the rest of the article is here
Her programming technology will be made public, so other people can come up with fun moves for her. Well. *adjusts collar*
As I am genuinely speechless with glee, let's gaze at a few pics of HRP-4C, shall we?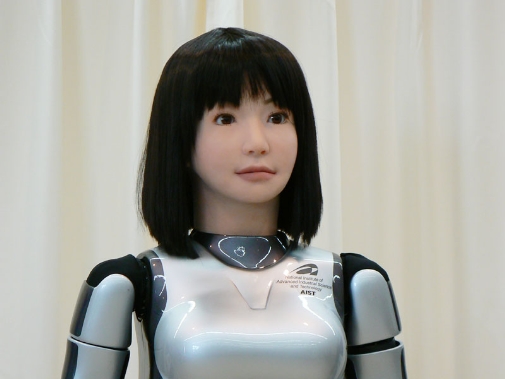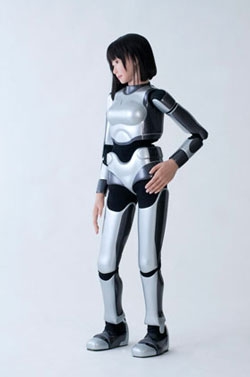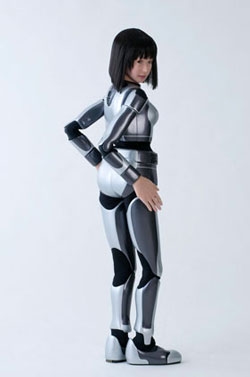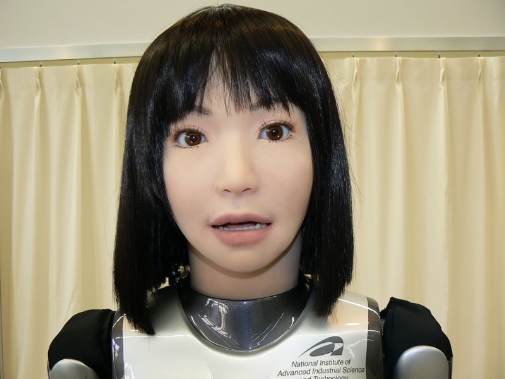 Sexiness: CONFIRMED
Full videos are of course available on Robot Watch; simply look for any pictures with the 動画 kanji beneath them, right-click the characters, and save. They've a passel of pictures there as well. You can also check out the page pertaining to her on AIST's website, if you feel like wading through a bit more kanji. Sure, why the hell not, right?
Very good job, National Institute of Advanced Industrial Science and Technology! Although she still has a couple of standards to meet — such as having an actual name, and not looking like she's shat her keks when she walks — you've definitely raised the bar on contemporary Gynoid production. Nice! And one of the best things about the project? It's government-funded! How fantastic is that??
So Kokoro Co. Ltd, Beijing Yuanda Super Robot Technology Co., Ltd., Hong Kong Human-Robot Center, Kobalabs, and Baeg Moon-hong, you certainly aren't going to take this development lying down, are you?
Technorati tags: Technosexuals, robots, Androids, Gynoids, HRP-4C, National Institute of Advanced Industrial Science and Technology, AIST, Kokoro Co. Ltd., Beijing Yuanda Super Robot Technology Co., Ltd., Hong Kong Human-Robot Center, Kobayashi Labs, Baeg Moon-hong