typed for your pleasure on 21 November 2014, at 8.39 pm
---
Sdtrk: 'Friendlies / Pamela + GG' by US girls
Bit of a delay on this one ('the Devil, you say'), as I was led to believe that Orient industry were going to be releasing new pics of their Ya su ra gi and Real Love Doll Ange models to their site on the 7th of this month, but they didn't, damn them. They've got a Christmas campaign going instead, so if you don't mind somewhat hefty import prices, now would probably be a good time for you to make your move.
I can, however, point out that late last month, they released a version of their CandyGirl line called Party Doll; its two models are Tomoko and Saori. What's so unique about the Party Doll, you ask? Well, I've linked to a video below that encapsulates what they do, and I should point out that you really don't want to watch it while at work. Unless you own the company!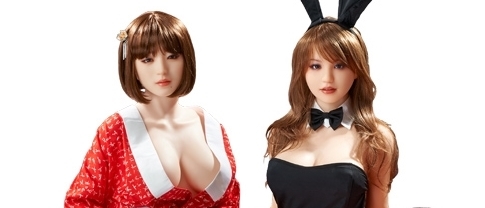 click the image to open the video
For those of you who are hamstrung by NSFW issues, the Party Doll is a make of CandyGirl who, when you squeeze her right breast, dispenses beverages from her left nipple. That's right. As you'll note, the Tomoko-type is more of a traditional Japanese lass, as she wears a kimono, has hanafuda cards on her table, and dispenses sake, whereas her more Western-styled sister Saori is dressed as an employee at the Bunny Club, with her poker deck and wine glasses at the ready. Both lasses have cupboards beneath their tables, where you can store up to 900 ml of sake, or a 700 ml bottle of wine. A hose attaches to the opened bottle, and an electric pump keeps the bevvies flowing up through the hose and out of her nipple. To stop the pump, just stop squeezing her breast. I said 'stop squeezing'. Jesus, man, have you no self-control?
Both versions of Party Doll have joints in their necks and arms, which would be their only articulation, so they're less like Dolls, and more like the dispensers in the Korova Milkbar from 'A clockwork orange'. Would I want one? I'm not so sure. For one, they do take up quite a bit of space — there are worse things to occupy one's home, but still. Also, again, they're more soft statues than Dolls, so while they excel at being conversation pieces, sculptures, and bevvy dispensers, you couldn't have a relationship with them. Also, the fact that they run ¥1.6 million JPY (that's about $17,300 USD) is the exact opposite of enticing. However, should I fall into money — literally fall into money, like sacks of cash with dollar signs screenprinted on them — I'll buy a Tomoko-chan to keep me company in my home office…
+ Polymerisian entrepreneur, telly show actress, and pinup model Tasha James, who, as you'll know, got her humble start in a little studio in southern California, has embarked on a new method to grant herself more exposure. She's releasing a series of photobooks, expertly photographed by Paul Gorman, and they're pretty fab. Currently she's got 'Dark & Moody', 'Candle Light', and 'Bedroom Lies & Pillow Talk' on offer, and she's just released her latest one, 'Kink', which looks to be properly pervy.
The wait is over. My new book "Kink" is now available. My most intimate work yet. http://t.co/ORaNCYdP8D pic.twitter.com/VXtS6HEyWW

— Tasha James (@ItsATashaThing) November 12, 2014
Each book is available in three formats: the 8×10 hardcover for $50, the 5×7 softcover for $30, and just $10 gets you the 3.5×2.75-sized minibook. If you like, you can have Tasha make an autograph out to you before she ships it out as well at no charge. As all of us here are very keen on her work, both as a Synthetiks advocate and a sexbomb, we've ordered a copy of 'Kink'. We've already bought a copy of 'Dark & Moody', and it's one of the neatest things we own.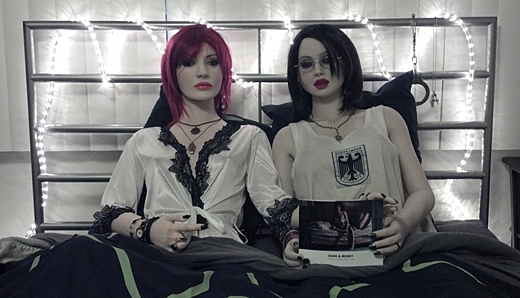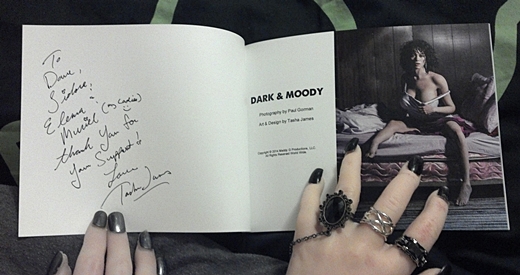 Why not show your support for ravishing artists who just happen to be Polymerisian, and order one of Tasha's photobooks? It's the sort of book that would also look brilliant on your coffee table! Fact.
+ WOOP WOOP WOOP NEW 4WOODS HEAD ALERT
While I was busy assembling this post, they'd announced the debut of yet another attractive head for sale! Ladies and gelatin, please welcome Sonia.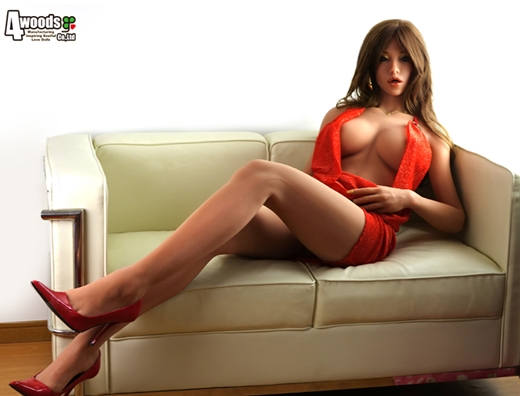 Some people like dimples, others prefer seam lines
The Sonia head can only be used with the A.I.Doll Allure bodies, which is quite alright. There's, ah, not much else to add to this bit of information, but really, what more needs to be said?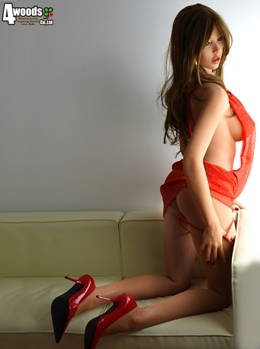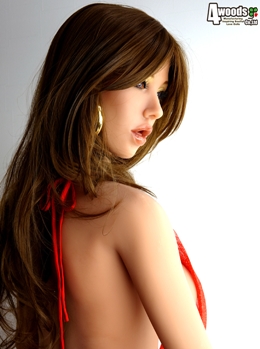 Lips ahoy
+ It should come as no surprise to anyone that I'm keen on the work and philosophy of Hiroshi Ishiguro, roboticist genius who developed the Actroid series of Gynoids. Really, if you've not seen his name mentioned anywhere on this blog, you're apparently reading another blog entirely. As Ishiguro-san is always doing things to bring artificial humans into the mainstream, something like this is both unsurprising, and really unique:

Meet the robot actor starring in a play inspired by Kafka
by Leslie Katz | October 22, 2014 9:43 AM PDT

In Franz Kafka's novella "The Metamorphosis," Gregor Samsa famously wakes to discover he's been transformed into a giant insect. In a decidedly modern theatrical take on the surreal story, Samsa wakes to find he's a robot. A gangly, metallic, white-faced robot.

And who better to play Samsa-as-android in the new Japanese-French production than an actual bot? That robot, stage newcomer Repliee S1, stars in "La Metamorphose Version Androide," which played in Yokohama, Japan, earlier this month and will run at the Autumn Festival in Normandy, France, in November.

"One morning in the near future, Gregor Samsa wakes up as an android," reads a description of the play. "Gregor's father (Jerome Kircher), his mother (Irene Jacob) and younger sister (Laetitia Spigarelli), after a period of doubt and caution, will strain to tame their fears and questions facing the new state of Gregor."

While some futurists would no doubt view the chance to experience life as a robot as a welcome adventure, Kafka's 1915 "The Metaphorphosis" tackles deep questions about identity, human connection and otherness.

"When people see a robot, like in an exhibition, you can tell people are not moved by it," Japanese playwright and director Oriza Hirata says in the Agence France-Presse video. "I wanted to create a situation in which a robot could move an audience, and that's how we came up with the idea of this project."
the entire article is here
Apparently, this forward-thinking take on Kafka's classic is one in a series of various plays that comprise director Oriza's 'Robot Theater Project'. You undoubtedly remember when Actroid-F took to the stage in 2010 for the play 'Sayounara'? That was part of the project. The theatre company is called Seinendan, and, according to their website, last year they'd also done a version of Chekhov's 'Three sisters', starring Actroid-F and two other non-humanoid robots. Very nice, and I definitely appreciate the fact that Oriza and Ishiguro sought to draw parallels between the transformation of Gregor Samsa into an insect who thinks and behaves like a human, and him changing into a machine who thinks and behaves like a human, but when can we expect 'The Importance of Being Earnest'?
I'd just like to add this bit from here, that explains the goal of the Robot Theatre Project:
The Robot Theater Project was founded 5 years ago at Osaka University with the goal of displaying robot prototypes in a creative theatrical context. The expositions in which scientists participate in order to technologically compete with one another; do not solicit an emotional response from the public, even if they often are in admiration. Touching people emotionally with robots will offer a lot of fundamental research towards a future coexistence with robots, where one would not feel uncomfortable or anxious in their presence. (emphasis mine)
+ Titman, the titular Torontonian totally turning out terrific… christ. This is why I don't usually do alliteration. It's either difficult to construct, or it sounds entirely forced, or both. Anyway, Titman, head of Maidlee Doll, has taken a new approach with the affictitious ladies he creates, starting with their name. From now on, he'll be selling Maid-Fong Dolls, and even better than that, they'll be made from silicone, not latex. Huzzah!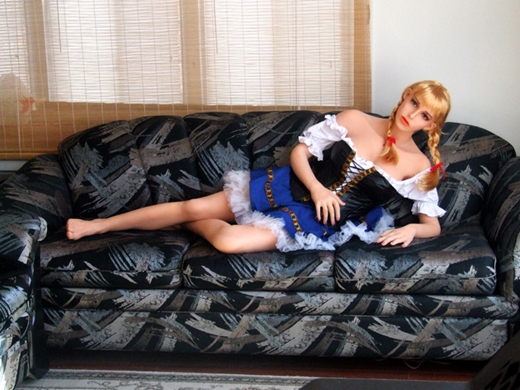 'I was told this dirndl qualifies me for Austrian citizenship'
Now, the company offers two versions of the previous head — one version has a dreamy half-awake expression — and the body features new joints at the knuckles, arms, knees, waist, hip and neck, movable eyes, and a handy neckbolt for suspension purposes. Maid-Fong is 5'2″, 82 lbs, has measurements of B:36DD / W:25 / H:38, and wears a US sz 5.5 – 6 shoe. And like many of the company's contemporaries, they're using platinum-based silicone, so that means more durability.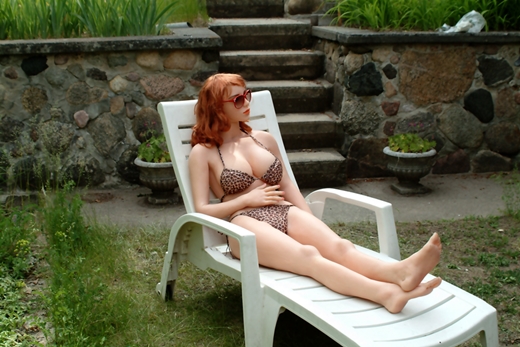 What is it with gingers and leopard print?
Leaving out prices for options, such as choice of entries, you can purchase your own Maid-Fong for only $3500 CAD, which is a rather nice price for an entry-level silicone companion. Be sure to pop round to the official site; there's pics and videos available there, too.
+ For the longest time, Sidore and I had said that we were going to start watching Äkta människor, the Swedish telly show that centres round the premise of humanoid robots, or 'Hubots', and how various people interact with them. We've had the first two series from 2012 and 2013 sitting on our hard drive, waiting to be viewed, but much like about a hundred other programmes and films we want/need to see, we weren't setting the time aside to sit down and actually watch it. All that's changed, however! The Missus and I tore through our DVD copy of the first series, and found it to be extraordinary; it's the sort of show that American telly would either never come up with on its own, or it would be something that an American telly producer would attempt to adapt for the domestic market, and water it down in the process. If you're keen on the idea of Synthetik humans, or if you like good storytelling, or are partial to expert direction, are interested in the topic of roboethics, or all of the above, you definitely need to see this show.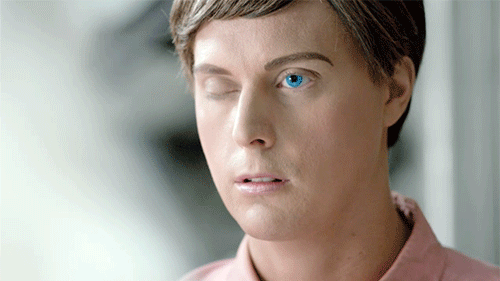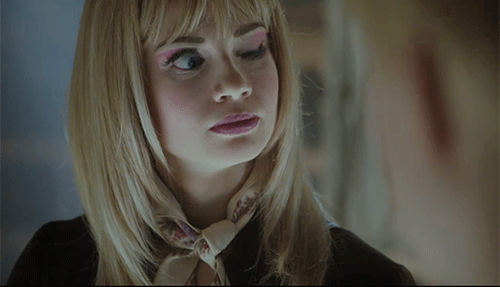 Any faster and their eyelids will melt
But what lit a fire under our collective arses and made us start off to begin with? A Twitter account by the name of Cyborg vs Robot began following me; their bio reads 'Christa Couture and Five Seventeen recap the Swedish TV series Real Humans (Äkta människor) and other robotic depictions'. Five, the male robot, and Christa, the female cyborg, discuss what their findings and reactions were for each episode of Äkta människor — they've just released a podcast covering the last episode of season one — they also touch upon other Synthetiks-related short films and shows. In their first episode, Five and Christa cover the first episode of Small wonder, reminding me how bizarre and abysmal a programme it is. Despite that, they manage to dig up some interesting tidbits: for example, I didn't know that Small wonder was created by Howard Leeds, who was the same bloke who developed a much better telly show having to do with an artificial human several years earlier — My living Doll, starring Julie Newmar, from 1964.
Overall, the Cyborg vs Robot podcast is a low-key, laidback affair with two neat hosts, covering topics that will pique the interests of discriminating readers such as yourself. Yourselves. Etc.
+ Finally, you may recall that back in July, I'd tried to get some information out about A-Lab's Gynoid inaccurately named Android Asuna, but there wasn't a lot in English, or even in Japanese, for me to pass along. Well, thankfully that's changed! Our Asuna made her debut at the recent Tokyo Genius Expo, and despite the fact that there were other robots, as well as all manner of art, music, and design exhibits on display, she kinda stole the show by nature of her verisimillitude. She also seems a bit sassy. As she's styled to have the appearance of a fifteen year old, I guess that's par for the course.
Like many modern Gynoids, she's driven by what A-Lab refer to as an APDS (Air Perfomaer [sic] Drive System), which seems to be their proprietary pneumatic system. She also features silicone skin, which is to be expected.
I may have stretched the truth a wee bit: there's not a tremendous amount of info available as yet: A-Lab's website doesn't have an English page, and translating through Chrome basically garnered the info you've just read. But the site says it will have a gallery soon, and Asuna seems to have her own blog on it as well. Not a lot of entries to date, as she's been undoubtedly too busy with this Tokyo Genius Expo to update it, but my favourite entry on 20 June starts with 'As usual, I am a not speak can not move, and when I was spacing out standing in the corner, and I have been surrounded by the customer after the talk show.' Yeah, I think we've all been there at some point, Asuna-chan.
In lieu of more information, which I'm sure is forthcoming, I shall end this post with a couple of photos.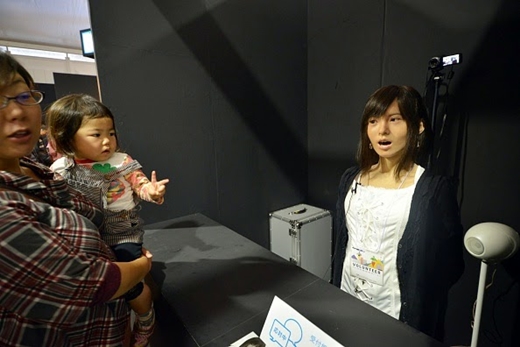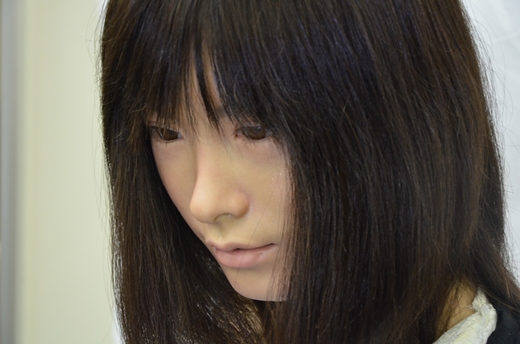 …there's not a lot of photos of Android Asuna available. *throws up hands*
So there you are! If I'd have planned things out better, this month's post would've been in three parts, as this part's larger than I thought it would be. Shall we call it 'making up for lost time', then? Yes. Let's do that