typed for your pleasure on 11 December 2005, at 10.51 pm
---
Sdtrk: 'Just like honey' by The Jesus and Mary Chain
I've just recently discovered another tiny Euro car to obsess over for the next couple of months: the Peugeot 1007. Upon first glance, it seems pretty bog-standard, by contemporary tiny Euro car standards. However, the vehicle's construction contains a crucial, innovative difference, as witnessed here: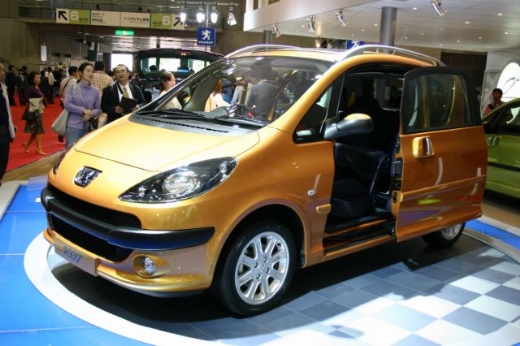 The doors? They slide open. They slide. Open. They slide open! To me, that makes about as much sense as, I dunno, breathing. They slide open! That's one of those 'shit, why didn't they think of that years ago?' type of revolutionary ideas, really.
Also! Simon of 'Undercover in Japan' has a link to a high-larious documentary about sushi and sushi-ya etiquette. Won't you take my hand, and join me in watching it?
Also! Go wish MontiLee a Happy 33rd birthday, you bastards. It's not too late