typed for your pleasure on 27 May 2005, at 3.38 pm
---
Sdtrk: 'The event horizon' by Air Miami
Right, I can't believe I've not mentioned Eero Aarnio up until this point. Even if you're not entirely familiar with 20th Century Modern architechture and design, everyone has seen his most famous work at some point or other, such as the Ball chair pictured below.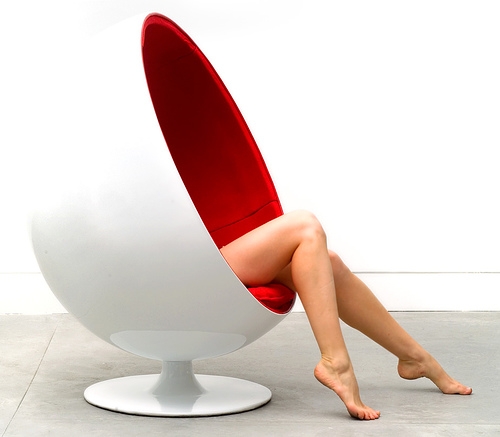 Aarnio was – and still is – one of the pioneers in using plastic in industrial design. Plastic material set the designers free to create every shape and use every color they wanted. This gave birth to objects oscillating between function and fun – but always fascinating ones. [..] Sitting in [the ball chair] is a special experience, because all surrounding sounds are softed down, and it gives a certain feeling of privacy. Aarnio himself has a ball chair with a telephone in it, and some people had it fitted with speakers.
The very first time I recall seeing one of the fantastic ball chairs was during the mid-Eighties. I was watching this strange-yet-engrossing show on our local Canadian telly station called 'The Prisoner', and apart from the notable fact that No.2's office/control room was swanky in that austere, Bond-supervillain kind of way, you'd usually see No.2 seated in a ball chair in the centre of the room. Very ace.
Years later, a retro furniture store opened up in nearby Ferndale, and they had the most beautiful and well-preserved ball chair in their window — white exterior, black interior, a matching footstool, plus built-in speakers with a line-in jack for your hi-fi. O yeah. After enquiring as to how much it was, I was told it was $800. Needless to say, I blanched at the time, but upon reflection, for a chair of that calibre, that's actually a semi-reasonable price.
The chair's long gone now, of course. Alas!