typed for your pleasure on 15 October 2005, at 5.39 pm
---
Sdtrk: 'Rock me booa' by Merzbow
I have to apologise for the lack of recent posting or updates and sundry, as I've been attempting to keep a rather low profile lately. It seems that the recent Salon.com article has not only produced bandwidth spikes the likes of which neither Shi-chan nor I have ever seen, but also a passel of radical feminists are now literally shrieking for my blood, as I, more than any other man in recorded history, am singlehandedly responsible for the subjugation of all women, simply because I'm an iDollator. It's True! Ahh, notoriety. Is it Good or Bad? I can't tell from here…
At any rate, the longer, unadulterated version (with a better title) of Meghan's excellent article is now online here. Read it! It's markedly better, and if you're anything of an open-minded individual who was perhaps unfortunately led away from reason by knife-wielding feminazis*, the full article makes a hell of a lot more sense. It's literally like watching 'Blade runner', then seeing the Director's cut version — it's like two different films. Well, stories.
On a more acquisitional note; yesterday, I managed to score an inexpensive copy of the Tetsujin 28 box set — just over $15, compared to the $28 – $30 that most online shops want for it — and my copy of Merzbow's 'SCSI duck' Cd arrived through the post today, which I'm listening to right this very minute. So far, it's rather sonically penetrating, which is what I require out of my Japanese power-electronic artists. Good job, Masami-san!
And thanx to a benefactor, yesterday I got a new computer! It's a Toshiba Satellite M55-S135, that I kinda had to jump through some retail hoops to obtain. I'd recount the story here, but it's a bitter one, and I'm trying to maintain a rare good mood, here. But the laptop boasts a 80 GB harddrive, 512 MB of RAM, and a DVD burner. It's got some other bollocks as well, which I've not paid a whole lot of attention to, as the three qualities I'd mentioned are the selling points for this difference engine for me. So that's also a factor in my recent silence; not only have been adding all my old software, I've also been trying to configure the look and feel of the fecker, so that it's similar to my old machine. Colour me satisfied!
However, I have to say without reservation, that touchpads are fucking shite. Ergh. I'll be getting a mouse for this bad boy really soon..
Annnd back to Synthetik women (heh; that didn't take long, but I stick to what I know), I ran across a photo on 4chan recently of two Japanese lasses seated on a train. They were twins; one was Synthetik, and the other was Organik, and they were both dressed in the height of Elegant Gothic Lolita fashion. Whoever posted the photo didn't give any names or details, and as a consequence, I had to repost it in the Request board, to find out what the source was, the lasses' names, anything. A couple of days later, someone provided the URL http://absolutmetropolis.com, and after duly scouring that site, I learned that the name of the Organik lass was Marie Honda, who worked in conjunction with a doll maker by the name of Erimo. So after a number of minutes grabbing Google Japan by the lapels and shaking the information out it, I successfully located Erimo's site. I have to say, his work is overall rather fab, but my interest is especially piqued by his life-sized Dolls. But that goes without saying!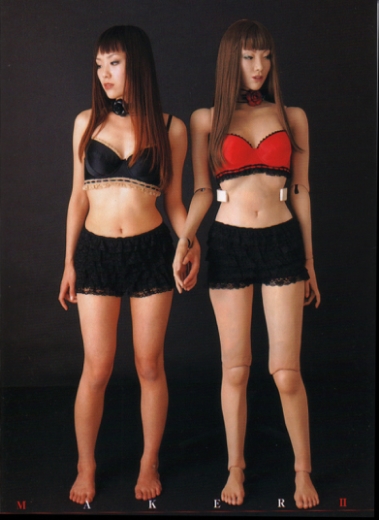 left, Marie Honda; right, Marie Honda
Right, I'm off to meet up with Penda, for our (mostly) monthly dinner rendezvous. I am having ridiculous cravings for tendon and that soba with the dipping sauce right now
*I don't use that term too often, so it really means a lot here
EDIT (05 June 2008): The Pandagon, err, 'people', have deleted the above-linked post for reasons unknown. Thankfully it's archived on the Internet Wayback Machine, so you can view the baseless vitriol here