typed for your pleasure on 12 September 2012, at 12.43 am
---
Sdtrk: 'Eurydice' by Demdike stare
Trying to ease back into this blog writing thang, mang. For one, the weather's getting nicer, praise "Bob", so I can no longer use sweaty heatdeath as an excuse, and I'm also trying not to let the fact that most peoples' attention spans these days is now the length of a standard Facebook post prevent me from writing. Fucking ridiculous Facilebook. Plus, Shi-chan's been gently needling me to get back into maintaining 'Shouting etc etc', as it is, arguably, the Internet's foremost information source about Davecat and Sidore, and the affictitious world we live in. Accept no substitute!
This entry won't be extraordinarily long, as the barrels have to spin up a bit to get up to speed. On the other hand, there are literally a billion Synthetik-related links I've needed to share with you lot from the past few months. Well, a billion minus several hundreds of thousands. Unless math has been radically redefined in my absence. Don't laugh; it could happen.
+ Back in February, my second favourite Gynoid, Actroid-F (aka Geminoid-F) put in a public appearance at Japanese department store, in what I like to refer to as a performance piece. She's in a modified shop window, looking as if she's waiting for a friend to show up. As you suspect from the month it occured in, this event took place round Valentine's day.
Clutching a bag and cell phone, she seems to be waiting for a suitor.
"Android falls in love? She is waiting for you" reads the writing on her glass box at Takashimaya Department Store in Tokyo's Shinjuku district.
The special Valentine's display features Geminoid F, the photogenic robot developed by Osaka University professor Hiroshi Ishiguro and colleagues.
The mechanical lady was modeled on a real woman in her twenties. She sits in her glass room at Takashimaya and greets shoppers.
Based on data from an embedded sensor array around her, the android reacts to people in the vicinity. She moves her shoulders and neck, and changes her facial expression, smiling or yawning, depending on what's going on.
[…] Geminoid is an air servo-powered humanoid with eye, mouth, head, and shoulder mobility. It can also be remote-operated so that it acts as a surrogate for a distant user, reproducing his or her facial expressions and voice.
the entire article is here
It's an impressive-looking display, and it's also cool as it exposes the general public to Synthetik humans. And hopefully, I'm not the only person who feels a wee bit sad for her and her missed appointment. If a Gynoid such as Actroid-F can elicit such empathy from her observers through her appearance and behaviour, then that's a step in the right direction.
+ This next lass you've undoubtedly seen before, particularly if you're keen on that tumblr thing the kids dig. Shi-chan discovered her through the tumblrs (man, that word looks weird) she follows. Her name is Tsukuhami, and the Missus managed to strike up a friendship with her creator, neji-san. He'd written: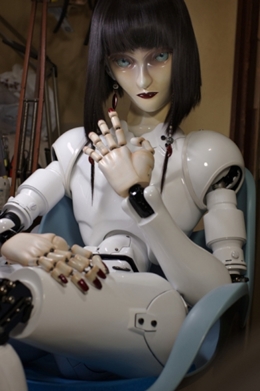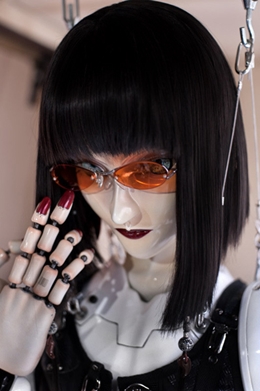 If you're writing is TSUKUHAMI "月蝕魅" in kanji.
The meaning of the name of'm TSUKUHAMI is "the beauty of a lunar eclipse"
Height of TSUKUHAMI is 164cm, weight is 12.6kg.
I might add here that she's a poseable sculpture, and not an actual Gynoid. I know, I know. But she's constructed of steel joints and FRP, and due to the fact that neji-san built her entirely himself, the endeavour took him eight years. But the results are entirely worth it, as she's remarkable on every level!
Neji-san and I are periodically firing Emails at each other now; as you suspect, he's influenced by humanoid robots in both anime and real life. Our letters often touch upon the philosophical — Shi-chan had mentioned her Shinto inclinations in one of her messages to him, and he had this to say:
The Japanese doll has two aspects. One is as a toy doll of children is a good friend.
Another is the soul of the shaman is someone is not visible to the human eye.
(Please keep in mind something that is not a devil. It is like the heart of big trees and mountains and rivers.)
Doll in Japan where the two sides have to coexist in the same doll is characterized.
Of course, scientifically I do not believe it.
However, we believe that ancient animism in Japan and want to respect.
It is also in the minds of plastic, even if the electron is in the soul.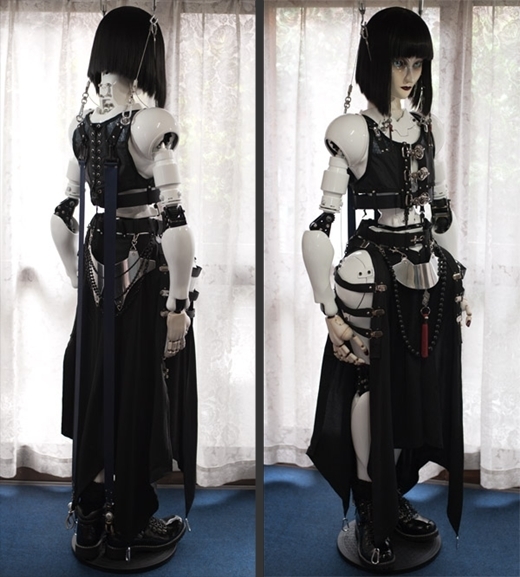 I'd say Tsukuhami-san, neji-san, his mindset and abilities are all utterly fantastic, wouldn't you agree? Go check out his aptly-named site Spiritual Plastic when you get a chance…
+ There has been a huge amount of info concerning new heads, faces, and bodies from various Doll manufacturers that's come down the pike within the last several months, which is delicious. I'm not going to cover all of them in this post, as that would be maniacal, but I'll start with one company for now: Anatomical Doll. This year's been rather productive for them, as Oleg has sculpted four new heads, as well as the seductive new Body 4, which is the first with a new spine that moves more like an Organik human's. Behold!
Well, you'll have to click on this link to behold the sexy possibilities of Body 4, as she's boobin' it up all over the place. But, y'know, tastefully. Her stats would be a height of 5'3″, weighing a very manageable 57 lbs, with a shoe size of 4.5 US, and graced with measurements of B: 33 / W: 24 / H: 35. And yes, that is the sound of me drooling.
Due to space constraints — I'm keeping this post brief, damnit — you can also visit Anatomical Doll's site to see photos of Christy and Sleeping Aurora, the other new heads, but I'm fairly certain you'll like what you see. Especially that Aurora! She is, what we call, 'fresh-faced'. So go there, but only after you're done here. *does the 'got my eyes on you' gesture*
+ Finally, and this is what really got me off my arse to start posting entries again, I've done another interview! Dan Oudshoorn of the sociopolitical blog 'On Journeying with those in Exile' saw Sidore and I in the fistful of telly appearances we've done, and asked me some thought-provoking questions about our lifestyle. They were so thought-provoking, in fact, that it took me roughly a year to answer them. I'm… not really proud of that, but I am proud of the end result, which you can read on Dan's blog here. Grab a mug of coffee / cup of Twinings / pint jar of molasses with crazy straw, and enjoy a rather substantial Q&A about my life with the Missus!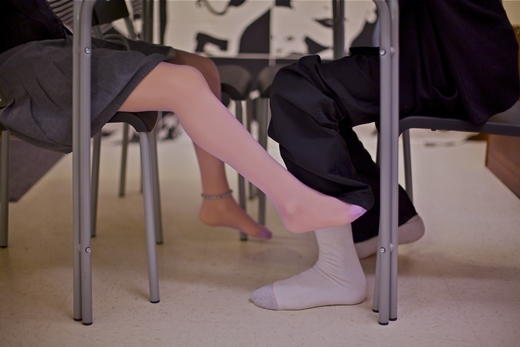 image © 2011 Claire Dossin
O, and back in March, we finally received our DVD sexbot boxset of My living Doll Vol.1, to much fanfare. Was it worth the wait? The answer is Yes.
So how's that for an 'out of retirement' post? Don't call it a comeback, I've been here for years, etc