typed for your pleasure on 9 February 2008, at 4.32 pm
---
Sdtrk: 'I only said' by My bloody valentine
As I sit here, our long-suffering Organik roomie Tsukihime is under a cluster of blankets, trying to fight off a cold/flu/virus/leprosy, and I'm at my fashionable IKEA-made kitchen table, poppin' Airborne tabs like they're going out of fashion, attempting to catch up on my neglected Email responses, and downloading the latest eps of Gundam 00, Cutie Honey the Live, and Kamen rider Kiva from my good friends, INTERNET PIRATES. Shi-chan is relaxing in the bedroom, reading our copy of 'Factory records: The complete graphic album' (ta very much, ZG), and I've just now received an Email from Amazon.co.uk stating that my combo copy of the DVD of 'Control' and a paperback version of Deborah Curtis' 'Touching from a distance' will be gracing my doorstep this week, which is news that fills me with liquid joy. Or Lemon fresh Joy, one or the other; I honestly can't tell from here.
There! Now you have a small glimpse of the domesticity that goes on within Deafening silence Plus. Scandalous!
This Sunday past, in between hacking away at my laundry and repairing a small tear in the Missus' arm — she recently overextended it playing air hockey* — I happened to see some very incredible news mentioned on someone's blog. I can't remember which blog it was right now, but the news remains burned into my retinas: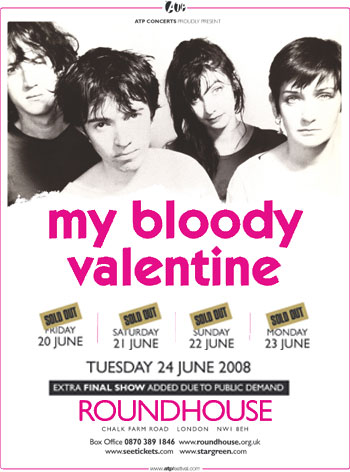 Apparently, the greatest band of the Nineties and the gods of Shoegazer, My bloody valentine, have reformed and are touring this year. The Second Coming will end up happening during my lifetime, after all. If they come to Michigan, I will explode in a mile-wide detonation of Lemon fresh Joy.
My best friend Sean and I saw My bloody valentine back in 1991, when they toured for their epic Loveless album. Actually, they came to St Andrews twice — once towards the start of the tour, and once near the end; we caught their second performance, which was pretty much all we hoped for and more. The sheer wall of sound they generated was almost a religious experience, it was that good. I still have the shirt I bought!
For those unfamiliar with the whole Shoegazer ethos, it consists of blissful pop arrangements where the guitars and vocals are almost completely awash in effects pedals. Distortion, delay, reverb, flanger and the like are the order of the day. The term shoegazer comes from the curious habit that most of the guitarists display of staring at their shoes while performing — in actuality, they're not simply staring longingly at their trainers, they're deciding which effects pedal they're about to turn on or off. The important thing to remember is that during its heyday, there were a passel of Shoegazer groups — good ones, such as Medicine, Slowdive, Cranes and (early) Lush, or rubbish ones like Catherine wheel or Bailter space — but none can hold a candle to the blurry genius of Kevin Shields, Bilinda Butcher, Colm Ó Cíosóig and Deb Googe. And now, they're back together after a decade and a half, with a new album on the way, according to rumour. Absolutely lovely. Now come back to Michigan! Your fans have spoken.
In the meantime, you lot reading this? Go out and pick up a copy of Loveless. You owe it to yourself to have at least one phenomenal non-Joy division Cd in your life, and that'll fit the bill nicely
*I kid! We don't have an air hockey table! We were actually arm-wrestling