typed for your pleasure on 3 May 2005, at 2.40 pm
---
Sdtrk: 'Make red' by NON
Just added a, err, thingy, to the lefthand sidebar, which helpfully indicates if I have something up for auction over on eBaaah. Start from the top and scroll down, you really can't miss it. 😉
Obvious result? If you know me, then yeah.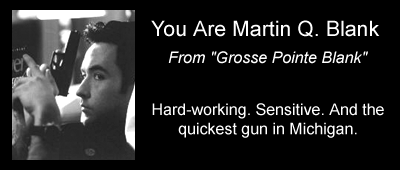 Which John Cusack Are You?
Also, I have to apologise that
Paula Oliveira's Staring Contest
still seems to be down. Maybe she got wind of our mockery, and she cried and cried until her eyeballs, which were already loosely seated in their sockets due to insufficient lid closure, floated right out of her head and rolled away. Which wouldn't really explain why the site is down, but still.
And that thing I wanted to mention last time? When I was mailing things at the post office last week, I had to get a stamp cos the vending machine in the lobby was out of individual stamps, like they always are, and the postal fellow sold me a Buckminster Fuller stamp! Bucky Fuller on a stamp? Fab! Who's next, Raymond Loewy? Charles Eames? That'd be impressive