typed for your pleasure on 24 August 2011, at 2.51 pm
---
Sdtrk: 'I believe' by My bloody valentine
It was quite a fun week-end I'd been a part of this past… week-end! There was another Doll Congress to be had, as our crowd hadn't had one since May of last year. What fresh hell be this Doll Congress, you ask? ('Fresh hell'?) A Doll Congress is really a small confluence of iDollators from the tri-state area: Euchre and myself from Michigan, Mahtek and Noquiexis from Ohio, and CJD, occasionally accompanied by his Organik wife Cat, from London, Ontario. Of course, Ontario isn't a state, but we're working on it.* During one instance we were joined by Hans, whose RealDoll wife Bee you'd undoubtedly seen on TLC's 'My Strange Addiction: Still Addicted?'. In the event that we decide to meet up at CJD's house to see his lovely RealDoll lass Sandy, it's called a Doll Parliament. Do you see what we did there?
So as we hadn't had a proper Congress due to various factors (jobs / loss of jobs / moving / shite weather), we somehow managed to dovetail our schedules to meet on Saturday, nine months into 2011. Not only that, we'd be joined by Azusa Itagaki, a Japanese photographer based in Stockholm who joined us for DolLApalooza back in July. Although she doesn't have a Synthetik companion of her own, her fascination and appreciation for them makes her an iDollator, and she'd be conducting a photo shoot of Sidore and I in our natural habitat on Sunday. One-stop shopping!
Saturday morning, Azu-chan hopped on a Detroit-bound train from Chicago to join us, while CJD and Cat drove from the polar wastes of Canada, and Mahtek, Noquiexis, and Noquiexis' affictitious sweetie Feodora motored in as well. As we'd be meeting at Euchre's, but he'd be working until 4.30 that day, we were to converge at Sila's, an Italian restaurant, wait for Euchre to join us, then head round to his. Now, this plan ultimately worked, but I'll tell ya; the hoops we had to jump through.
First of all, none of us realised until about a week before this was due to go down that 19 – 21 August was the week-end of that ridiculous goddamned Woodward Dream cruise. I'm not going to bitch about the Dream cruise, cos I've done it before, but those of us in Michigan were hoping that the bloated traffic of bloated Dream cruisers wasn't going to prevent any of us from getting where we needed to go. Also, Azu-chan's train was due to arrive in Royal oak at 2.30pm, whereupon I'd pick her up, and we'd head round to Sila's. Unfortunately, Mother Nature had other plans, as her train arrived at a quarter to 5. We'd had severe weather alerts, and it was utterly pissing down, to the point where the train was only legally allowed to travel at a certain speed. Heh; this is why no-one takes trains any more. Basically, the storm arrived a wee bit ahead of Azusa, cos as I was heading out to collect her, the sky broke; thunder, lightning strikes, near-zero visibility, the lot. Luck, however, was on our side, as we all managed to make it to Sila's, and with no loss of life!
Having eaten our respective dishes — Mahtek had some sort of pasta that was roughly the size of a full-grown Corgi — we made our way through pleasant post-rain weather round to Euchre's swinging pad, hauling Feodora in her crate with us. Thank Elisha Otis his apartment has a lift, is all I can say.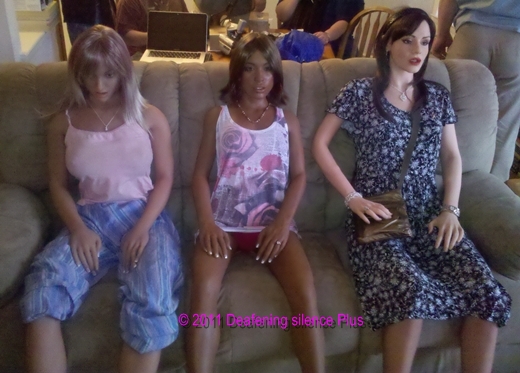 RealDoll Samantha, Lovable Doll Monica, and Anatomical Doll Feodora
It was the first time CJD and Cat had met Feodora, and it was the first time Azusa met Feodora, as well as Euchre's Samantha and Monica, so it was rather eventful for us all. Not only had Azu-chan met a cluster of us during DolLApalooza, but she'd spent time round at Everhard's in England, Prof.Sakai's in Japan, and round at the home of a French iDollator who I'm unfamiliar with who lives with Emy, a Mecadoll. Just a few months ago, she'd exhibited the photos she'd taken in Stockholm for the gallery show 'Inside the Doll House', which received mostly positive reactions from viewers, and she'd possibly be doing something similar later in Italy this year.
After several agreeable hours, Euchre gave us the bum's rush from his home, as most of our party had two- to three-hour drives to get through. Another fun meeting, and with good company besides!
Save for Azu-chan and I spending half an hour driving round my neighbourhood in an attempt to find a restaurant that was 1) open Sunday morning and 2) serving food — I was desperately unaware of these things, as under normal circumstances, I don't leave our flat on Sundays — we spent the majority of the day taking multiple photos of myself and Shi-chan, but it also afforded me the opportunity to get behind the camera and snap pics of both lasses together. I figured since Azusa had modelled with a couple of Everhard's ladies, that she wouldn't be averse to doing so with my wife. And it made for a sexy approach!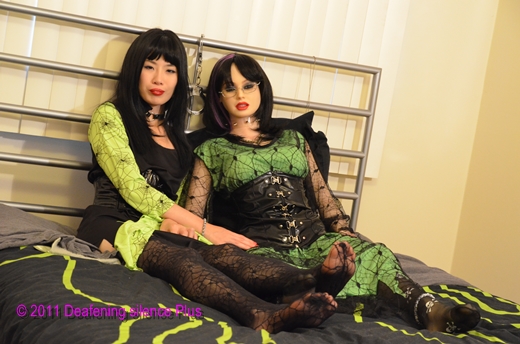 She crashed round Deafening silence Plus, which worked out well, cos we were awake until 3am on Saturday and 4am on Sunday, talking about art, growing up with isolationist tendencies, the iDollator community and the various manufacturers, her global travels, and post-punk bands… we had an enormous number of ideas, views, and experiences in common. I introduced her to Lindsay Anderson's 'if….' and Hiroshi Ishiguro's Actroid series, and she hepped me to the Russian band Утро and the Swedish film 'Vaxdockan', so I'd say it was a pretty equal exchange. Overall, not only did Azusa have a keen photographic eye, and a relaxed approach to the various interview questions she had for me, but she's an awesome person to be around.
Unfortunately, all good things etc etc; Monday afternoon saw us saying our farewells, as she had to catch her flight to LA, then fly out to England the next day for a while, then back to Stockholm. Jetsetters man, I'm tellin' ya. As Azusa had loads of fun with Sidore-chan, me, and everyone she met in our iDollator crowd, she definitely wants to come and hang out with us again! Undoubtedly after getting at least six uninterrupted months of sleep, but neverthless
*Making Ontario a state would improve the United States, but diminish the Ontarians**
**What fresh hell does one call a person living in Ontario? Ontarians? Ontontites? Ontarontans? Sontarans?