typed for your pleasure on 24 July 2010, at 1.53 am
---
Sdtrk: 'C'est un rêve' by Death in June
Even with this hideously humid weather SE Michigan has been withstanding lately, the Missus and I have been rather busy! Last week-end, the result of an Email interview with Felipe Castro, a reporter representing the Chilean newspaper La Nación (not to be confused with the Argentinian La Nación, or the La Nación from Madrid, which has been defunct since 1936) saw the light of day, which was fab. For the first couple of days, they had posted a photo of a Maria-type Honey Doll in lieu of everyone's favourite silicone Goth lass, for some bizarre reason only known to the editing staff, but that problem was nipped swiftly in the bud. Well, relatively swiftly. You can read the article here in its original Spanish, or run it through your favourite online translator, and wonder as to what the potency level of mescaline they were taking when it was written!
Then today, I spoke at length with Amisha Surani, one of the editors for Best magazine UK, for another interview session, or 'sesh', as the meeja-types call 'em. I had to rise from our bed by 9am, as they'd be calling during 2pm UK time, but I'd like to think I was lucid! Time will only tell if I'm right, or if I've merely doomed the iDollator community with more of my careless and incendiary blather. Apparently, the 'Strange love' episode of National Geographic's 'Taboo' will be aired over there on 05 August, so their plan was to speak with me, as a sort of apéritif. It was better than I'd expected! I was told it would only be a twenty minute chat, but we ended up conversing for a wee bit over an hour! My hope is, of course, that the bits that should be included are included in the final draft — you know how these things go.
They'd naturally wanted me to send them photos of myself and Shi-chan to go along with the article, and as she and I hadn't taken any new pics of us together since her new body arrived, we got that sorted this afternoon.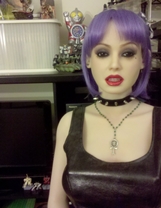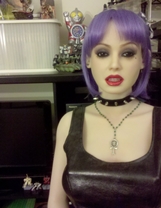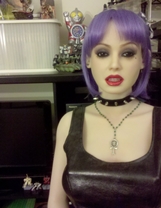 I'm told the Best magazine UK issue we're in will be out on 03 August, so keep an eye open for it if you're on that group of islands! Although it's a 'womens mag', I'm also told that men can read it as well, if we're wearing our special goggles.
So there's that to look forward to, if you're into that sort of thing! Happy 23rd (yesterday)!