typed for your pleasure on 16 May 2007, at 2.10 am
---
Sdtrk: 'Bedazzled!' by Drimble Wedge and the Vegetation
Found this tiny treasure on some Japanese person's blog today: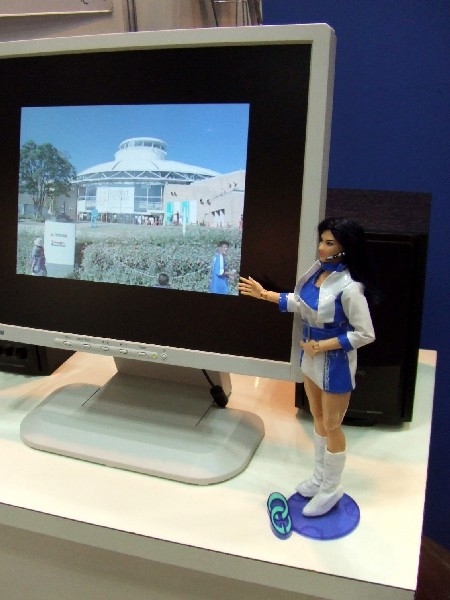 Yes, a doll — specifically, a Takara Cool Girl (marketed in the States as 'CyGirl') doll — of the Robot station emcee version of Actroid-chan. Yes, that high-pitched sound would be coming from me.
Takara's Cool Girl site yields no positive results, and online translators aren't really helping me, either. Running the accompanying paragraph through Babelfish results in
(Gramar from the thing) . The end is a figure of this and Expo Actoroid in the booth in Kokoro ・・・ Yes though feelings from which it already wants to make something are understood well.
So like, what? Were they offering these dolls during Aichi's 2005 Robot Expo? Is this a mod that this person came up with? Where'd they get the race queen outfit for it from? Is… is this what an aneurysm feels like??
I might well have to ask some friends in Japan if they can find anything about that doll's availability, as that'd be a hell of a collectible item… It might almost be easier to track down a human-sized race queen outfit, and have Shi-chan cosplay as Actroid-chan! Brilliant!
Huh. That's an unusually evil eye she's giving me
Technorati tags: Actroid, Takara, Cool Girl, CyGirl, race queen