typed for your pleasure on 9 July 2007, at 12.00 pm
---
Sdtrk: 'Loomer' by My bloody valentine
So I've got a portable hard drive — I've got a couple, actually, but the one I was rooting through in this instance is specifically for various and sundry non-Synthetik pics extracted from the Interonet — and I'd run across this pic here, for the first time in months: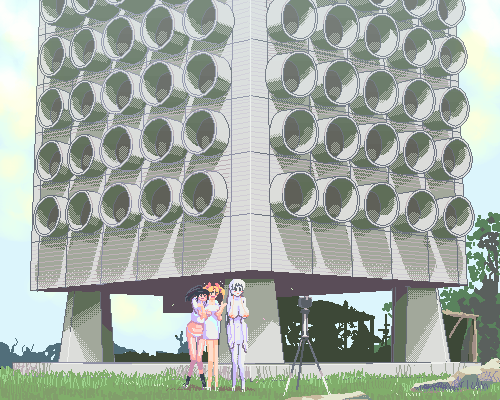 It's an oekaki that someone drew of an actual building in Japan. I've seen photos of it before in books, but unfortunately, I've no idea what it's called. Cos obviously, I'm looking at that and saying to myself, 'man, that'd make a fine entry for the "This was the Future" series'.
So if anyone happens to know what this building is called, or anything about it, please leave a comment, or drop me a line at pulsedemon [at] gmail [dot] com, and you'll definitely be credited. Your help is appreciated!
この建物が示されるものをだれでも知っているか。 だれでも私に告げることができたら pulsedemon [at] gmail [dot] com に電子メールを送りなさい。 あなたの助けは認められる!