typed for your pleasure on 16 August 2007, at 1.21 pm
---
Sdtrk: 'Across the universe' by Laibach
At times, I'm glad I'm not rich, as I am a bonafide sucker — perhaps one could even call me a sucka — for obscure and anachronistic technologies. 'Technological white elephants,' as Danielle Dax once called them. I used to own one of the infamous Fisher-Price PXL-2000 camcorders back when they debuted in the late Eighties — you know, the ones that record sound and image onto normal audiocassette tape — and since I sold mine, I start each day weeping softly into my pillow, regretting the tragic mistake that I'd made. Especially since working PXL-2000s run about $400 – $500 on eBay these days.
So you can imagine my Glee Meter (and my Esoterica Meter) going well into the red when I saw this online: VinylVideo.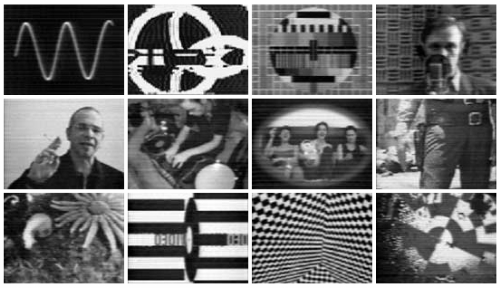 VinylVideo™ is a fake archeology of media.
We designed a device that retrieves videosignals (moving image and sound) stored on a conventional Vinyl (LP) record. The discontinuity in the development of electronic film technology constitutes the historical background for this fictitious video disc technology: Even though television, the electronic transmission of moving images, had been feasible since the late 1920's, storage of these images became possible only after development of the video recorder in 1958. Recording images for private use did not become available until the mass introduction of the VCR in the early 1980's (!). Before, the average consumer was confined to use Super-8 film, a technology dating back to 1900, usually without sound. Recording of television was not possible at all.
VinylVideo™ reconstructs a homemovie technology of the late 40's/early 50's and thus bridges a gap in the history of consumer technology. The images are stored on a conventional analog record, with a running time of ca. 8 min / side (Singles 4 min / side). These records are played on a standard turntable with an ordinary diamond needle, the signals are then processed by the VinylVideo Home Kit into a videosignal that is displayed on a black and white TV-set.
taken from the presskit
So it's basically like the bastard child of Edison's wax cylinders and SelectaVision, RCA's well-meaning-but-doomed analogue storage format from the Eighties. Huh!
The site is fab, in and of itself; there's a lengthy infomercial that explains, in a rather tongue-in-cheek fashion, what VinylVideo has over boring conventional television. Essentially, VinylVideo is a medium for video artists to make their art arguably more available to the public — it's easier and cheaper to purchase a VinylVideo kit than it is to buy a work by Nam June Paik — and its super-lo-fi technology (they call the image's quality trashpeg, tee hee) makes it easy to use and alter for one's own purposes, if you're into the whole deconstructionist thing. Personally, the biggest draw for someone like me is that it's composed of sexy retro-tech!

You hook up your telly and home hi-fi turntable to this outsized converterboxthing, fiddle with a few knobs to fine-tune the image, and voila! Greyscale visuals flicker across your screen in a ghostly fashion, for as long as the record plays. The images that the conversion present seem like the perfect sort of medium for videos done by the growing crop of 'eldritchtronica' artists, such as those found on the Ghost box and Blank workshop labels — even the high-contrast pictures seem washed-out and murky. Lovely stuff…
It's a shame I'm not rich, as the playback kit alone for VinylVideo goes for the horrifying amount of just over $3,400 USD. Kinda makes the highway robbery that extortionists want for a PXL-2000 seem quite reasonable and pleasant, eh?
Technorati tags: VinylVideo, Ghost box, Blank workshop, SelectaVision, Fisher-Price PXL-2000