typed for your pleasure on 1 January 2007, at 7.09 pm
---
Finally, a new one!
Sdtrk: 'Don't drag no more' by Susan Lynn

Well, well, well, if it isn't a structure by Mr 'Machine for living', Le Corbusier. This would be Villa Savoye, located in Poissy, France, and completed in 1929. In fact, this would be the primary example of his whole 'machine for living' aesthetic.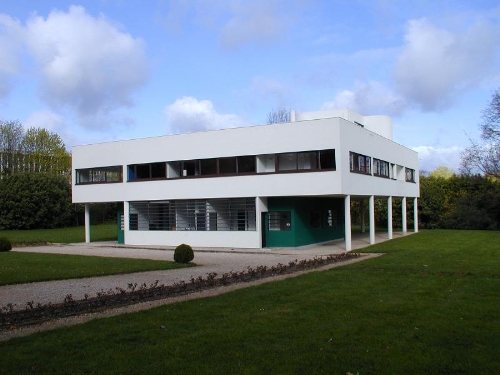 The Villa Savoye was designed as a weekend country house and is situated just outside of the small village of Poissy in a meadow which was originally surrounded by trees. The polychromatic interior contrasts with the primarily white exterior. Vertical circulation is facilitated by ramps as well as stairs. The house fell into ruin during World War Two but has since been restored and is open for viewing.
quote taken from this site
One of the coolest and most forward-thinking aspects of Villa Savoye is that the garage is integrated into the structure itself. What would occur is that you would drive along the paved section up to the house, and your vehicle would follow the curve established by the ground floor. Le Corbusier knew what he was doing, as that ground floor curve was the exact turning radius of an automobile — some sources say the 1927 Citroën, others say it was the 1929 Voisin.
Other ace features would be the open-plan layout, the central spiral staircase, windows practically everywhere, and a ramp leading to an open-air roof garden. Quite innovative, especially for the late Twenties. Not counting the Maison de Verre, of course