typed for your pleasure on 8 January 2006, at 5.52 pm
---
Sdtrk: 'No love to give' by The United States of America
O, this entry's a bizarre one. Not necessarily due to the building itself, which brings bold new meaning to the term 'fab', but of the odd circumstances surrounding it. Tonight, our spotlight swivels with a bit of a squeak, due to insuficient joint lubrication, and illuminates Villa Spies (pronounced 'spees', just so you know), designed by Staffan Berglund, and finished in 1969.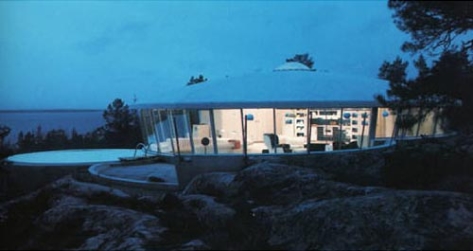 At the press of a button, Jetsons style, the central table and chairs rise into the ceiling, while a dining table rises up from the kitchen below. At the press of another button, slides can be projected onto the walls or the colour of the room can be changed via lighting control – an idea that has only recently reappeared in interior design.
quoted from this site
Lovely, lovely, lovely. HOWEVER! Finding info not in Swedish on Villa Spies (now known as Villa Fjolle) was a bit of a barney, as it was pretty much looked down upon by the architectural community upon completion, and the first monograph to actually discuss it and show it in detail was only just published in 1996. 'Looked down upon?', you ask, incredulous. 'Why, wouldn't this be the perfect place for sexy Moonbase operatives such as Lt. Gay Ellis to relax after her month-long shifts on the Moon, working with SHADO to defend Earth from alien attacks??' That's exactly what I said! Well, it appears that with the aforementioned design of the elevating diningroom column, it was implied that the homeowners would have servants preparing your meals downstairs, which, in an enlightened Sixties-era home in progressively thinking Sweden, was simply 'not done'. Hrm…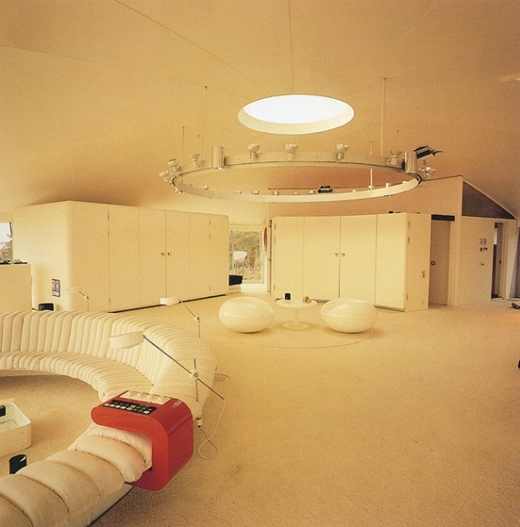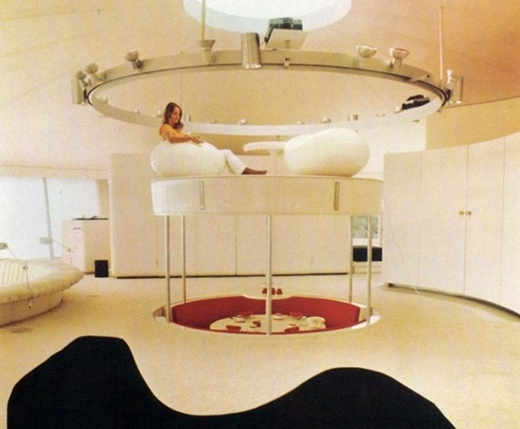 Were I an occupant of Villa Spies and inviting people round to dinner, I'd just make it down in the under-kitchen, set the readied plates on the table, and then have my guests enter. 'Where the heck's Davecat?' they'd ask, approaching the centre of the livingroom. Then suddenly, I'd flip whatever switch, and ascend dramatically from the lower floor, smirking like a pro from behind the dinner table, as the meal would arrive. Preferably as the theme from 'On Her Majesty's Secret Service' played over the speakers. 'No, Mr Bond, I expect you to eat!'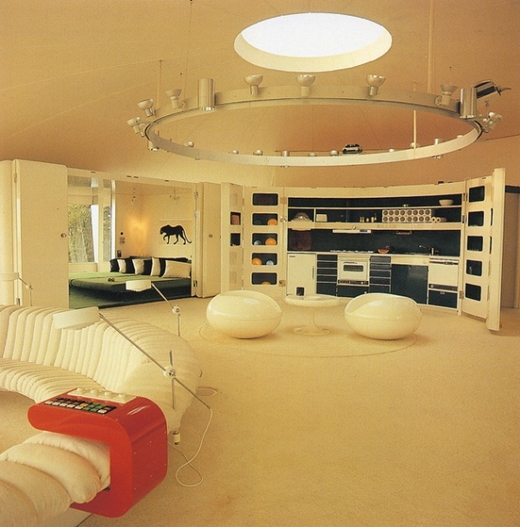 Many thanks go out to Marc Berting, proprietor of 'Seventies Design', which is where I first spotted Villa Spies. Ta very much for the info!