typed for your pleasure on 5 October 2009, at 7.05 pm
---
Sdtrk: 'Si vous connaissez quelque chose de pire qu'un vampire, parlez m'en toujours, ça pourra peut-être me faire sourire' by Stella
Although it's painfully obvious that I loves me some 20th Century Modern design, I do have to go on record here as saying that most of the Seventies was rubbish, as it was as if the worst parts of the Sixties were magnified. Disco, for example. Southern rock. Unnecessary pornstar sideburns and impossibly wide Starscream lapels. Avocado and goldenrod as legitimate colour choices. The list of atrocities goes on. Thankfully, though, the decade wasn't a complete stylistic cesspit; personally, I've always believed that a decade's overall zeitgeist never starts immediately upon the first year — the Sixties didn't really end until about 1973, for instance. Plus, the Seventies thankfully brought us Punk and dystopian scifi films, so it wasn't a complete loss. Overall, stylistically speaking, I'm more 'Ashes to ashes' than I am 'Life on Mars'.
Where am I going with this, you may be asking in an annoyed tone? Well, 1971 managed to spawn another lost architectural gem — the Venturo prefab house, designed by Matti Suuronen.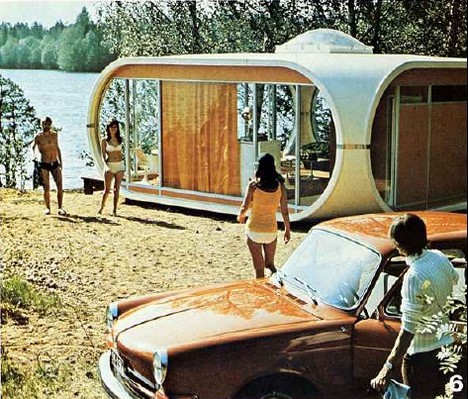 The walls were double-skinned fibreglass with 2″ of polyurethane foam, and the floors were an insulated composite beam of marine grade plywood. The whole thing weighed just four tons and sat on 16 small piers. One module contained the bathroom, kitchen and sauna; the other shipped with the filler pieces.
Much like Buckminster Fuller's Dymaxion House, the entire assemblage was built for easy on-site construction and breaking-down, should the owner wish to relocate, and much like "Bulle" à 6 coques, the Venturo units were made for a variety of swinging Seventies recreational uses, such as a holiday home, a bungalow, a ski lodge, etc. Unfortunately, much like the Dymaxion House and the "Bulle" à 6 coques, the idea just didn't take off amongst the general public. Although, oddly enough, quite a few of the finished units were utilised in Finland as service stations for BP; one still stands, in desperate need of renovation.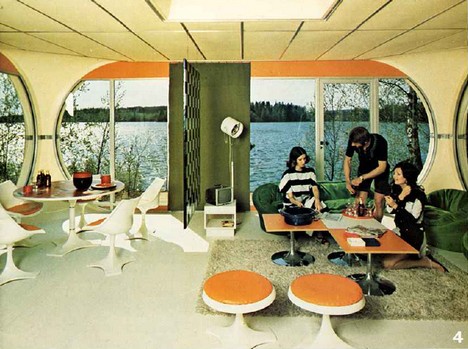 Matti Suuronen was also the architectural mind behind another mod prefab structure, the Futuro House, which fellow iDollator Everard had once suggested I write about. Perhaps I shall! Perhaps I shall.
From the comments section on the site the article comes from:
Krissie says: I WANT ONE! But, I only have one question: Where is the bedroom?
dru says: Where ISN'T the bedroom?
This, then, is Seventies