typed for your pleasure on 13 October 2006, at 2.55 pm
---
Sdtrk: 'Something sends me to sleep' by Felt
Not actually from the Sixties, merely created with Sixties style in mind, this hot little number is the Hotel Everland, created by Sabina Long and Daniel Baumann, a tag team of Swiss artists. It's a traveling hotel / art installation!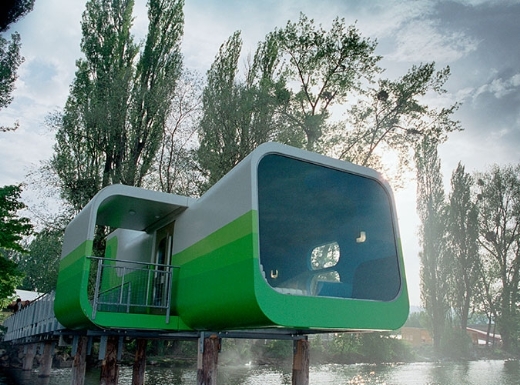 Everland is a Hotel with only one room. It includes a bathroom deluxe, a king-size bed and a lounge. The bounteous dimensioned room represents the subjective dream of a hotel: the architecture, the playful details, as well as the request to steal the golden embroidered bath towels. All Everland guests are partaking in the project. [..]

In September 2007 Hotel Everland moves on to Paris where it will be installed on the roof of Palais de Tokyo. It will also be exhibited for one year and run as a hotel, but this time with a view on the Eiffel Tower.
It's equipped with a mini bar, WiFi, iPod Airtunes, and a turntable as well. (What, no Cd player?) Plus, you get a really ace view of whatever area you happen to book the hotel in.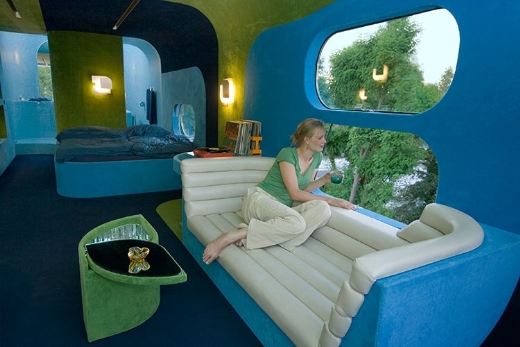 I have to say, I'm really digging the repetition of that 'curved rectangles' motif — it's in the wall lamps, the doorway to the bathroom, the shelving, and in the structure itself. Between the decor and the intimacy of the space, it's like a cross between a ski chalet, and an apartment at Nakagin capsule tower. Very fab!
Also, Happy Friday 13 October! That's a rare confluence, so do something interesting with your day