typed for your pleasure on 11 June 2008, at 11.06 am
---
Sdtrk: 'Who'll fall?' by Coil
A crowd of Gynoids? Christmas in June??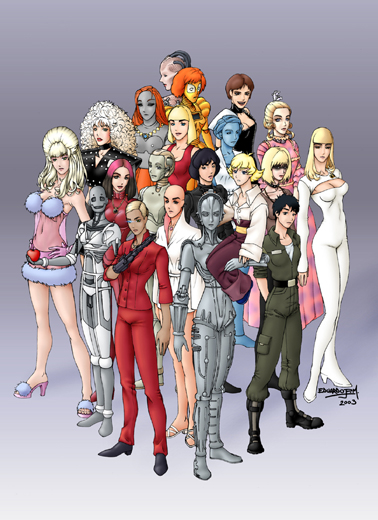 'Robotic Ladies of Film' by Eduardo J.P.M
Now here we have another example where I had to work backwards; it started when I found this pic on one of those daffy imageboards I often plunder from. After firing up das Googlemaschine to find out any more info about it — is it by someone on deviantART? do they have any more Gynoid-based illustrations? — I learned it was an entry in a contest held on Ain't it Cool News back in 2003. And that's about it, really. It's pretty easy to see why he was the winner, though!
You'll definitely want the full-size version; there's a link for it towards the bottom of the article. That's a fab picture, wouldn't you agree? It contains a number of my favourite Synthetik lasses, as indicated by my top ten sexiest Gynoids post (Cherry 2000, Call), as well as ones that for some reason didn't occur to me when I wrote that (Galaxina, the automata lass from 'Casanova'), and a few that I don't recognise (that one with the big hair and shoulderpads, that blue lass). And having Maria from Fritz Lang's 'Metropolis' hold Tima from Osamu Tezuka's 'Metropolis' is a nice touch…
D'ye think if enough of us request it, that maybe the artist will whip up one for Gynoids that have made appearances on tv shows? It'd undoubtedly be three times the size of the above illo, so he'd certainly have his work cut out for him