typed for your pleasure on 2 April 2008, at 8.40 am
---
Sdtrk: 'H.C swindle' by m1dy
Good news: South Korea's favourite Gynoid singing star, EveR-2 Muse, has appeared in a music video!
Bad news: the music isn't just awful, it's godawful. I suppose there are people out there who love that kind of watered-down pop/R&B shite, but I'm not one of them.
Ah well. It's nice to see EveR-2 Muse making something of herself, at the very least. Observe for yourself below!
What else? O, Simroid-chan, Kokoro Co. Ltd's Synthetik dental training lass, recently made an appearance on Japanese telly, showing off her stuff. And by 'stuff', I mean her rubbery elastic face, and her ability to say 'ouch' if the dentist makes a mess of things in her mouth.
She's pretty cute, which is a given, as she's Actroid-chan's sister, but the video's a lot easier to tolerate if watching someone get their teeth worked on doesn't affect you. Hrrr. *shudders*
And you know it's that time of the year again. Introducing… Phoenix Studios' Miss April, on sale now.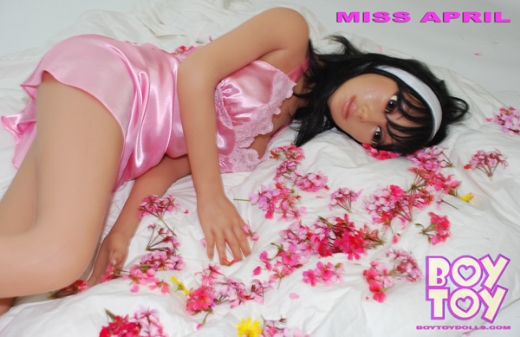 Don't worry, she's brimful of antihistamines
Out of all the Boy Toy Dolls out there, I'd have to say she's my favourite. Is it her large brown almond eyes and long silky black hair? I do not know! But she's got a certain je ne sais quoi, that's for certain. Well done, Nick Black Matt McMullen!