typed for your pleasure on 6 April 2008, at 11.29 am
---
Sdtrk: 'I want to be old' by the Cure
Well, this is certainly innaresting, as Uncle Bill used to say. It seems robotics manufacturing firm Kokoro Co. Ltd haven't been resting on their laurels at all, cos hot on the heels of Simroid-chan would be their latest charming Gynoid, Holon.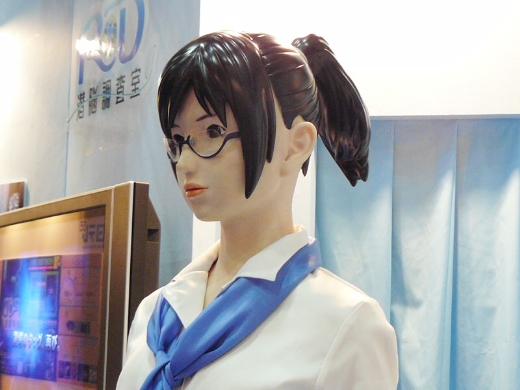 Rain and snow just roll right off her head!
Now, there's a reason for her anime-styled face: Holon-chan is a character in an upcoming anime series by Production I.G entitled 'Real Drive', another one of those cyberpunk-styled series that Masamune Shirow is responsible for. In the series, she plays a secretary. Which is an interesting coincidence, as the real-life Holon-chan will ideally be put to use as… a secretary.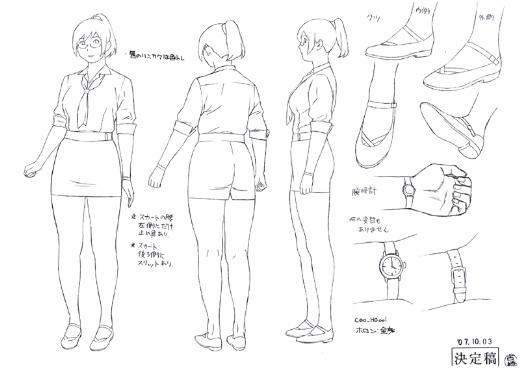 Her legs are designed to attract Robert Crumb
Personally, I'm not too keen on her plastic hair — what, the Kokoro staffers couldn't cut a wig to look like the anime version's hair? Plus her anime face will invite comparisons such as Holon is to Actroid, as a CandyGirl is to a RealDoll. But upon reflection, that's okay. Cos not only are Kokoro and Production I.G embarking hand-in-hand on a pretty impressive marketing ploy, but I've always said that there's a niche for Synthetiks with less-realistic appearances, as they bridge the gap between lifelike Gynoids like Actroid and the EveR series, and more machinelike robots, such as Wakamaru and the Tamanoi Vinegar Robot, and therefore make it easier for the not-quite-ready-for-Synthetiks portion of the population to get used to artificial lifeforms being in society over the next couple of decades.
Oddly enough, Kokoro doesn't have any info on Holon-chan or Simroid-chan on their Japanese pages, so as soon as I track down and firmly grip any additional details, you'll be the first to know. Well, second. Err, you'll be in the top ten. In the interim, you can watch her introducing herself here, and here, and English information about 'Real Drive' would be found on the Production I.G site here.
Also, just so you know, 'Lars and the Real Girl' is due out on DVD in the States 15 April