typed for your pleasure on 10 June 2011, at 2.09 am
---
Sdtrk: 'Burning car' by John Foxx
So I wanted to get this bit in before the week-end, as it'll be a mildly eventful one (I'll get to that), as well as the fact that I've been horribly neglectful of my writerin' duties. I'm sure none of you have noticed! With all this time on my hands as of late, I honestly should be ashamed of myself. Actually, I am hanging my head in shame as I type this, which works out rather well, as I tend to look at my fingers when I type. So no shame, no gain, then! Errm.
What's been percolating at Deafening silence Plus? Well, I'd refused an interview with MTV Brasil last month, as I honestly didn't think it'd do anyone any good; the brief exchange of Emails we'd had back and forth isn't even worth discussing, frankly. However, Sidore has successfully gotten me to do new photoshoots of her! At least until it started getting hot out. But three shoots in May, totalling over 170 pics? That's something to be proud of, I'd say.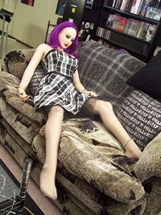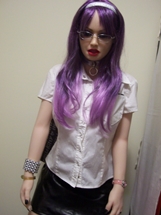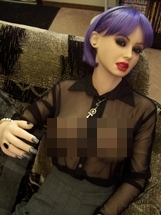 Also, you'll find a new link in das Seidenbär, under the 'Synthetik friends & friends of Synthetiks' header, for a relatively new website called Future of Sex. It's a (mostly) Safe For Work site that 'provides insights into the fascinating topic of the future of human sex and sexuality. It looks at how communication, interface, biological and other technologies are enabling new expressions of human sexuality, and the individual and societal responses to these significant shifts.' It's topical, and definitely worth looking at!
Lastly, the other bit I was supposed to tell you about? The Missus and I will be on TLC's 'My Strange Addiction' again this coming Sunday the 12th, at 9pm EST. It's a follow-up episode; they'd stopped round with the intention of seeing how the Missus and I were getting on with her girlfriend/my second Doll, but then the bottom fell out of my personal economy, so instead you get to watch me trying my damnedest not to be bitterer than usual, as well as Other Stuff. They filmed for two days, but our segment should be probably less than ten minutes long, so Shi-chan and I will be as surprised as you lot as to what made the final cut. As we usually are in these cases