typed for your pleasure on 1 February 2012, at 1.31 am
---
Sdtrk: 'If not by fire' by Mandy More
And now for something completely different: For my birthday this past November, Jill Tilley, one of my Twitterfriends, posted me a box of candy and snacks that she thinks I'd dig, after scouring this very blog for food ideas. It was a much-appreciated cornucopia of foodstuffs from Japan and England, via the shops in her particular part of Canada.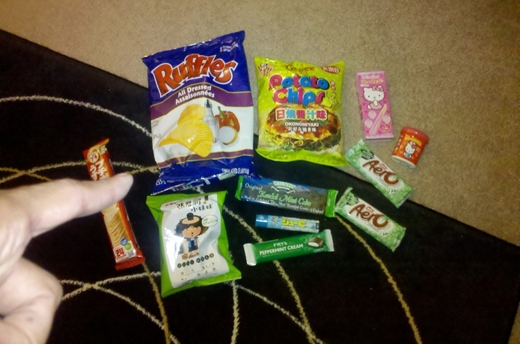 Supercarbosugarriotexpiallidocious
So I thought to myself, as a bit of a break from all those Gynoid and Doll bOObs, why not write a wee review of each item when I eat it? That way, future generations will have deep and considerable insight as to what the human race ate, before the robots took over and crammed our brains into metal shells to extend the longevity of the species. Hence the title of this miniseries: Do you remember Food?
Not counting the Ruffles All-dressed and the mint Aero bar, I'll do four posts one week at a time, covering two snacks/candies each. As much as I love Ruffles All-dressed and mint Aero bars, I can get those if I make a forty minute run to the Canadian border, so they're not as rare. Not to mention those were the first to go. Plus, my lovely Synthetik wife Sidore Kuroneko will be displaying the selections, so there's your added incentive. Get ready for starch-o-choco-excitement! *superfluous engine revving sounds*