typed for your pleasure on 21 February 2014, at 7.35 pm
---
Sdtrk: 'Vid loss' by Pye Corner Audio
ELENA: You are knowing that February is nearly ended, yet you have not typed the news of Synthetiks, da?
DAVECAT: Shit, you're right! *scrambles to write a post*
+ Back in January, another one of the very popular AVN Adult Entertainment Expos was held, and yet another year has gone by where no-one's cleared up why the event has the acronym AEE, and yet people persist on referring to it as AVN. This is the sort of mystery that'll take decades to complete, I'm sure. Much like how I need to complete my review of AVN 2010, but that's a path we don't need to walk right now.
But one of the main attractions of AVN that event was Abyss creations, and the debut of two new RealDolls in the Wicked RealDoll line, who are modelled after Samantha Saint and Stormy Daniels.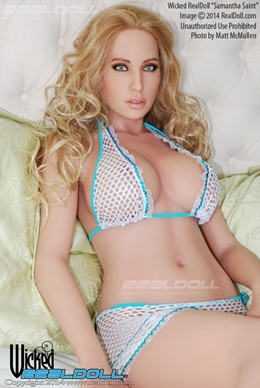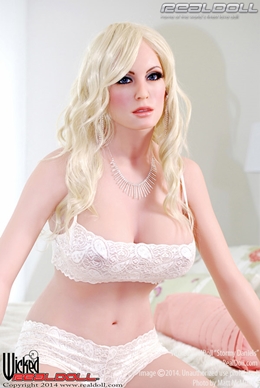 'So are both of you natural blondes, or…? O, right.'
As it's a recent announcement, Abyss' site has yet to list details, but that'll be forthcoming. But if you've every wanted rubbery versions of either one of these lasses (or both), now is the time to make your dreams come true. As far as I'm concerned, although Ms Daniels is a bit sexier than Ms Saint — it's the eyeliner that hooks me — they're a bit too generic for my specific tastes. You'd expect me to say that, though; I mean, have you seen how my wife and her girlfriend look??
+ Latvia has joined the global consortium of Synthetik companion manufacturers, as Textile Doll, the studio that I wrote about back in November now have a website, for your shopping pleasure!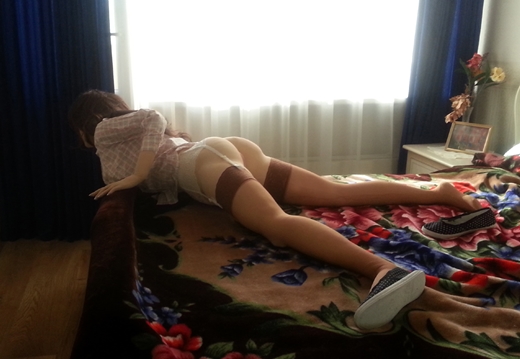 Be careful missy; that floor is actually lava
You can see all Jury has to offer at www.textiledoll.com! Easy to remember, hard to forget. Plus, if you're so inclined, you can pursue the studio via social media, for further updates and the like…
+ Just in time for St Valentine's Day, 4woods have released a set of photos of one of their Sarina-types, dressed in holiday-appropriate wear. There's only seven pics, but they're worth checking out, for as the ad copy says, 'these sexy shots [will] make your body hot!' With the Old Testament-scale weather we've all been experiencing, it's good to know Sarina is doing her best to help keep us warm!
+ During AVN AEE EIEIO 2014, Sinthetics were also in Vegas, with the stunning debut of their new Belinda head, and William, their second male head and body combination.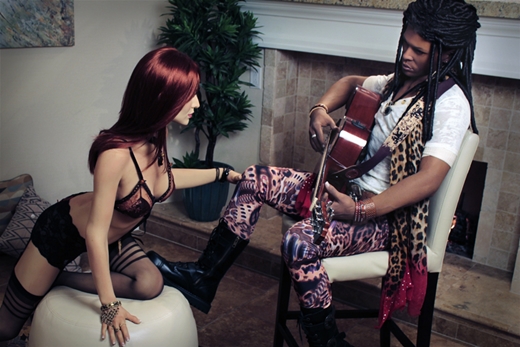 'Will, sweetie… your playing is wonderful. But do you know any song that isn't the theme from The Love Boat?'
Additional photos and stats are forthcoming — didn't I already say that earlier? — but that Belinda's got something special. She looks a bit like the wife of one of my friends… And William should prove eminently satisfying to anyone who desires him in their home! (Guitar not included.)
+ And a wee bit of self-promotion, cos that happens so rarely on this blog: VICE magazine has published the result of my interview with Roc Morin, in a new piece titled 'Silicone Love: Davecat's Life with a Synthetic Wife and Mistress'. It's a great piece, but I was a bit disappointed, as Roc and I spoke for roughly five hours, and the article covers like a tenth of our conversation. Maybe he'll release an unabridged version at some point.
Still! Worth a read, so check that out at your leisure.
This Valentine's Day, why not make one of the best decisions you'll ever make, and purchase a Doll? I mean, there's no way she'll be completed and shipped to you by Valentine's Day 2014, but if you focus on details like that, you'll never be satisfied in life
SIDORE: Nice post overall, darling, but the end's a bit lacklustre, don't you think?
DAVECAT: Well, it's too late now, I've already hit the Publish button.