typed for your pleasure on 4 October 2013, at 11.43 pm
---
Sdtrk: 'Prototype pop' by Severed heads
As we can all agree, seeing numerous photographs of Dolls is all well and good, but it's better to see video footage of them doing all manner of things as well. That's beginning to change! New York music artist Hot Sugar teamed up with famed Doll photographer Stacy Leigh, and she directed a video for his song Erica. Observe:
Apart from the fact that it features several alluring RealDolls, I was really impressed with the concept; the 'Video Intimates' DVD idea is way too clever. Well done to all involved!
Before we move on to the other video, I'll take this opportunity to mention that Phoenix studios have just released yet another make of Boy Toy. This series is called 'Celestial Bodies', the first lass in the stable would be named Star, and this is what she looks like: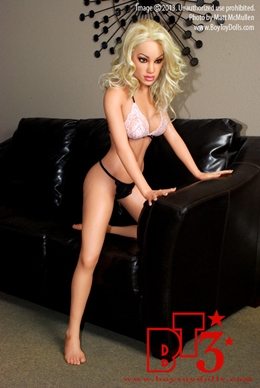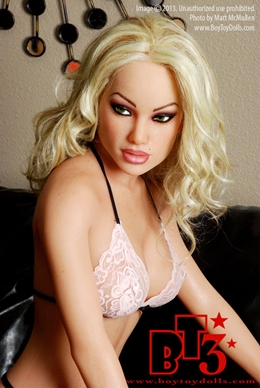 Finally! A 100% artificial version of Pamela Anderson! Well, one you can take home
She's 4'10" (I once knew a lass who was that height), weighs less than 60lbs, has measurements of B:32 / W:22 / H:32, and wears a sz 5 shoe. According to Phoenix studios, she currently has a full head design with a deep mouth insert, although they're working on a version that'll sport closing eyelids as well. Also she features a new design for her pelvic insert. I'm sorry, I have to side with the Japanese Doll makers on this: they refer to a pelvic insert as a 'marriage hole'. There is no way that term isn't amazing.
Check out the rest of Star's photos here, and see what you think…
There's a cluster of new photosets posted on Sinthetics as well; now available are new shoots detailing an Alicia head on a Body 1B, and two shoots of an Eliza head on a Body 1B, one of which has her getting to know a Gabriel-type. Well well. *raises eyebrow*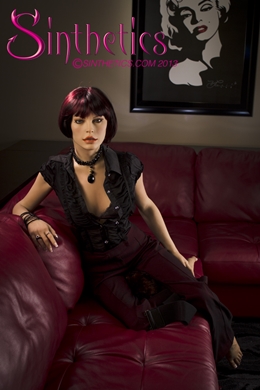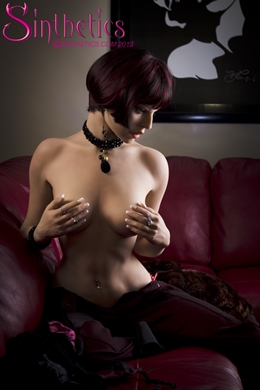 Of course it's drafty, Eliza; you've just taken off your blouse
The good folk at Sinthetics are due to release another male manikin named William, so some of you have that to look out for…
Now the other video we've got coming up… good lord, for a moment there, I felt like a VJ. So! The other video we've got would be by DCUP (I rather like their name) featuring Mereki on vocals, and starring model Kozue Akimoto hanging out with her Gabriel-type lover by Sinthetics. Let's take a look:
I'd have to say that video's pretty adorable, too. And did you notice the part where they went to Shinjuku's famous Robot Restaurant? Society needs more iDollator couples! But you'd expect me to say that.
Last but not least, Danielle of Womanicpation Proclamation has released the second part of her interview with me on her blog just recently. Like me, she got sidetracked by things, and like my review of DolLApalooza 2013, she thought it would only span two parts, but there'll be a third. I forewarn every potential interviewer that I tend to ramble concerning my favourite subjects. I'm a rambler! A Nash Rambler, to be specific. I was produced briefly by the Nash division of the Nash-Kelvinator Company and was a forerunner to the American Motors Corporation's entry-level cars. Produced between 1950 and 1957, I was North America's first compact car *continues with this folly for an additional forty-nine minutes*