typed for your pleasure on 27 July 2007, at 12.23 pm
---
Sdtrk: 'Ceremony' by Joy division
One of the reasons I prefer architecture — and by some extension, city planning — from the very late Fifties to the very early Seventies, is that there was still a sense of general optimism. Especially during the Sixties, when new technological innovations were popping up on a regular basis, man was setting foot on the Moon, and space travel was a new and fantastic thing. (Although there'll be something to be said when space travel is no more unusual than taking a trip from one country to another.) It was this exact sort of well-meaning thinking that inspired the subject of this instalment: Brasília, the futuristic capital of Brazil, designed by the architects Oscar Niemeyer and the urban planner Lúcio Costa.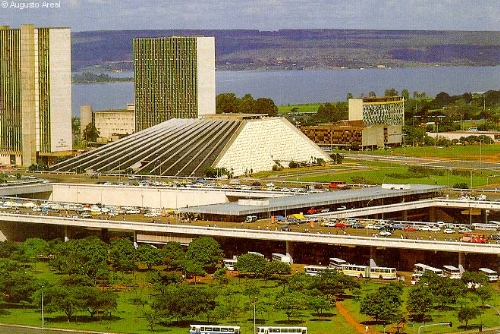 Teatro Nacional (National theatre) 'Cláudio Santoro'
Photo © by Augusto Areal
In 1956, Juscelino Kubitschek de Oliveira is elected President and creates the Company of Urbanization of the New Capital (NOVACAP). Kubitschek invites a young architect, Oscar Niemeyer, to command the project. In the same year of 1956, the work on site starts. In 1957, a public contest is won by urbanist Lúcio Costa, who presented the inovative ideas for the design of the new capital, in his work which became known as Plano Piloto (Pilot Plan).

Juscelino Kubitschek, or JK, had the motto "fifty years in five"; his plan was to make Brazil grow during his five year term as much as the previous fifty years; JK invited car makers (like Ford, GM and Volkswagen) to come to Brazil, and opened several highways (in detriment of railways) to stimulate cars selling. However, JK's darling was Brasília; to have the city finished still during his term, he didn't hesitate in allocating financial and human resources into the works; several Boeings were rented to fly cement, sand and other supriments into the sites.
Juscelino was so obsessed with the idea of being founder of Brasília, that he officially opened the city on April 22 1960, before it was finished.
taken from this site
Considering that only five years before the city existed, it was a barren wasteland, that makes this urban accomplishment all the more impressive. Apart, of course, from the fact that all the main structures of the city, such as the Presidential Palace, the Federal Chamber, the residential sectors, the Supreme Federal Court, and the Brasília Cathedral, among many others, are all disparate, yet uniform. Kinda like the Bauhaus School, but filtered through 20th century Modern aesthetics… entirely lovely stuff.
The dichotomy of Brasília is that it's classified by the United Nations agecy UNESCO with the status of Historical and Cultural Heritage of Humanity, due to its uniqueness. As I recall reading somewhere, this effectively means that the city is trapped in an architectural timecapsule — changing or updating the overall aesthetics of the city would be the equivalent of placing an enormous flat-screen monitor behind Lincoln's head in the Lincoln Memorial. Some say that this handicaps the city's ability to compete with the modernity of more contemporary cities across the globe, but I'm certain I echo many peoples' sentiments when I say, 'so what?' Just because something is new or modern doesn't necessarily mean that it's good. Besides, we need cities like Brasília to show future architects and city planners how things can be more effectively managed.
But seriously, a citywide monument to Sixities architectural design? Fantastic